Real people to relatable situations, these five accomplished actresses talk about their new films
The Envelope brought together an accomplished group of lead actresses last week from some of the year's most acclaimed films. From the candy-bright song-and-dance numbers of "La La Land," the fact-based "Jackie" and "Loving," to the cerebral sci-fi of "Arrival" and the bohemian milieu of "20th Century Women," the films all locate their performers in distinct worlds crafted with sensitivity and care.
Annette Bening in "20th Century Women," directed by Mike Mills, plays a single mother raising her son in 1979 Santa Barbara. Amy Adams in "Arrival," directed by Denis Villeneuve, is a linguist attempting to communicate with alien beings, with an emotional twist. Emma Stone in the musical "La La Land," directed by Damien Chazelle, plays an aspiring actress struggling in L.A. with both her career and her relationship. Natalie Portman in "Jackie," directed by Pablo Larraín, plays Jackie Kennedy in the period just after the assassination of President Kennedy. And Ruth Negga in the true story of "Loving," directed by Jeff Nichols, plays Mildred Loving, who along with her husband were part of a court case that smashed a Virginia ban on interracial marriages.
The five women came together in downtown Los Angeles for an insightful conversation that touched on topics both personal and professional, as all shared a deep commitment to their work in remembering days starting out and where their careers might still be headed. Here are the highlights.
Since we're here in Los Angeles, Emma, I'm going to start with a question for you about "La La Land," which is a movie shot very much in Los Angeles. What do you think that did for the movie?
Stone: The movie is very much a celebration of L.A. in all of its glory and dreams coming true and the horrible underbelly of just dreams completely crushed. So it was great to be here and obviously needed to be here. And one of the most magical things that the production designers did was take real locations — because you know MGM musicals from the '50s were usually on a backlot, so everything looked fake — they took these real, practical locations and they made them look fake, basically, with set dressing. And it was really fun to kind of rediscover this city that way.
And Ruth, "Loving" is shot in some of the actual locations where the story of the Lovings took place. What was it like for you to be in those real spaces?
Negga: Jeff Nichols was adamant about that because he wanted to be as authentic and true to this couple's story as possible. And Virginia, where they were from, is very much an important character in our film. Mildred Loving is very connected to where she was born and raised. The land for her is kin, as you see in the film. I mean the courthouse is the real courthouse that they pleaded guilty in; the jail is the real jail that she was held in for five days as a heavily pregnant 19-year-old. So it was also very moving for not just me but the entire cast and the crew to walk in this couple's footsteps, and that made the whole process more vital.
Annette, your character in "20th Century Women" is based on filmmaker Mike Mills' mother. Was that a challenge, playing his mother for him?
Bening: I felt from the moment that I met him that he understood that what I would eventually do would not be her. But that in his talking about her I understood what he was trying to make the movie about. He loved his mom and they were very close and clearly she adored him, but that there was something about her that never quite felt like he understood and part of making the film was I think an investigation of that. So I very quickly realized he's got his version of his mother. But I actually spoke to his sisters as well. So I got a great insight also into, "Oh, I see, this woman sees her mother totally differently than Mike did." But I think that's part of what the movie is about in a way.
Natalie and Ruth, if Jackie or Mildred were around, is that something you would have wanted to mine?
It was important for me to approach her as a human being first and foremost and not as 'Mildred Loving.' I feel very shy about that.
Negga: It's difficult isn't it because I think there's certain questions that you may want to ask but there's also being respectful of people's privacy. And I would feel strongly about that. But also it was important for me to approach her as a human being first and foremost and not as "Mildred Loving." I feel very shy about that. Peggy Loving, their daughter, is still alive and I wanted to meet her but most of all because I wanted to show myself to her — probably for approval most definitely — but when I met her she's quite shy and reticent like her father. We sat in silence for a while and I just really wanted to let her know that I intended to honor her mother and father.
Portman: I guess it's nice that I didn't have to consider it. There is something dangerous almost where it is a real person that you do want to respect and honor. No human being is going to be perfect and showing their flaws is part of showing them as a complete human being. And if there's a real person sort of you know waiting for you to come with this portrayal that's respectful to them or something, it puts a different kind of pressure on it. I have so much admiration and respect for the real Jackie Kennedy, but at the same time I feel lucky that I didn't have the pressure of a real person who's gonna watch it.
"Jackie" takes such a specific view of Jackie Kennedy while planning the funeral, in some ways deciding how history's going to remember JFK.
Portman: The fact that she was the one who came up with Camelot. I think everyone was kind of shocked about that because it's very modern to name yourself in that way; like that's a thing on social media now. That was very forward thinking and canny of her. And you do really see that she had this very conscious understanding of the public even when she was going through something incredibly tragic personally.
Emma, your role in "La La Land" obviously comes with a lot of physicality. Tell us about finding the connection to the emotion through that and just learning the choreography with your costar, Ryan Gosling.
Stone: When we were about to do our big duet on the hill, which we'd at this point rehearsed for like four months, it's so technical if you're not a dancer-dancer that my face would be twisted up and, you know, like Ryan's really thinking. And there came a point where [choreographer Mandy Moore] said, "It honestly does not matter what you do. I need to see the joy in your face. I need you to be Mia and let her just completely unfold in your face. Because if you mess up [the steps], no one's gonna care. It's all gonna come alive right there." So that was a really great moment for me to kind of throw the technique of something that I wasn't by any means an expert at out the window at a certain point and really just kind of be present.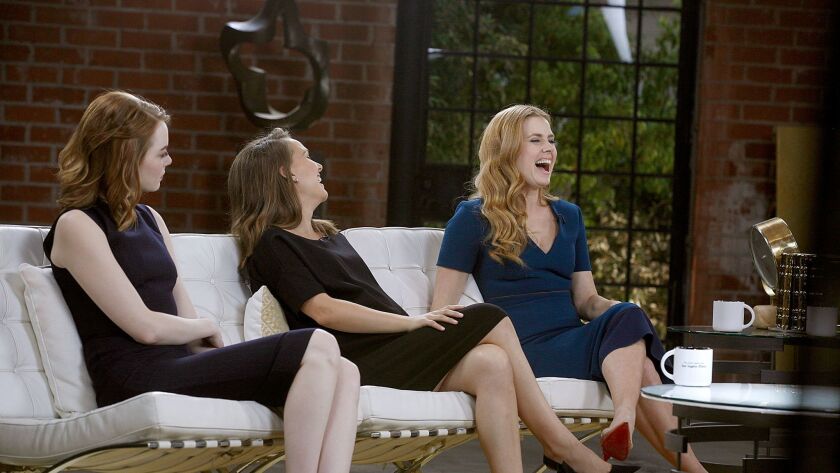 Amy, what would you say was the toughest scene for you to nail down?
Adams: I had to learn like four lines of Mandarin. I'm like, "Two weeks is fine," and oh my goodness was I struggling. It was the only time I had a total — Denis who's the most calm director, he and I had one little moment where he's like, "You must be calm." And I'm like, [speaks Chinese] trying what I can. He's like, "Amy, seriously."
Annette, your performance has this unforced, organic quality; you seem very at ease in the role. Do you find that what you value in a performance, the things you're sort of looking to achieve, has that changed for you over time?
Bening: I think it is an ongoing search, that's why I love it. Because there is no rival and I'm just as intrigued as I always was by the craft and that first time you all get together in the room and you get to read. I found myself with [costars] Greta Gerwig and Elle Fanning, I was watching them and I was thinking, "I want to be like them. They're amazing." Really great young actors, they're intuitively doing it and it's like I need a piece of that back, the simplicity of someone who's starting out, who doesn't have a lot of baggage and they're just responding and doing it.
Emma, your character has that hunger but she faces lots of rejection early on. Was it easy to remember what it was like starting out?
Stone: Definitely. I moved to L.A. when I was 15 to start auditioning and that came with a lot of rejection. Ryan and I were both sharing stories of horrible auditions with Damien that he could maybe put in the movie. The scene with the phone happened to Ryan. He was in the middle of an audition and he was crying and the director's phone rang and the casting director picked up in the middle of Ryan crying. But the biggest thing that I still feel is when you're not getting auditions, when no one's taking a chance on you. For me, getting the opportunity to be rejected or fail is infinitely better than nobody wanting to see you.
Natalie, Jackie's an iconic person, what was that like for you to sort of tune out all that you've seen before or even just putting on that pink Chanel suit and finding her voice?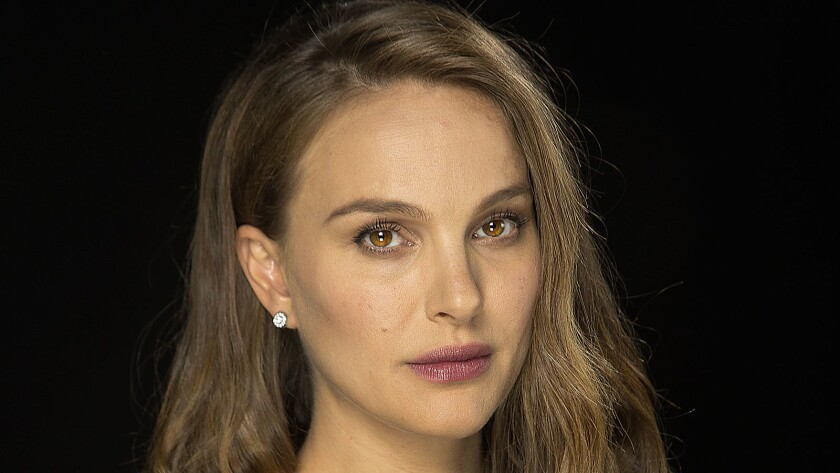 Of course, we know the pink suit so well that before the assassination it has this sense of foreboding...
Natalie Portman
Portman: I was lucky that I hadn't seen anything before mainly because I have major gaps in my cultural education. But I hadn't seen any other portrayals, which of course then I wasn't going to seek out because you don't want to be imitating, you want to do your thing. The clothes in this, it's been a little bit upsetting because so many people are like, "Tell us about Jackie's fashion." It's the days after the assassination — it's not a fashion story! But the clothes had a symbolism. And of course we know the pink suit so well that before the assassination it has this sense of foreboding and then afterwards of course it is really just such a sign of her presence of mind in that moment that she refused to change. She said, "Everyone needs to see." She was aware that the image of the blood and the brains of her husband covering her suit was going to make an impact on everyone. Even though what could be more gory and you must want to just get out of it, but she kept it on all day and took all the pictures and through the inauguration of [Lyndon] Johnson and everything, wore that. So it was like wearing a story, putting it on.
"Arrival's" just opening and already it seems like people are finding different ways to respond to it. They're seeing it now as being about how people communicate and finding ways to connect with one another. Is that surprising to you?
Adams: From a year ago when we made it, we never set out ... at least that wasn't communicated to me at the time we were making it, that it had this geopolitical overtone to it. I mean, it definitely did, but the world has changed so much even in a year that it's amazing how much more relevant the film is and how it feels more intentional now. I'm happy that it is touching people in that way. I mean, that was one of the things that frustrated my character so much is like we're so quick to jump to what someone else's intention is without really listening to them. I think it's the only way we're really gonna grow.
See the most read stories this hour »
---
From the Emmys to the Oscars.
Get our revamped Envelope newsletter, sent twice a week, for exclusive awards season coverage, behind-the-scenes insights and columnist Glenn Whipp's commentary.
You may occasionally receive promotional content from the Los Angeles Times.