Justin Timberlake's 'Can't Stop the Feeling!' infuses 'Trolls' with a modern disco feel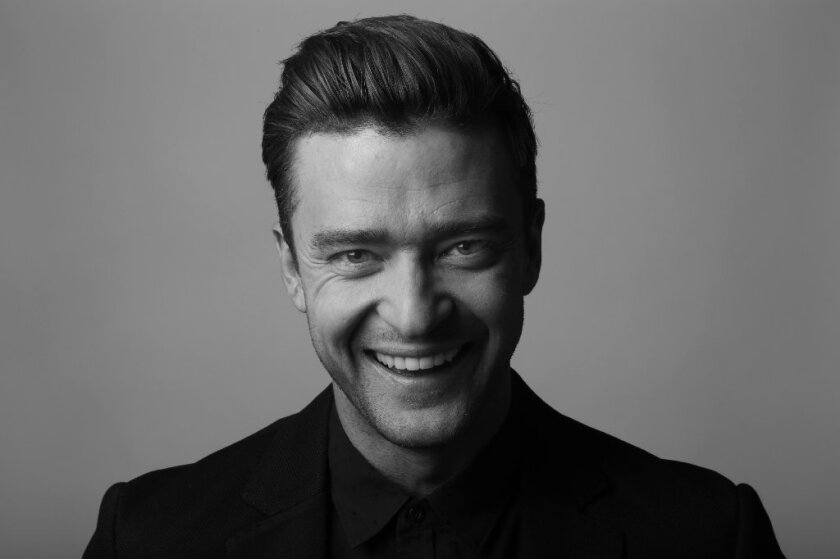 The onetime face of the world's biggest boy band is now 35, a dad, a budding film composer and a songwriting contender this awards season. Justin Timberlake has come far from his teen-idol days, but the journey to his acclaimed hit song from the animated "Trolls" has also been full circle.
"It needed to speak to the final message of the movie: Happiness – you can access it, you have it inside you. It can be a choice," Timberlake says in a bungalow at the Château Marmont. "So how do you do that? How do we make that feel cool?"
The answer was the irresistibly airy disco of "Can't Stop the Feeling!" It seemed such a sure-fire beach-party hit, it was released in the summer, months ahead of the film. The song has moved 2.4 million units in the U.S., making it the year's top seller. So apparently the message connected.
"Writing about happiness … you don't want to be too literal about it," says Timberlake, who also stars in the movie. What he came up with, in part, was "I got this feeling inside my bones / It goes electric, wavey when I turn it on" and "I don't need no reason, don't need control / I fly so high, no ceiling, when I'm in my zone."
He says part of being a songwriter is playing out our issues from childhood, acknowledging a debt to songs and styles of the past.
Anna Kendrick, Justin Timberlake, James Corden and Zooey Deschanel voice characters in "Trolls."
This movie feels like one big, trippy disco experience. But we didn't have a disco song."
— Justin Timberlake
"This movie feels like one big, trippy disco experience. But we didn't have a disco song," says Timberlake of "Trolls'" classic pop hit-packed soundtrack, which he curated. "We had 'September' [by Earth, Wind and Fire], but we thought this was a great opportunity to do a modern disco song. I think that disco is a really underappreciated genre."
The noted Robin Gibb impersonator says the Bee Gees' "Saturday Night Fever" strutted through his head while writing, but the finished product reminds him more of Bill Withers' "Lovely Day": "That's a song about feeling, 'I look at the person I love, and I know everything's gonna be all right.' "
"Can't Stop the Feeling!" has received nominations from the Golden Globes (Timberlake's second), Critics' Choice Awards and Grammys (where he has won nine out of 38 nominations). Heady stuff for a guy who started on "The All-New Mickey Mouse Club" at 12. "Can't Stop" also marked a reunion with Max Martin, a key writer and producer from his earliest days with NSYNC.
"When we worked together 20 years ago, I was not a songwriter. It's not even writing a new chapter; it feels like another book," says Timberlake.
"I was 16; now I'm 34, 35 when we were working on this. It's two different people. One's a kid, one's … still half a kid," he says, laughing.
Now this "half a kid" has a kid, and has said one of the impetuses for "Can't Stop" was to write music his son could listen to.
"My wife and son will always be muses for everything I do," he says of actress Jessica Biel and Silas. "If I didn't have a son, I wouldn't have written it the way I did, if I didn't have that experience."
It wasn't all about being stinky old grown-ups. He and co-writers Martin and Karl Johan Schuster, a.k.a. "Shellback," were given storyboards of the insanely happy film for inspiration.
"So you're watching these trolls running around and you know what the world is. There's something that happened to us, three adult males, and we became kids again."
And now the performer, who names among his core influences the Rat Pack, Lucille Ball, "The Carol Burnett Show," Elvis, Michael Jackson and Al Green, has made his first foray into film scoring. His music for the early January release "The Book of Love" (co-starring and produced by Biel) includes compositions for a 20-piece orchestra.
"I remember hearing the score of 'E.T.' and thinking, 'My God, this is the most beautiful piece of music' – he lifts off," Timberlake sings the iconic notes accompanying E.T.'s flight. "I remember being so moved by it."
All this, and as an actor and performer, he's building a resume with directors such as the Coen brothers, David Fincher and Jonathan Demme.
"It's an embarrassment of riches," he acknowledges, but says, "I can't do anything else [but be an entertainer]. I'm trying to maximize this because I can't save you if you need a transplant."
See the most read stories this hour »
---
From the Oscars to the Emmys.
Get the Envelope newsletter for exclusive awards season coverage, behind-the-scenes stories from the Envelope podcast and columnist Glenn Whipp's must-read analysis.
You may occasionally receive promotional content from the Los Angeles Times.