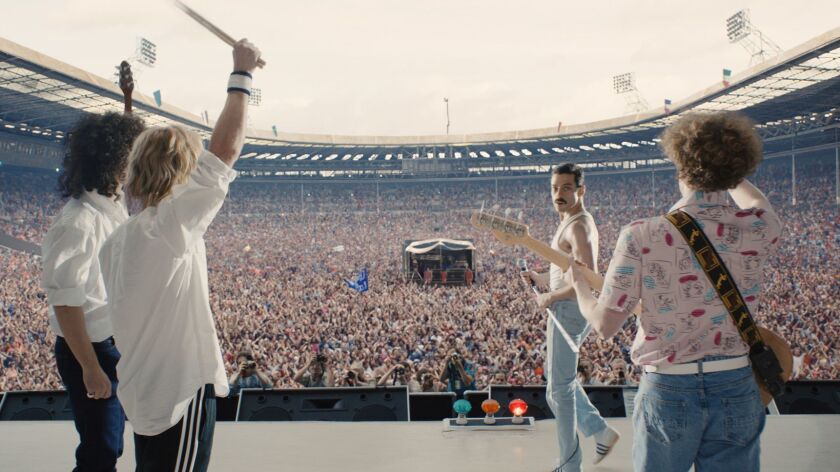 Much has been written about Rami Malek's electrifying performance as Queen frontman Freddie Mercury in Fox's acclaimed biopic "Bohemian Rhapsody." However, Malek's portrayal of the charismatic musician wouldn't have been quite as striking without the work of the movie's sound editing and mixing teams. The Envelope caught up with sound and music editor John Warhurst, sound editor Nina Hartstone, sound mixer Paul Massey, re-recording mixer Tim Cavagin and sound mixer John Casali earlier this month to understand how the process came together.
One of the first things they did was to immerse themselves in all of the video and audio footage of Queen available to them. "We were certain from the beginning that the whole thing was going to live and die by Freddie's performance at Live Aid in 1985, which starts and ends the movie," says Warhurst, whose many credits include musicals such as "Sweeney Todd: The Demon Barber of Fleet Street" (2007) and "Les Misérables" (2012).
"There was talk of how the visual effects team wanted to completely re-create the concert, so we had this realization that we needed to re-create all the audio for the crowds, because you can't just go and record a Live Aid crowd scene. There were some recordings available from that day, but they weren't enough to re-create a Dolby Atmos cinematic experience."
Recording and music mixing pro Massey ("The Greatest Showman," "Walk the Line") says the goal was to create the authentic aural experience of the concert. "We were lucky, because we managed to get a couple of hours of Queen playing the O2 arena as they were on tour that summer," he recalls. "We had the engineers play all the songs that we needed through the P.A. at full level. We had mics all over the arena, so I was able to use the final mix in different ways to capture the scale and distance we needed within the stadium setting."
Queen lead guitarist Brian May was also able to get the concert crowd to contribute to the famous "We Will Rock You" sequence. "We couldn't quite get the sound of that 'boom boom cha' right, because we wanted people to really feel it in the theater," recalls Massey. "We tried doing that in the studio, but it wasn't right, so luckily, Queen was on tour, and Brian May got them to do that 'stomp, stomp, clap' in the middle of the concert. What you hear in the movie is the sound of 20,000 Queen fans helping us out."
FULL COVERAGE: Get the latest on awards season from The Envelope »
The film's principal photography actually began with the Live Aid concert scene, so all the ducks needed to be in a row on that day. "It was a full concert for the crowd, and the art department had managed to source original speakers and wedges for the stage," Warhurst recalls.
"As soon as it started, we all felt like we were at that concert, and it got everyone buzzing. Then when Rami belts out the song at the top of his voice, we were recording everything. He gave such an amazing performance. Of course, when you're filming, you have to keep doing it for the next two weeks — take after take after take. By the end of the two weeks, he hardly had any voice left!"
Hartstone, who has many years of experience in dialogue and ADR editing on such Oscar-winning films as "Gravity" and "An Education," says her role was to make sure audiences believed that Mercury's famous vocals were coming out of Malik's mouth. "I used tiny bits and pieces of breaths, blows and lip smacks to pin the voice into Rami's mouth," she says. "Rami gave such a great performance with such amazing physicality. The big challenge was making it sound like his voice all the way through the movie. The sheer privilege of working with Freddie's vocals was really exciting for me."
All in the sound team make sure to mention that the film wouldn't have been as powerful and effective without the complete support of Queen. "They have a huge archive and supported us with any material we needed," says Warhurst. "We were able to use full multitrack original recordings of 'Bohemian Rhapsody.' We were also given outtakes that never made it to the single. I remember saying to a colleague, 'If only I could go back in time and tell my 15-year-old self that I'd be working on this film!' "
Massey adds, "Queen really hits home with everyone. Ultimately, we wanted to make a joyful film that celebrated Freddie's life and legacy, and the fact that 30 years after his death he is still regarded as one of the most incredible performers of all time."
---