Rami Malek uncovers Freddie Mercury — the showy performer and the lonely composer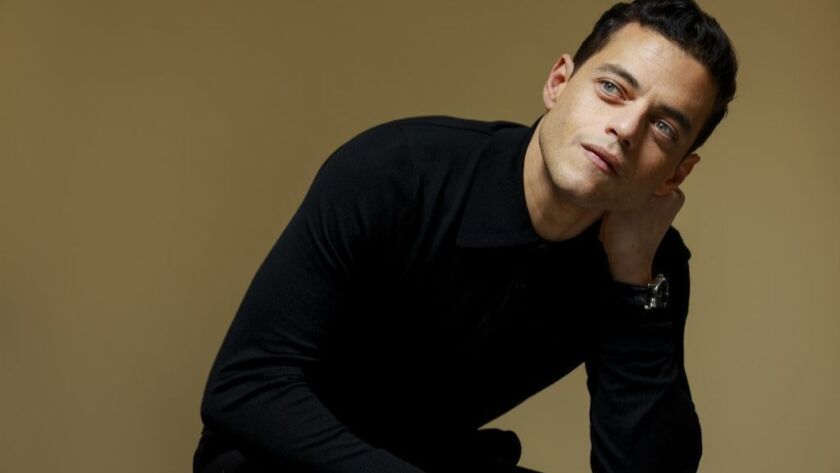 He told them he didn't sing. Or dance. Or play the piano. He was best known for playing an antisocial, mentally ill, introverted hacker on TV. But the producers of "Bohemian Rhapsody" shared a vision: Rami Malek as one of the most dynamic rock frontmen ever, Queen's Freddie Mercury. In the end, Malek came to embody Mercury, earning a Golden Globe earlier this month for his performance, and taking the stage a second time as the film won for best motion picture drama. And on Tuesday, both he and the film earned Oscar nominations as well.
" 'My body can articulate itself in unique ways, but I wouldn't call it rhythm, per se,' " Malek told the producers early on. "Having been in Hollywood so long, they thought, 'What a modest actor.' Shortly thereafter, they realized I'm going to need singing lessons, piano lessons, a movement coach."
He dove in, belting and shaking it until he could approximate Mercury and his idiosyncratic body language enough to be presented to Queen's legendary guitarist, Brian May (composer of "We Will Rock You"), and drummer, Roger Taylor (composer of "Radio Ga Ga"). The filmmakers shot a demo of Malek as Mercury at storied Abbey Road Studios, letting him entertain them with a few songs and fielding questions at an ad-lib "press conference."
FULL COVERAGE: 2019 Oscar nominations »
The footage was sent to May and Taylor, then Malek joined them at Taylor's home the next day. They were perfectly pleasant, but the actor couldn't get a read on what they thought. "Then at some point, they said, 'It's great talking; let's watch your audition.' "
Malek realized they hadn't yet seen it.
"So I had to stand in between Brian May and Roger Taylor and watch myself emulate their dearest friend. Yes."
Talk about being under pressure.
They did a good job keeping their cards to their vests, until "one time, I heard [May] under his breath say," Malek drops to an extremely quiet whisper: " 'It's uncanny.' "
Next was the faux presser, with Malek cooking up comebacks laced with innuendo as Mercury might.
But then, on the video, "they asked me, 'Who is your best friend? Who do you trust the most?' And I was standing there with Brian and Roger, and I, for the life of me, could not remember how I responded because there were, like, 20 questions. I felt them both kind of lean in [to gauge his answer]: 'It would have to be … Mary.' And they both go, 'Oh yeah, that makes sense.' "
Malek gives a contained gesture of relief and triumph.
"Roger said, 'Let's go have a shot of tequila.' We cheers'd to Freddie and had our shot, and from there, it was off to the races."
"Mary," for the uninitiated, is Mary Austin, Mercury's dear confidant, who was once engaged to the singer. She's thought to be the inspiration for the Queen classic "Love of My Life." No good old-fashioned lover boy, however, Mercury's coming out as bisexual is one of the film's main threads. The end of their romance simply shifted their love into another part of the spectrum, apparently.
He left her half his estate after his death in 1991 of complications from AIDS. Malek says Austin (played by Lucy Boynton) is the only person who knows where Mercury's ashes are. She kept her distance from the production, though she signed off on the script. So did May and Taylor, despite obvious changes to the singer's — and band's — known history.
But the film's production was no bed of roses. 20th Century Fox fired director Bryan Singer in December 2017 just weeks short of the film's completion citing his "unexpected unavailability" in the form of frequent absences from set. Shortly afterward, Singer was accused in a lawsuit of sexually assaulting a 17-year-old boy at a party on a yacht in 2003. (Singer has denied the allegations.) Dexter Fletcher was brought in to finish the picture, though Singer still retains a directing credit.
Malek speaks only obliquely about the director and their rumored clashes on set. On Tuesday morning after the nominations were announced, he told The Times he was unaware of claims against Singer when he began work on the 20th Century Fox musical biopic, which earned a total of five Oscar nods. "But I think somehow we found a way to persevere through everything that was thrown our way," he says of the situation. "I'm just proud that this cast and crew collectively raised their game and we depended on one another. It was a testament to everyone's spirit and courage and skill."
Fans clearly appreciate their celebration of Mercury, lifting the film to $800 million at the global box office.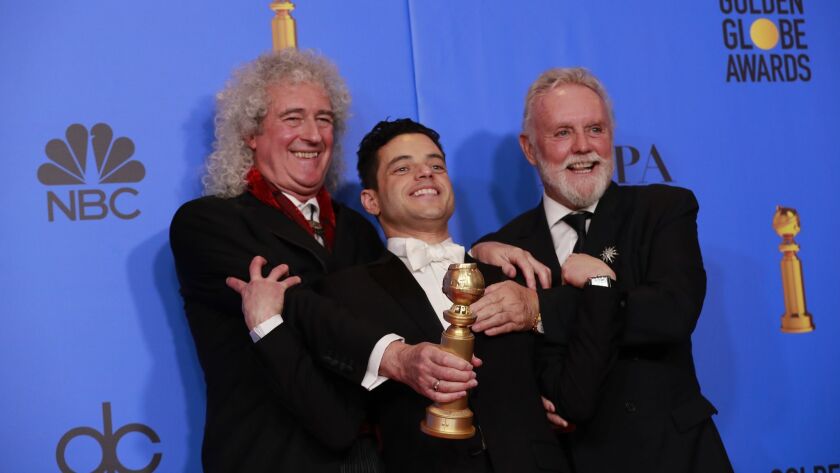 To help with Malek's portrayal, the singer's band mates gave him the occasional insightful nugget – behind-the-scenes tales that helped flesh the man out for the actor. For instance, when Queen and David Bowie collaborated on "Under Pressure," "He was listening to Bowie recording even though they told each other they weren't going to listen to what they were doing. He tried to get as close to the door as possible because he just wanted to top it."
Malek's vocals were seamlessly melded by the film's sound team with Mercury's and Mercury sound-alike Marc Martel's (the actor says the final mix is probably 90% Mercury). But to complete the miracle, he had to get into Mercury's head figuratively and literally.
"I've heard people say it seems a bit caricature-y, but he had massive teeth," Malek says of the prosthetics he wore to simulate Mercury's hyperdontia (the singer had four extra incisors). "I was insecure [with them in]. At the same time, I found myself elongating my posture to compensate for it. I don't know if that had anything to do with why he was so elegant, but when you are dealt something that might be inhibiting to you, something you get ridiculed for, you tend to overcompensate. And he was very much ridiculed for those teeth. As a kid, he was called 'Bucky' in school."
Malek isn't sure Mercury ever became fully comfortable with them.
"Watching the archival footage, he's covering his teeth all the time with his lip. … Well, as soon as the teeth went in, it happened instinctually [to me]. I did it so much, I think the editor had to bring it back a little. Another thing he did was cover his teeth with his hand a lot. As soon as I put the mustache on [that Mercury wore in the '80s], I became less aware of it as well."
RELATED: Rami Malek on how fans can resolve Bryan Singer's involvement with 'Bohemian Rhapsody' »
The singer certainly overcame his shyness, becoming revered for his ability to rev up crowds.
"He had a remarkable imagination. He could dream up these fairy tales and turn them into rock music – 'Ogre Battle,' 'March of the Black Queen.' 'Fairy Feller's Master-Stroke.' When you have energy like that going on in your brain, there's one way to exhaust it. For me, it's on camera, acting. For him, it was letting it rip for one or two hours every night, or in the studio."
There's plenty of archival footage to reference Mercury the performer. To inhabit his private life, to imagine his unwitnessed moments, Malek explored Mercury the composer.
"What I did one day, to really get into his head space, to get some perspective … 'Ahh. It's right under your nose.' It was by writing out all of his lyrics. I got a window into his soul.
" 'Can anybody find me somebody to love' [from "Somebody to Love"] comes straight from the gut. Songs like 'Lily of the Valley' or 'You Take My Breath Away,' you write those out and you understand someone who is longing for something so desperately, and that's love and a partner. 'I get ever so lonely from time to time' [from 'You Take My Breath Away']. There are so many references to love and loneliness and living on my own.
"I could start to paint the picture from there of the man behind the frontman. I looked at it as my Freddie Mercury diary. And if you go through the times he wrote them, you can see the evolution of the man."
Times staff writer Jen Yamato contributed to this report.
FULL COVERAGE: Get the latest on awards season from The Envelope »
---
From the Oscars to the Emmys.
Get the Envelope newsletter for exclusive awards season coverage, behind-the-scenes stories from the Envelope podcast and columnist Glenn Whipp's must-read analysis.
You may occasionally receive promotional content from the Los Angeles Times.