Stray from the look of the animated 'Beauty and the Beast' for the live-action film? Not on her watch
Academy Award-winning British costume designer Jacqueline Durran was tasked with creating the costumes for Disney's live-action version of "Beauty and the Beast," starring Emma Watson as Belle and Dan Stevens as the Prince/the Beast.
Durran notes creating new sartorial designs to follow the globally beloved animated version had its challenges: "There was never a direct instruction that we had to follow the animated film, but at the same time it was something you wanted to do. You didn't in any way want to break trust or enjoyment of the new film by making it too dissimilar from the previous animated version. So it was a bit of a tight-rope. Ultimately, I think fans loved both."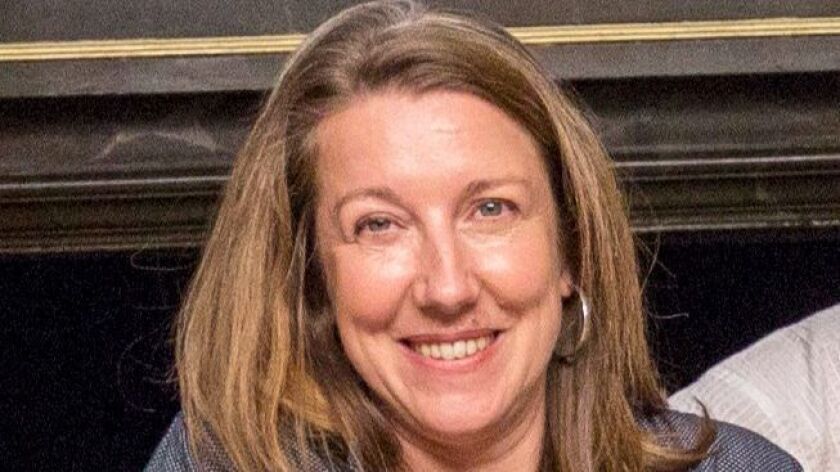 What would have happened had you made Belle's ball gown lavender or magenta instead of the iconic yellow?
I don't know because I didn't consider doing it. We did try making some of Belle's more iconic dresses dissimilar to the animated film dresses — especially that yellow ball gown — but they didn't work in terms of people's expectations and desire; people wanted to see something very similar to the animated version.
What were some of the other more interpretive versions of that key dress?
We tried handkerchief edges, played around with different ways of finishing it, tried different fabrics, we did some taffeta versions. We played with the style and shape of the skirt — all sorts of things. But somehow, even though we could have gone down that road — I mean no one stopped us from experimenting — it never quite felt right. And what it came down to was how it felt to Emma. And really about the dance, how it flowed and looked in that important dance scene.
See the most read stories this hour »
There's a clip of Dan Stevens, who tells a story about his then 5-year-old daughter, Willow, drawing a Belle ball gown. Did you ever see it?
I don't recall seeing it, though we did make her a mini-version of the final dress from the workroom. And we made his son — who was even younger than Willow — a mini-version of the Beast costume like his dad, but he didn't want to wear it. The idea was that they might wear them to the premiere.
How involved was Emma in her fittings and costumes?
She gave me lots of opinions and had quite a lot to do with the costumes, really; we had a lot of fittings. Some things we decided on quite easily; for instance, the village look came pretty easily and early. We just got it and it felt right. The other dresses took much more trial and error because it was about experimenting with the concept of it: Whether it should be updated or to what degree it be a classic "princess" dress; would it be something else or could it be more fashionable — playing around with that concept and seeing what felt and worked right.
How did you arrive at Belle's orange floral gown for the last dance sequence?
That was a new creation. The one instruction in our brief for this dress was that it not look or appear as a wedding dress; no one had the will to see the film close with a wedding. So we made the print bold enough so that it wouldn't be interpreted as a wedding gown.
The material was something I'd bought as a student; an 18th century piece of fabric with a floral pattern across it. We had the floral fabric printed to different sizes and scales; had an artist draw out the print on new fabric; we printed it on the dress and then layered the flowers over each other — some were more shadowy and some were bolder. It was a bold choice of color, too, and there are some lovely photos of Emma on set in it that I particularly like.
In the opening dance sequence of the French aristocrats with those stunning bejeweled ivory ball gowns and coats, did you create all those pieces yourself?
We made all of those dresses and that was a lot of work and labor. We split them up to different costume houses to make and then we brought them back in-house to do the trims and put crystals and decorate them all. We did that for each one by hand, so that was quite a big undertaking.
Video Q&A's from this season's hottest contenders »
The Prince's coat in that scene was decorated in crystals. Did you know French aristocrats, in fact, decorated their coats with real jewels before you did that?
Yes; we referenced it to the diamond-studded clothes of the period and thought what a brilliant thing to do. This vain man; it's so extravagant and so decadent, to have his coat covered in 20,000 Swarovski crystals. We hand-sewed each one on ourselves which took five full days. I wanted to make sure it was historically accurate and it was.
You gave yourself an eco-challenge with creating Belle's cranberry red cape. Why?
We wanted to experience creating a costume in a completely ecological way start-to-finish and it also spoke to Emma's eco concerns. We tried to find all the fabric from sustainable suppliers or use vintage fabric (there were 14 fabrics total for the cape); all dyes used were vegetable and we did all of the stitching by hand. We'd never made a costume fully eco from top-to-toe before. We even tried to make her boots out of mushroom leather.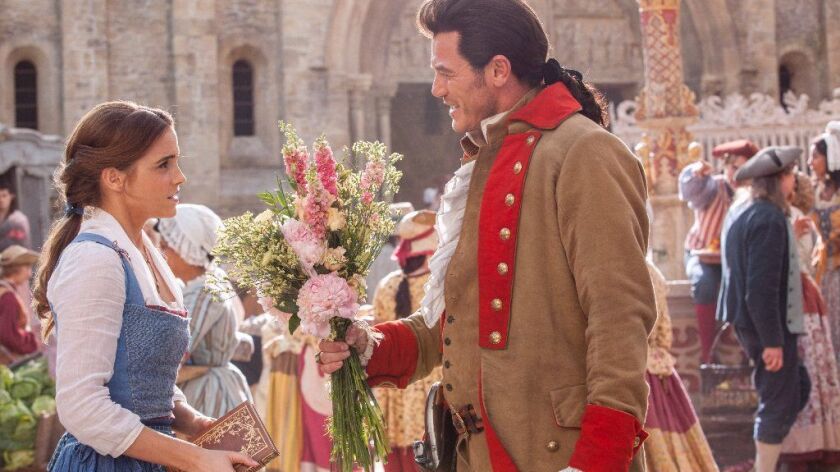 Belle's village costume looked like it was taken from the animation but with some twists.
Yes. We loosely based our ideas on late 18th century France. What I took was the Provence-style prints that we available then. It was really about combining patterns and the tones of the patterns and the feel of that type of French style. The skirt shapes stayed the same from the animated version but I introduced 18th century details such as bloomers and pockets, though we put ours on the outside since the whole thing for Emma was that Belle be an active heroine; anything you could do to help her engage in the world was important.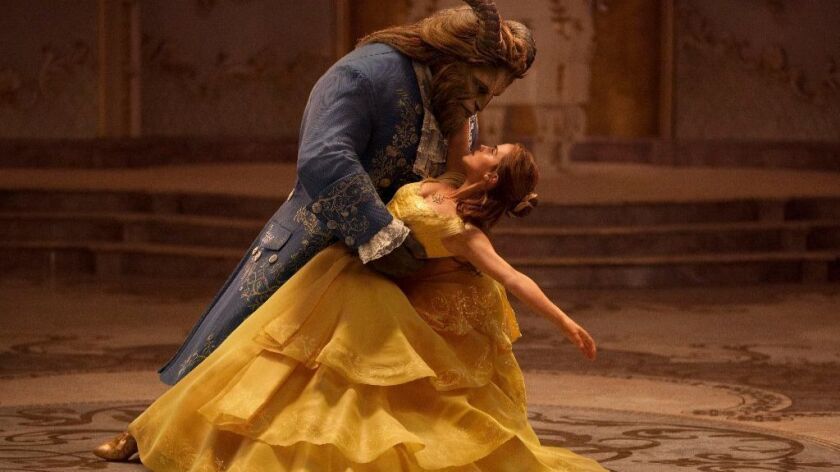 ---
From the Emmys to the Oscars.
Get our revamped Envelope newsletter, sent twice a week, for exclusive awards season coverage, behind-the-scenes insights and columnist Glenn Whipp's commentary.
You may occasionally receive promotional content from the Los Angeles Times.