Q&A: For Elizabeth Debicki, the set of 'Widows' was an ego-free bond of togetherness
On the set of the energetic, Chicago-based "Widows," Elizabeth Debicki and her co-stars — Viola Davis, Michelle Rodriguez and Cynthia Erivo — formed a seal-tight bond. Debicki chalks up part of the instant familiarity to repeated night shoots on the Steve McQueen thriller that opens Friday. "Three a.m. is the magic hour for honesty," says the Paris-born, Melbourne-raised, classically trained Debicki, 28, who you'll remember as the languorous 6-foot-3 mistress of an arms dealer in the AMC miniseries "The Night Manager." "You're physically exhausted, adrenalized, laughing and slightly delirious."
As Alice, the youngest of a band of women, who after their robber husbands are killed, must improvise their way through a high-stakes heist, Debicki gives the film its most delicately layered performance, the one who starts out wide-eyed and self-doubting then finds her emotional rudder.
"We made a film where four women speak to each other about things that matter to them. Not about the men," says Debicki. "For an actress, that's a rare gift."
RELATED: How Steve McQueen and Gillian Flynn updated a British TV show to create the urgent and resonant crime thriller 'Widows' »
You were nervous to meet Steve McQueen. Why?
One of my most ingrained cinematic memories is Michael [Fassbender's 17 ½-minute] monologue in "Hunger" at the table with the priest. It's just burned into my brain. When you have that connection with someone's work and you meet them and audition? There's a reverential quality to it. You really want to impress, have them take you seriously, see you. Isn't that all we really want? "Please care because I really want to work with you."
What about your character Alice Gunnar appealed to you?
Viola used this phrase recently, and I think it's really accurate. She said, "Sometimes something comes along that helps you slay your dragons." My version of that is there was something inside of me I needed to purge with Alice.
"Widows" stars Michelle Rodriguez, Viola Davis, Elizabeth Debicki and Cynthia Erivo discuss how the Steve McQueen-directed heist thriller allowed them to defy Hollywood's expectations of female actors: "Sometimes you get a role that helps you to sla
Meaning?
Alice goes on a very nuanced journey of trying to break out of this almost constant objectification, of understanding that she has worth in the world. That she isn't just her looks, face and sex. What read true about Alice's journey is that it's not linear, it's cumulative. She accomplishes things then doesn't quite believe in herself. When I read that, I thought, "As a woman, that's what life is. It's three steps forward. Eight steps back." [I was given] the opportunity to play someone very real. I've been waiting awhile in my career to get my hands on [a role] like that.
You're typically the only woman in a project. Describe working with three other female leads.
There was just an acceptance, an built-in compassion for this shared experience. You don't need to explain what you need, what you're going through, what you feel. When we first [met] we didn't know each other from a bar of soap. But it didn't take us long — like, an hour — to break that down. Just to talk about life. What we had for breakfast. What we felt about the movie. [laughs] So what's the question? Do I wish it was like that every time? Kind of. Yeah. [laughs] There wasn't any complication or ego. There was just togetherness. Our connection was really strong.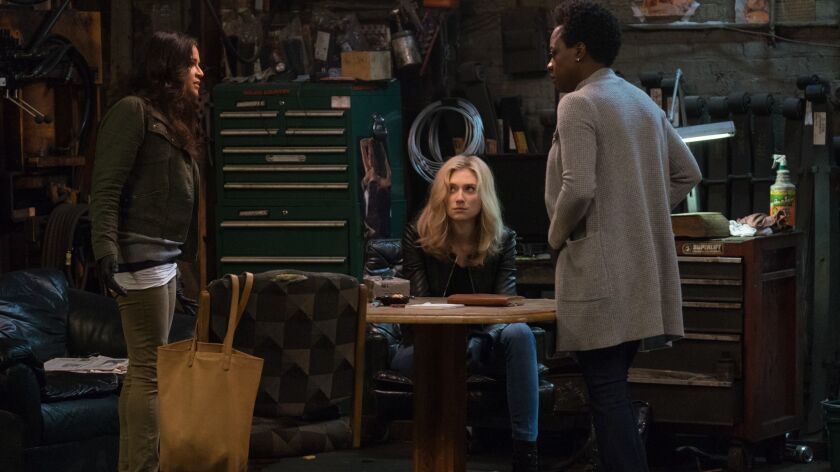 REVIEW: Steve McQueen's 'Widows' is a heist thriller with a vengeance — and a conscience »
In reviews, it's been pointed out that while you're the most physically imposing, your character is the most emotionally vulnerable.
When you say physically imposing, what do you mean?
Tall.
People are fascinated by the concept that [being tall] alienates you or is an impediment. "How have you dealt with this?" It's such a non-sequitur to ask that to somebody who is tall. When you're tall — like any physical attribute — you don't know any other way. The question is always "Has it stopped you in your career?" My answer is always, "I don't know." If there was a conversation that happened about me about not getting a role because I was too tall, then I'm not going to know. My agent won't call me up and say, "Sorry, but you're too tall." Because what am I going to do? Cut my legs off?
Let me rephrase. Was height something that you and Steve talked about?
Steve, I believe, really likes it about me as an actress. He wanted me to own it. He'd sometimes tell me not to slouch. There's a point that comes when you're tall where you own it or you don't. It can be a burden, but that's a waste of time. So you might as well like it about yourself.
Have you talked to any of your costars about working with them again?
Sometimes at 4 a.m.when we were on our 12th cup of coffee, covered in blood, dressed in our heist clothes, Viola and I used to day dream. And by day dream I mean I'd look at Viola and say, "Can we do a play together please?" [laughs] I'm a theater animal. That's where I come from. Same with her. But I'd work with any of those women in a heartbeat -- and the men too. What an extraordinary cast. When I packed my suitcase and left this film, I remember thinking, "I don't know if it gets any better than this. But thank god I got to work with these people."
---
From the Emmys to the Oscars.
Get our revamped Envelope newsletter for exclusive awards season coverage, behind-the-scenes insights and columnist Glenn Whipp's commentary.
You may occasionally receive promotional content from the Los Angeles Times.