'The Favourite' blazes a new trail for period films with a little help from Shakespeare and the Marx brothers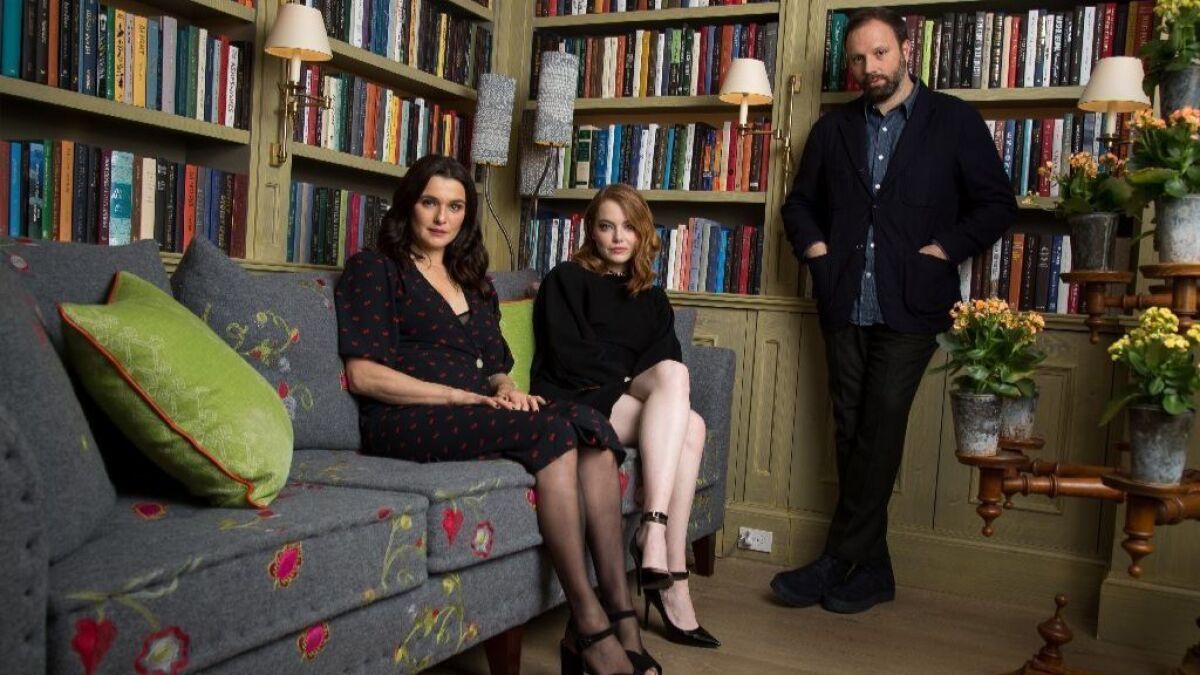 It's the morning after the Los Angeles premiere of "The Favourite," and Emma Stone, Rachel Weisz and director Yorgos Lanthimos are regrouping, sipping coffee (Stone), English breakfast tea (Weisz) and double espressos (Lanthimos) while the conversation pings among Shakespeare, the Marx brothers and Greek mythology.
"Right there, between those three, you've got 'The Favourite,'" Stone enthuses, connecting the dots.
And sure, "The Favourite," the true story (told with great license) of two women — Sarah Churchill, Duchess of Marlborough (Weisz) and her cousin, Abigail Hill (Stone), a poor relation looking to improve her fortunes — vying for the affection of lonely, gout-ridden Queen Anne (played by Olivia Colman, back in London on this day shooting Netflix's "The Crown") in early 18th century England, has its share of clowning and absurdity and fractured legend-making.
But because this is coming from Lanthimos, the Greek filmmaker known for examining the extreme and enigmatic ways humans attempt to exert control over their circumstances in movies like "The Lobster," "Dogtooth" and "The Killing of a Sacred Deer," you know that "The Favourite" is going to be more than a mere romp.
"I'm not big on realism," Lanthimos says, "just telling a very true story about behavior."
"But the circumstances are large in your movies," offers Weisz, who also worked with Lanthimos in "The Lobster."
"Well, those Greek tragedies make you see things differently," he answers. "Certain things that might be taboo here, I don't consider them as such."
Stone: "Like Oedipus." Lanthimos nods. "Best family drama," Weisz says, smiling. "It's not pretty."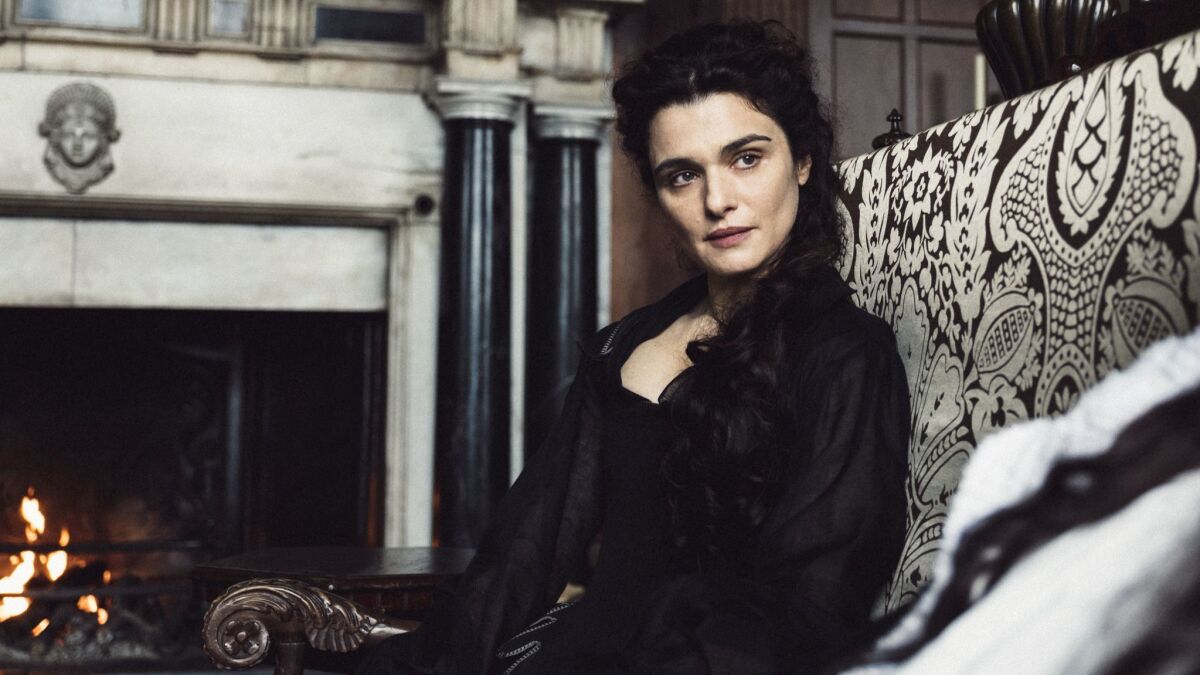 "Killing your kid, eating other people," Lanthimos continues. "We read it and it has happened in real life many times over."
"What has happened in real life?" Stone asks.
Lanthimos: "People have eaten other people. Parents have killed their kids."
Weisz: "Boys fancy their moms."
Lanthimos: "Incest. Everything! Every day! Thousands of things. I don't think we should shy away from that." He pauses. From a corner of the patio, Griffin Dunne approaches the table, wishing to say hello to the women. "How did we get to this subject?" Pause. "The Marx brothers did it, I think."
Vulgar, ridiculous, darkly funny and, in the end, deeply tragic, "The Favourite" is a movie that feels constructed as a corrective to period dramas like "The Crown" and "The Queen" and any other film or television series in which the characters speak in a particular, clipped cadence. Weisz, who grew up watching loads of these projects, calls it the "dum-diddly-dum, diddly-dum" speech pattern, which sounds right if you try it with a British accent.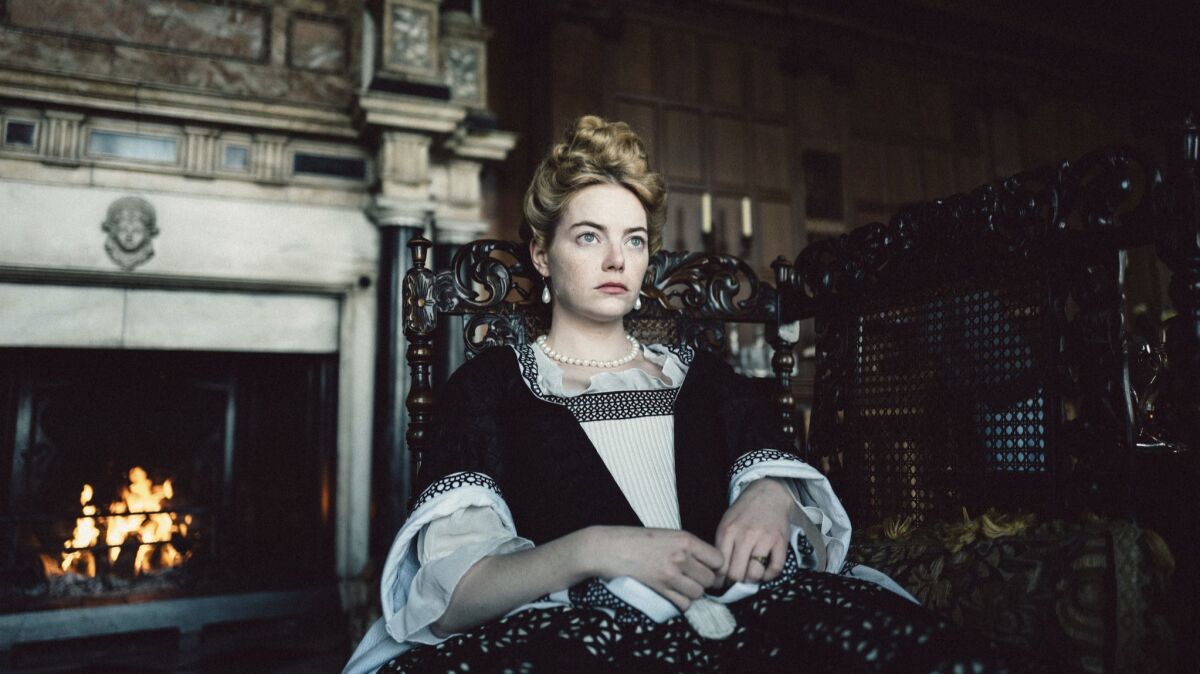 How did they achieve the movie's singularly wicked tone? You know, where a bunch of boisterous aristocrats gleefully pelt a fat, naked man with blood oranges or when Abigail asks a male suitor if he came to seduce her or rape her. "I am a gentleman," he replies. "So rape, then," she answers in a tone of deadpan calmness, lying prone on her bed.
There were three necessary steps. And that's not including learning how to stage a palace duck race. Read on …
Step 1: "I think it's funny. So it's funny."
British screenwriter Deborah Davis wrote the first version of this story of palace intrigue 20 years ago. Studios passed, Weisz says, because in 1998, no one wanted to make a movie with three women as leads. ("It's hard enough today," she notes.)
Element Pictures co-founder Ed Guiney, producer of "Room" and Lanthimos' "The Lobster," saw the script about a decade ago and thought Lanthimos could make a perverse, screwball comedy from the material. Lanthimos took to it and began revising the screenplay with Australian writer Tony McNamara.
"You look at the real story and it's 'All About Eve,'" Lanthimos says, referencing the 1950 film about an ambitious fan (Anne Baxter) who insinuates herself into the life of an aging Broadway star (Bette Davis) and becomes her rival.
"But I saw [Luis] Buñuel's 'Diary of a Chambermaid' in it too," Lanthimos adds, "and we talked about plays like Sarah Kane's 'Phaedra's Love,' which is this funny and cruel and dark retelling of the myth of Phaedra's love for her stepson Hippolytus."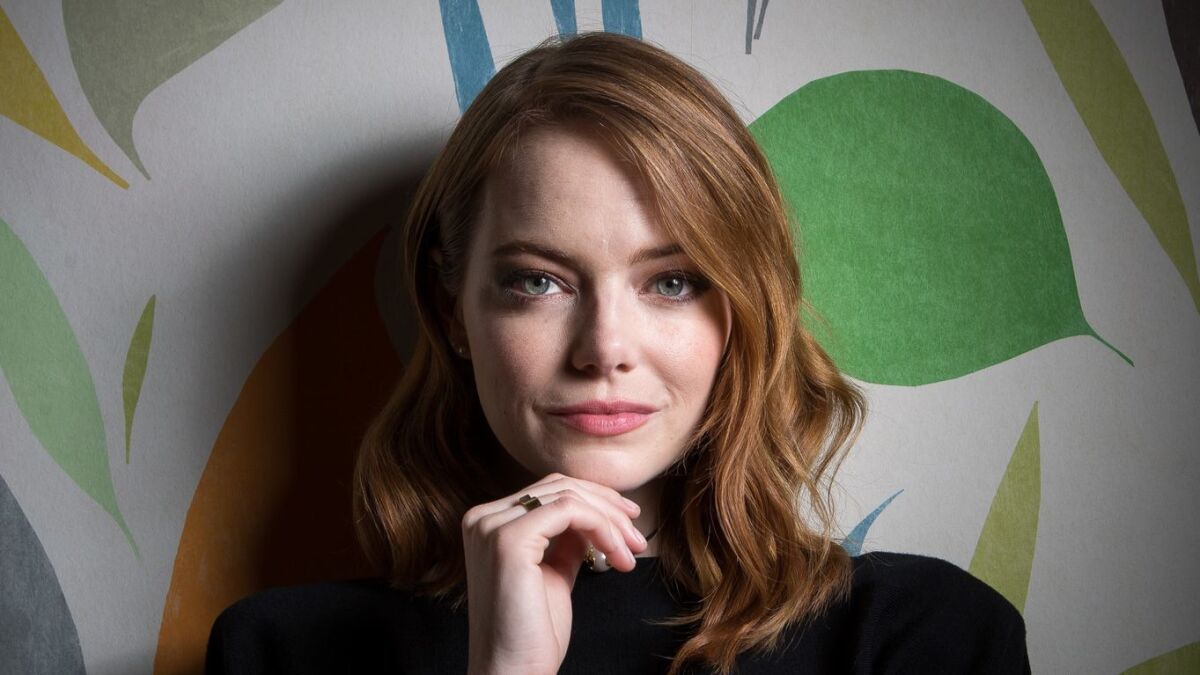 "Not exactly a comedy," Stone offers.
"No, but there's an absurdity in all these stories, including this one," Lanthimos says. "Here, the personal relationships between these three women are affecting the fate of the whole world."
"It's the one-percenters," Weisz adds, "and if they don't get what they want for breakfast, then the country suffers. That makes the story feel very modern. And tragic."
"But also absurd," Lanthimos counters. Stone relates that when the movie premiered at the Venice Film Festival in late August, the audience laughed a lot, even with subtitles.
"I don't rely on other people to define the movie," Lanthimos says. "I think it's funny. So it's funny."
Step 2: Exercises, yes. Discussion, never.
To eradicate any preconceptions about the methodology of making a period costume drama, Lanthimos held a three-week rehearsal period before filming. There, in an old industrial park in London, Weisz, Stone and Colman, along with their three male court counterparts (Nicholas Hoult, James Smith and Mark Gatiss), engaged in a series of exercises designed to build trust and comfort with him and one another.
"I didn't know what was happening at the time," Weisz says. "I was just concentrating on doing things like saying Emma's lines fast in a staccato way while putting my hand on Olivia's bottom. Later, I'd understand. The rules were designed to take your mind off the acting." She turns to Lanthimos. "Right?"
"I wanted to get all these things into their bodies in a way that's unconscious and then, when they're on set, they're free to try different things and not feel the need to abide by any predetermined behavior," Lanthimos says. "I'm not big on discussions. So let's take care of all of these things before filming so it will feel genuine. Forget anything you thought you know about this time period. You see portraits of these women. Who knows if they walked around like that in the palace?"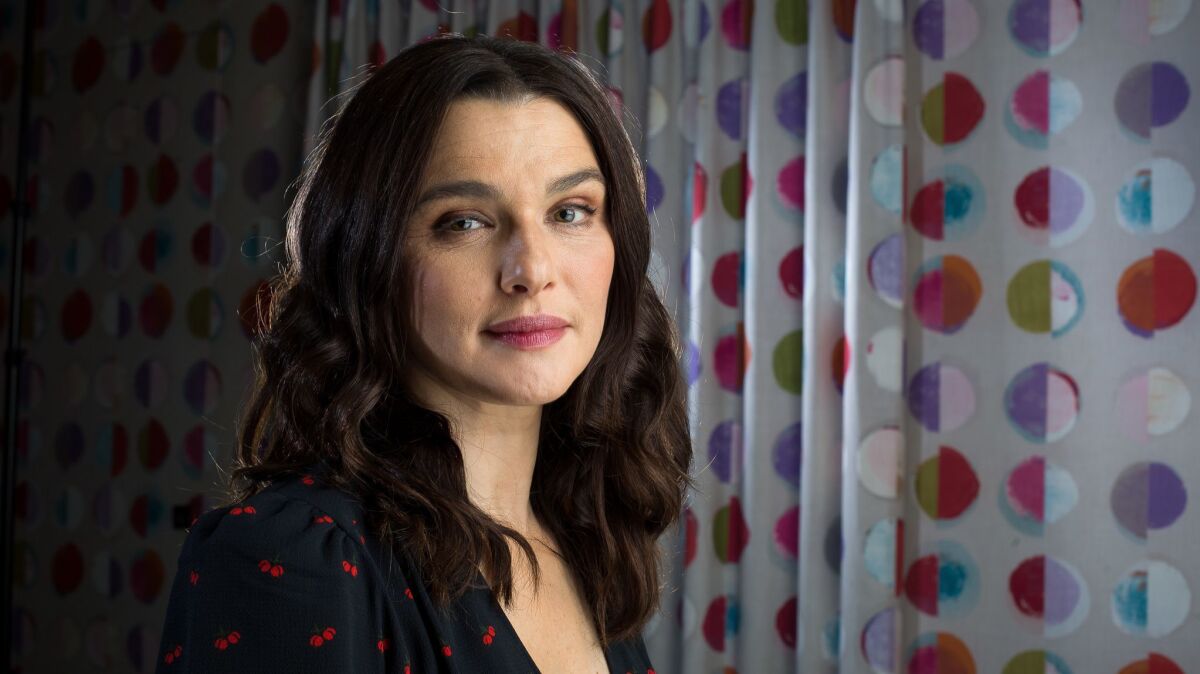 "It's the red carpet of today," Weisz says. "Right now, we don't look how we looked last night. We're totally different."
"Two hundred years from now, they'll be making a period film about 2018, and it's going to be absolutely ridiculous, isn't it?" Stone says.
"If they imagine we dressed every day like we did last night, then yes, yes it will," Weisz answers.
Step 3: "Morality is a luxury."
"The Favourite" puts the women front and center, and one of its strengths is the way it makes viewers consider and shift their allegiances to this trio of complex characters throughout the film.
Weisz calls Churchill the most complicated woman she has played, outside of Blanche DuBois in "A Streetcar Named Desire."
"She's aggressive and sadistic and also vulnerable and needy," Weisz says of Lady Sarah, who essentially governed England in the place of the meek, mercurial queen. "I could bore you with infinite adjectives as to what she is — and that's true of all the characters."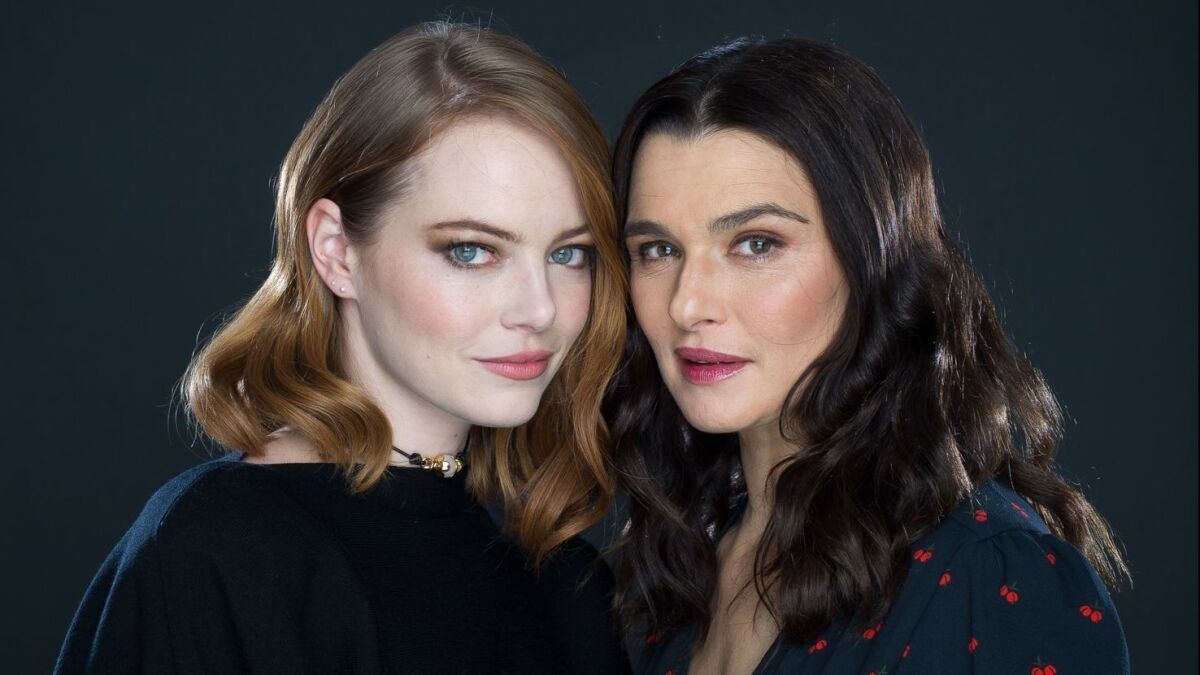 Stone, playing the story's social-climbing usurper, isn't so sure the audience is ever really on Abigail's side, though the character's grievous history — family bankruptcy, her father losing her in a card game — makes her pragmatism understandable. "Favor is a breeze that shifts direction all the time," warns Tory opposition leader Robert Harley in the film.
"When you're threatened with being thrown back on the street, you do what you can to survive," Stone says. "Morality is a luxury. Make a wrong move and you're being whipped in the kitchen."
"That was Henry VIII's kitchen, you know," Weisz points out, referring to the Hampton Court Palace location where the film shot.
"It was amazing to me because I'd never been to places like that," Stone says.
"You've never been whipped in Henry VIII's kitchen?" Weisz asks. "We were like, 'Whatever.'"
"I was a Henry VIII kitchen-whipping virgin," Stone says.
"We should put that on the poster," Lanthimos says. "It sums up the movie's tone pretty well, I think."
Twitter: @glennwhipp
---
Get our L.A. Goes Out newsletter, with the week's best events, to help you explore and experience our city.
You may occasionally receive promotional content from the Los Angeles Times.