'The Florida Project' cast and director take a deeper dive into the immersive drama
If "The Florida Project," Sean Baker's immersive drama that weaves childhood adventure with the stark realities of people living on the margins of society, earns an Oscar nomination for best picture, it'd likely be the least-seen member of that group. (Since Netflix won't divulge the viewership numbers for "Mudbound," we'll never know for sure.)
But what it lacks in box office, "The Florida Project" makes up with viewers' passion for the film. "When I saw it, nobody wanted to leave after it was done," said South by Southwest Film Festival director Janet Pierson. "It's so engaging … you don't want to leave and break the spell."
Why has it resonated with people like Pierson? We spoke to director Baker, who co-wrote the movie with Chris Bergoch, along with first-time actress Bria Vinaite and 7-year-old Brooklynn Prince, who play a mother and daughter making the best of dire circumstances, and Willem Dafoe, the film's anchoring veteran. Their answers are illuminating, though the film's feeling of wonder remains something that needs to be experienced first-hand. (And if you haven't seen it, there are indeed spoilers ahead.)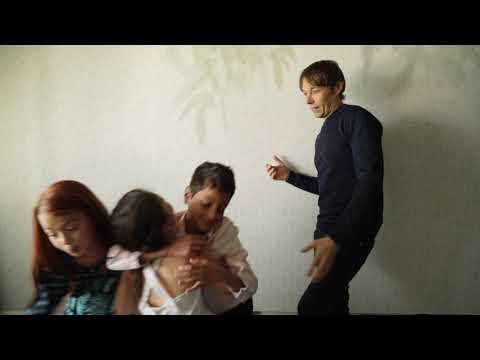 It's quite the challenge trying to interview the energetic child stars of "The Florida Project."
WATCH: Video Q&A's from this season's hottest contenders »
WHAT IS IT ABOUT BOBBY?
Dafoe owns two Oscar nominations and over the course of four decades has acted in 80 movies, including roles as Jesus of Nazareth, Pier Paolo Pasolini and the Green Goblin. But his portrayal of Bobby, the decent, big-hearted motel manager looking out for his guests, has pierced the hearts of audiences and critics, earning him more honors than any other role of his career.
Dafoe: Bobby is not an extraordinary person at face value. He doesn't have any particular talents. He's not even a good hotel manager. But he's a compassionate guy. And that gets expressed in the movie by where he gets placed in the story.
Baker: Even people who hate the film love Bobby. When we saw Willem start to embody the character, there was such a sweetness about him. But it didn't have a cheesy quality to it. There was something nice and warm about Bobby without being warm. He was the coldest warm character that I've seen in awhile.
Dafoe: Filming at the motel, being there with the people living there, really helped me. You're breaking bread with them. My dressing room was right there in the motel. I heard a lot of stories. They heard mine. You know you're in a good situation when those people become your people. You claim them and they claim you, and you have a different kind of authority in telling the story. Because you're not doing it from the outside. You're making it with them.
And that strong reality informs what you're doing so there's a depth to the pretending where your stake is the stake of living. You go deep because you have some knowledge of the situation.
EMPATHY TEST: HOW DO YOU RESPOND TO HALLEY?
So, yes, everyone loves Bobby. And most everyone takes to Prince's Moonee, the movie's pint-sized, mischief-making homage to Our Gang's Spanky. But Moonee's mother, Halley, is another matter entirely. Covered in tats, unapologetic, this blunt-smoking former stripper is a single mother doing her best to raise her daughter in alarming conditions. And because of her youth (and those conditions), her decisions aren't always the best.
Baker: Watching audiences respond to Halley becomes a sociological experiment, to tell you the truth. You see people's sensitivity levels. You read the negative reviews on Rotten Tomatoes, you see there's no empathy at all. "Why are we watching this white trash girl who obviously doesn't know how to raise a kid?" "Take that kid away from her right now!" "Why do I need to watch a movie about this?" It's actually pretty offensive in many ways.
Vinaite: It's really interesting to hear people's responses to her. At a screening, somebody said Halley has no morals and she's a terrible person, and that bothered me because she definitely has morals. It was said very aggressively, and I was kind of like, "Whoa." Some people get crazy about her.
Baker: I don't know. People seem to miss a lot of things. It was important for me to show that even in the darkest places, Halley tries to spin it to always make it the best. We had a scene we had to cut. It kills me. When they're eating pizza and Moonee's complaining that there's no pepperoni, Halley gets some gummy bears and puts those on the pizza. "Gummy bears pizza party!" But there's a similar moment later when she gives Moonee a piggy-back ride. She's always trying to shelter Moonee and make the best.
Vinaite: Never once does Halley take it out on her daughter, never once did she tell Moonee she couldn't pay rent, never once did she let the stresses affect her relationship with her. I think that's very admirable, because if I was in that situation, I don't know if I'd be able to keep that to myself. I'd lose it.
Baker: People in those circumstances get into survival mode, and sometimes choices are made out of desperation. But they don't lose their humanity. One of the happiest outcomes from this movie has been people giving to the Community Hope Center, a place we've been mentioning at screenings. That means people are going home at night, thinking about the film and the issues.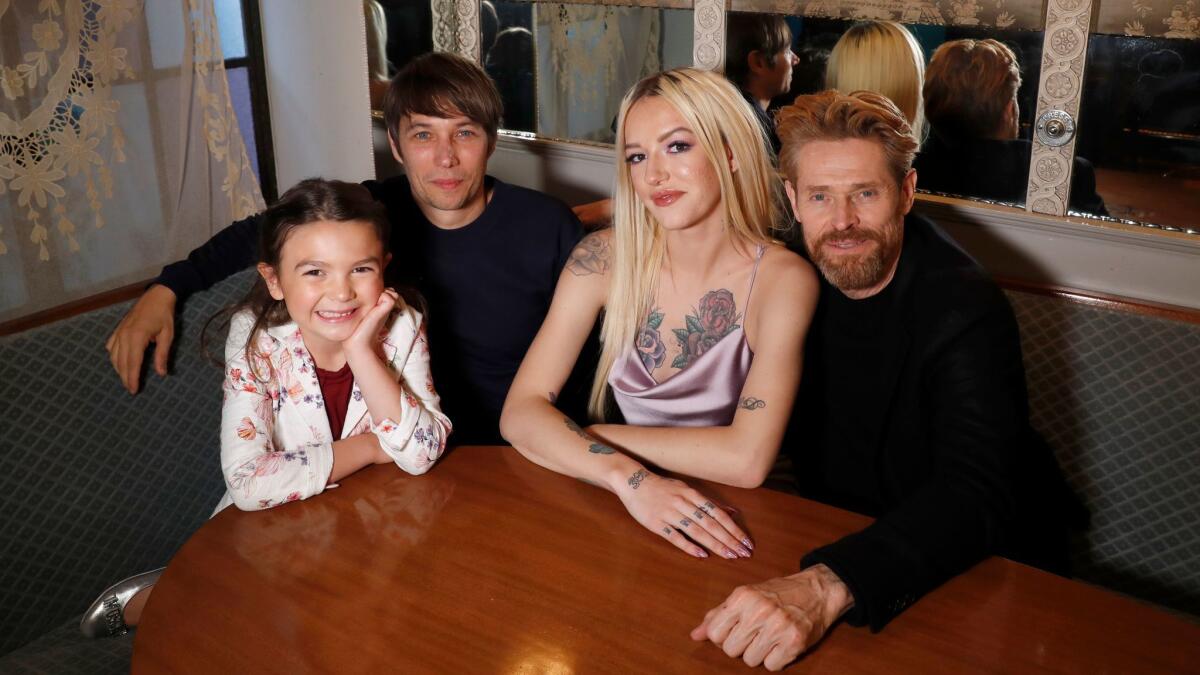 THE ENDING
The film's final moments move from child welfare officers taking Moonee away from Halley to Moonee running away to find her best friend Jancey to tell her this might be the last time she ever sees her. At this point, the film shifts from 35mm photography to an iPhone camera as Jancey then grabs Moonee's hand and they run to Disney World, winding up at Cinderella's Castle.
Baker: The ending is extremely polarizing, at least on Twitter. Who knew? I did not see that coming. There was one guy who broke it down on Twitter in a wonderful thread. Like, "Everybody's complaining about the ending. What do you want? Do you want Moonee just to be sitting in the back seat of a DCF [Department for Children and Families] car crying?"
I think people just want that wrap-up because we're so used to it. If it's abstract or asking the audience to interpret it or think on their own, some people get upset. Not just upset. Violent upset. They're saying, "Sean Baker ruined his film in the last 30 seconds."
Prince: My mom and dad think Moonee's sitting in the back of a cop car, probably like in La-La Land, figuring she's with her friend at Disney World. She probably ran away to her friend's house and probably Jancey said no and the cops finally found her. But I can't think about it that way because it makes me cry.
Dafoe: I'm going to leave that up to the audience to decide. What I like is that Bobby's not riding in on a white horse. What can he do? And his solution is basic. He goes out to the back and there's a woman struggling with the washing machine and he tells her, "Don't worry. We're gonna fix it next week."
It's a beautiful optimism. It may seem impotent, but one thing the film does capture is the human impulse to hope. And, at that moment, Bobby has done what he can. He doesn't know what else he can do. But you get the feeling he's not going to give up.
Normally, that would be a sentimental thing, something you would telegraph. But Sean is very skillful at letting things happen and allowing the audience to identify with the characters and their dilemmas. Bobby's between a rock and a hard place. But he's still going on. He's not destroyed by the challenges. And when I watch movies, I'm always moved by that. It brings me close to people and gives me courage and hope.
But, no, I can't explain the Disney World thing. That's up to Sean.
Baker: There's obviously a reason we're cutting from one medium to another and there's all of a sudden a score for the first time. Now we're telling the audience that this might not be real, but perhaps the audience's moment to use Moonee's sense of imagination and wonderment to make the best of what might not be a happy ending.
Prince: Here's what I think. I think Moonee really ran away but then they finally find her. But I don't know. I still have to keep making up my thoughts on this. It could be anything you want. If you want Moonee to live in Disney World, she can live in Disney World. Maybe she's living at the ice cream parlor. She loves ice cream. Maybe you could say Moonee went to Disney World and she went back to her house and the DCF was gone. I'm not going to close any doors on what Moonee's adventures might be. She's magical, you know?
Twitter: @glennwhipp
From the Oscars to the Emmys.
Get the Envelope newsletter for exclusive awards season coverage, behind-the-scenes stories from the Envelope podcast and columnist Glenn Whipp's must-read analysis.
You may occasionally receive promotional content from the Los Angeles Times.