Make way at the Oscars for 'Blade Runner 2049'
"Blade Runner 2049" will blow your mind — and maybe finally win cinematographer Roger Deakins an Oscar.
Welcome to the Gold Standard, the newsletter from the Los Angeles Times that helps guide you through the ins and outs of the awards season leading up to the Oscars.
I'm Glenn Whipp, The Times' awards columnist and your newsletter host.
Bow down before 'Blade Runner 2049'
Let's face it. We don't expect much in the way of artistry from studio movies these days. So when a filmmaker comes along with an original idea and executes it in a provocative fashion, you almost feel ungrateful if you don't regard it as manna from heaven. How else do you explain those rapturous "mother!" reviews?
But Darren Aronofsky is a filmmaker whose vision has never quite equaled his technique. Denis Villeneuve, on the other hand, delivers on his ambitions. And with "Blade Runner 2049," he has crafted a bold, big-screen experience that rivals the year's other grand tour de force, "Dunkirk," and, in many respects, surpasses it.
In the words of Harrison Ford, who reprises his role from Ridley Scott's 1982 original: "'It's a cathedral of a movie, it's not a little church you stop into along the way." (Actually, half those words come from "California Dreamin' " — kind of appropriate given the movie's L.A. setting, though few people would be fantasizing about the Golden State depicted in this film.)
The review embargo lifted a couple of hours ago, and I'd expect a great many raves as well as a few more measured responses. The first movie had many detractors, with then Times film critic Sheila Benson dubbing it "Blade Crawler." I'd guess the new movie's pacing — it runs 2 hours and 44 minutes with credits — might be problematic for some viewers.
"I have no idea how the world will react," Villeneuve told Times film writer Josh Rottenberg in an interview that included Ryan Gosling, who plays an LAPD android tracker in a future set 30 years after the events of the original film.
Here's one certainty about the response: Cinematographer Roger Deakins will earn his 14th Oscar nomination for the masterful way he uses light and color in bringing the film's dystopian, broken world to life.
Among Deakins' dozen previous nominations are such masterworks as "The Assassination of Jesse James by the Coward Robert Ford," "No Country for Old Men," "Kundun" and "Skyfall." So, yes, he is, in the parlance of Oscar obsessives, "due."
But he shouldn't be the only one recognized for this movie. "Blade Runner 2049" could land a number of nominations — production design, visual effects, editing, sound, director and, possibly, picture.
That doesn't mean it's going to happen. The original film pulled in just two Oscar nominations — art direction and visual effects — winning neither. Its glory came later in its profound influence on other filmmakers, which, of course, is better than any gold-plated statue.
I'll be writing more about "Blade Runner 2049" in the coming weeks as voters begin to see it. (The academy screening is Oct. 7.) It opens in theaters on Thursday.
Jake Gyllenhaal delivers again in 'Stronger'
In David Gordon Green's "Stronger," Jake Gyllenhaal plays Jeff Bauman, a survivor of the 2013 Boston Marathon bombing. The movie focuses on Bauman dealing with mental and physical hurdles brought on by losing both his legs above the knee. Part of the problem has nothing to do with physical therapy. The locals consider Bauman a hero, a designation he believes is unearned.
"Stronger" neatly sidesteps many of the recovery genre's tropes on its journey toward uplift, and Gyllenhaal, along with Tatiana Maslany, who plays Bauman's on-and-off girlfriend, is a big reason it works as well as it does.
The movie opened last week to so-so business, though audiences liked it well enough, giving it an A- with the market research firm Cinemascore. You can read Times film critic Justin Chang's review here and film writer Amy Kaufman's conversation with Gyllenhaal, Maslany and Green here.
Like last year, the lead actor Oscar race is a bit on the thin side. Two presumed contenders — Tom Hanks in Steven Spielberg's "The Post" and Daniel Day-Lewis in Paul Thomas Anderson's still not officially titled "Phantom Thread" — won't be unveiled until mid-November.
But whatever the commercial fate of "Stronger," Gyllenhaal's raw, lived-in turn deserves to be remembered when ballots are cast.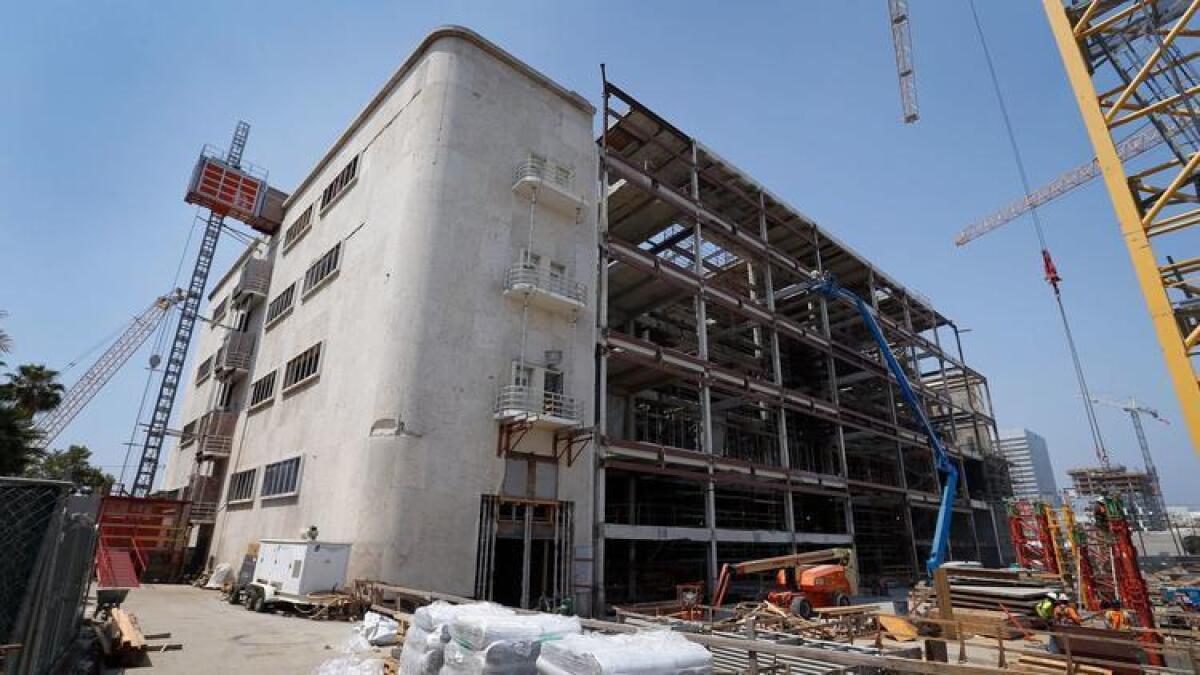 Movie museum moves closer to its close-up
The Motion Picture Academy held a press conference and hard hat tour Wednesday on the site of its ambitious film museum, at the corner of Wilshire Boulevard and Fairfax Avenue. A just-announced $50-million gift from Cheryl and Haim Saban puts the project roughly three-quarters of the way toward completing its $388-million capital campaign.
The museum, which will feature rotating exhibits as well as a permanent installation devoted to the history of filmmaking, is scheduled to open in 2019. Times film writer Josh Rottenberg toured the site and wrote about the project and its progress here.
Feedback?
I'd love to hear from you. Email me at glenn.whipp@latimes.com.
Can't get enough about awards season? Follow me at @glennwhipp on Twitter.
Twitter: @glennwhipp
Get our L.A. Goes Out newsletter, with the week's best events, to help you explore and experience our city.
You may occasionally receive promotional content from the Los Angeles Times.