Newsletter: Gold Standard: What holiday movies are poised to enter the best picture race?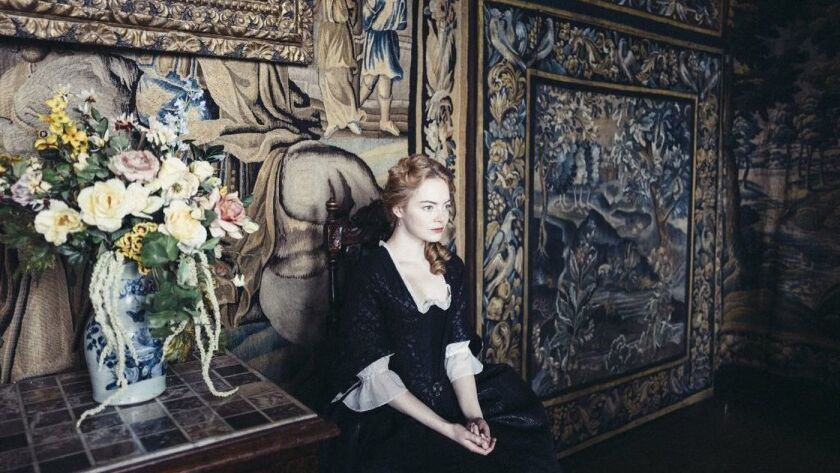 We've turned the calendar page to November, and in the next few weeks, the final group of aspiring Oscar contenders will arrive in theaters. Judging by recent history, that's prime contention time. Last year, seven of the nine best picture nominees launched in November and December.
Which of this year's late arrivals will make the cut?
Welcome to the Gold Standard, the newsletter from the Los Angeles Times that helps guide you through the ins and outs of the awards season leading up to the Oscars.
I'm Glenn Whipp, The Times awards columnist and your newsletter host.
What films will fill out this year's best picture field?
Let's see … "A Star Is Born" is in. "First Man" could be in. "BlackKklansman" and "Black Panther" should be in.
For The Times' holiday movie preview, I went through the year's remaining best picture hopefuls, ranking them based on their likelihood of winning favor with Oscar voters. The crowd-pleasing "Green Book" leads the list. Even with the comparisons to "Driving Miss Daisy" (or, perhaps, because of them), this road trip movie feels like the awards season's sleeping giant.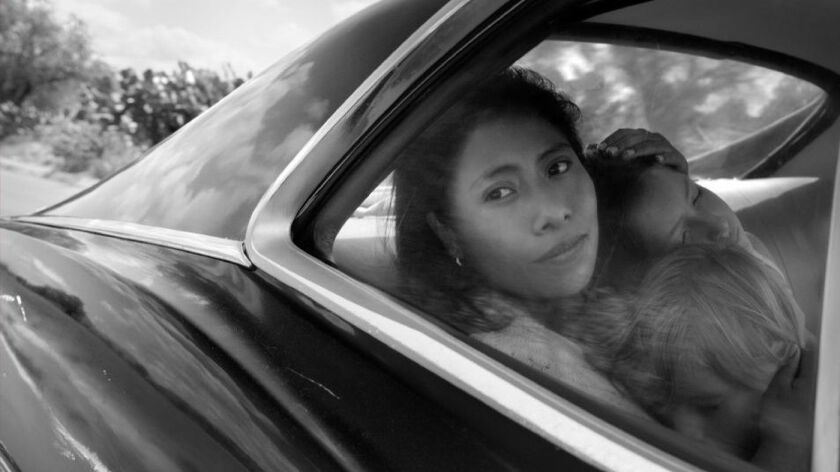 Netflix changes awards season strategy for Oscar hopefuls
Netflix has never had a movie Oscar-nominated for best picture. The monolithic company would really like to earn that first nomination this year, and that burning desire factored into the decision this week to offer exclusive theatrical engagements for three of its upcoming awards season hopefuls.
Alfonso Cuarón's autobiographical drama "Roma," the Coen brothers' Western anthology film "The Ballad of Buster Scruggs" and Susanne Bier's thriller "Bird Box" will now play in theaters before arriving on the streaming platform.
Of the trio, "Roma" has, by far, the best chance of securing a best picture nomination. Cuarón's acclaimed feature, which won the Golden Lion in Venice, will now play in theaters in Los Angeles, New York and Mexico beginning on Nov. 21 — three weeks before it will begin streaming on Netflix.
In total, Netflix says the film will be theatrically released in more than 20 territories globally, with 70 mm presentations also planned.
But, really, who knows? When Paul Greengrass' "22 July," a probing, true-story account of mass murder perpetrated by a far right extremist, premiered last month, it debuted simultaneously in theaters and on Netflix. The streamer doesn't report box office, just as it refuses to release viewership numbers for its episodic programs. So we have no way of knowing, outside of looking at advance ticket sales numbers, how many people saw "22 July" theatrically.
But the conversation surrounding Greengrass' strong, searing movie dissipated fast. And Netflix's awards consultants don't want that to happen to "Roma." (Likely recognition from top critics groups in late November and early December could provide the film with a boost.) Besides, a superbly crafted movie like "Roma" deserves — perhaps even requires — a theatrical presentation.
"The whole idea is trying to get not only a theatrical release but the best theaters possible," Cuarón told The Times in September at the Telluride Film Festival. "The ideal theaters would be with HDR Dolby projections and with Atmos sound because that's the ultimate experience to watch the film."
Stay tuned to see if Cuarón receives his wish.
Octavia Spencer pulling double duty this month
I mentioned "Green Book," a dramedy about the unlikely friendship between a resourceful hustler (Viggo Mortensen) and a black classical pianist (Mahershala Ali), earlier in the newsletter. Oscar-winning actress Octavia Spencer is a producer on the film and also worked as a consultant on its script. She spoke to Times film writer Tre'vell Anderson about her involvement in the project, saying she's not surprised that festival audiences have embraced it.
"[Director Peter Farrelly] had put together about 20 minutes of the movie [in advance], and I felt like I did when I watched 'The Help' and when I watched 'Hidden Figures' ... that sense of hope, that things can change, that people can work together and see each other as human beings," Spencer says.
"Pete has such a beautiful hand with levity, and I think sometimes that levity lends itself as a wonderful teaching tool. Because if you can laugh at a moment that is tense and scary and you don't know what's about to happen, the lesson that you learn from it will more than likely take, if it's not confrontational."
"Green Book" will open in limited release Nov. 16 before going wider on Nov. 21.
Feedback?
I'd love to hear from you. Email me at glenn.whipp@latimes.com.
Can't get enough about awards season? Follow me at @glennwhipp on Twitter.
Twitter: @glennwhipp
---
From the Emmys to the Oscars.
Get our revamped Envelope newsletter for exclusive awards season coverage, behind-the-scenes insights and columnist Glenn Whipp's commentary.
You may occasionally receive promotional content from the Los Angeles Times.