Gold Standard: Expect a tight Oscar animation race, an easy song win and a possible surprise in the score category
The producers of Sony Pictures Animation's hit "Spider-Man: Into the Spider-Verse" have such confidence in their film that, earlier this year, they were toying with the idea of launching a serious campaign for best picture.
Good as the movie is, landing a best picture Oscar nomination would be a long shot. Since adopting, in 2011, its current, complicated voting system that allows for a variable roster of five to 10 best picture nominees, the film academy has not nominated any animated movie for the category — including one of the best films made this decade, "Inside Out."
That leaves "Spider-Man" in the position of being one of the favorites for the animated feature Oscar. And who knows … maybe a stray best picture vote or two will fall into its net.
Here's a look at that race as well as the original song and score categories.
ANIMATED FEATURE
"Spider-Man: Into the Spider-Verse"
"Incredibles 2"
"Ralph Breaks the Internet"
"Isle of Dogs"
"Mirai"
On the cusp: "Early Man," "Smallfoot," "The Grinch"
In the mix: "Tito and the Birds," "Ruben Brandt, Collector"
Analysis: Until "Spider-Man" came along, Pixar's summer hit "Incredibles 2" reigned as the heavy favorite in this category. But this month, "Spider-Man" won prestigious prizes from critics groups in Los Angeles and New York, earning ecstatic reviews like the one from my Times colleague, Justin Chang, who called it "a quick-witted entertainment, daring and familiar by turns, that also proves to be sweet, serious and irreverent in all the right doses."
And though "Incredibles 2" remains formidable, it must overcome a historical hurdle. Since the creation of the animated feature category 17 years ago, just one sequel has won this Oscar — 2010's "Toy Story 3." And that was a near-perfect sequel to a franchise the academy had never been able to honor in the category. (The first two "Toy Story" movies arrived before the separate animated feature category was created.)
"Incredibles 2" retains one advantage, though. Its June release date gives it a huge head start over "Spider-Man" in terms of academy viewership, a lead that could make that aforementioned sequel stat irrelevant. It's going to be a tight race.
ORIGINAL SONG
"Shallow" ("A Star Is Born")
"All the Stars" ("Black Panther")
"The Place Where Lost Things Go" ("Mary Poppins Returns")
"I'll Fight" ("RBG")
"Girl in the Movies" ("Dumplin'")
On the cusp: "Revelation" ("Boy Erased"), "Trip a Light Fantastic" ("Mary Poppins Returns"), "The Big Unknown" ("Widows"), "When a Cowboy Trades His Spurs for Wings" ("The Ballad of Buster Scruggs"), "Keep Reachin'" ("Quincy")
In the mix: "Treasure" ("Beautiful Boy"), "We Won't Move" ("The Hate U Give"), "A Place Called Slaughter Race" ("Ralph Breaks the Internet"), "OYAHYTT" ("Sorry to Bother You"), "Suspirium" ("Suspiria")
Analysis: The assumption — and it's a pretty safe one — is that this Oscar belongs to "Shallow," the earworm anthem sung by Lady Gaga and Bradley Cooper to great dramatic effect in "A Star Is Born." Warner Bros. initially listed two other songs from the film — "Always Remember Us This Way" and "I'll Never Love Again" — on its FYC site, but the studio submitted just "Shallow" for consideration. The Oscars have a two-song limit per film, and in the past decade, "La La Land," "Slumdog Millionaire" and "The Princess and the Frog" earned multiple nominations. Warner Bros. narrowed the focus with "A Star Is Born," believing "Shallow" can deliver the win.
A movie that could pick up two noms is "Mary Poppins Returns." I'm hearing that songwriters like the teary ballad "The Place Where Lost Things Go" a bit more than "Trip a Light Fantastic," though the latter song is seen to better effect in the film. It's possible that both numbers will make the final cut.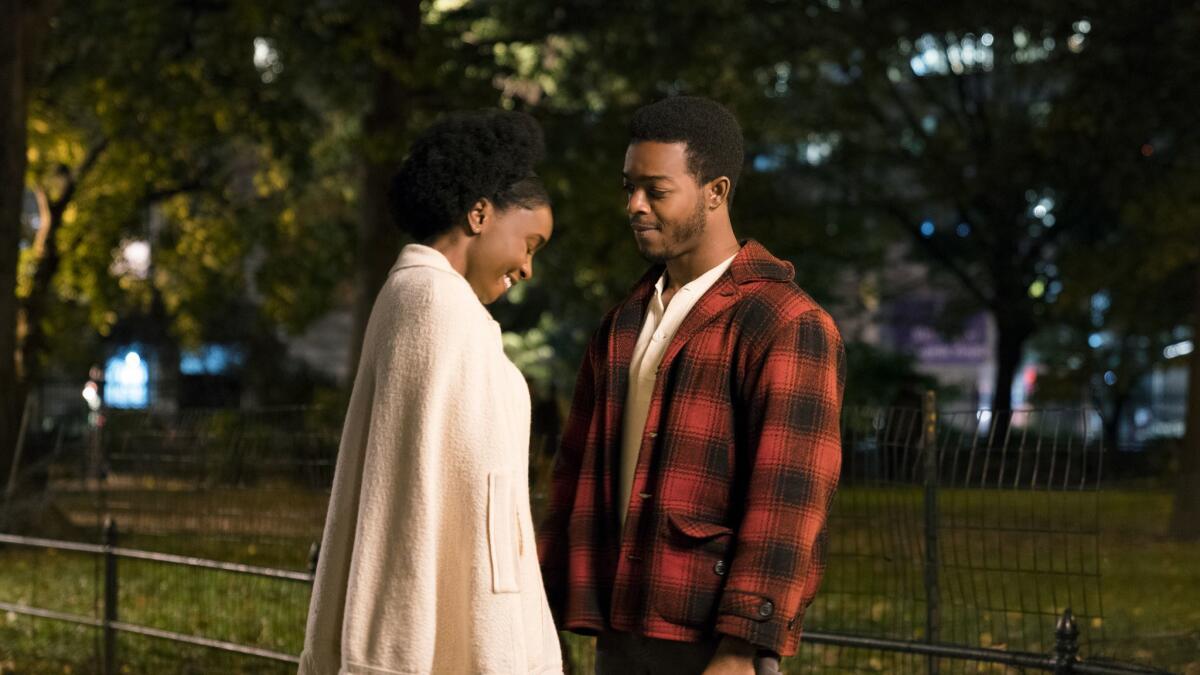 ORIGINAL SCORE
Nicholas Britell, "If Beale Street Could Talk"
Justin Hurwitz, "First Man"
Marc Shaiman, "Mary Poppins Returns"
Terence Blanchard, "BlacKkKlansman"
Ludwig Göransson, "Black Panther"
On the cusp: Nicholas Britell, "Vice"; Marco Beltrami, "A Quiet Place," Alexandre Desplat, "Isle of Dogs"
In the mix: Geoff Barrow and Ben Salisbury, "Annihilation"; Alan Silvestri, "Avengers: Infinity War"; Carter Burwell, "The Ballad of Buster Scruggs"; Brian Tyler, "Crazy Rich Asians"; Christopher Willis, "The Death of Stalin"; James Newton Howard, "Fantastic Beasts: The Crimes of Grindelwald"; Alan Silvestri, "Ready Player One"
Analysis: Britell and Hurwitz were both nominated two years ago, with Hurwitz's dynamic "La La Land" score winning the Oscar over Britell's otherworldly work on "Moonlight." Both composers have won acclaim for their current scores, but Britell's lush, deeply felt music for "Beale Street" has dominated critics group balloting, making it an early favorite here.
This could be the year that the great jazz trumpeter Blanchard earns his first Oscar nomination. Blanchard's longtime collaboration with filmmaker Spike Lee has produced countless outstanding scores over the years, and his electric guitar-heavy music on "BlacKkKlansman" ranks with his finest, with Lee saying it almost functions as a narrator in the movie. Look for Blanchard to finally break through.
Twitter: @glennwhipp
From the Oscars to the Emmys.
Get the Envelope newsletter for exclusive awards season coverage, behind-the-scenes stories from the Envelope podcast and columnist Glenn Whipp's must-read analysis.
You may occasionally receive promotional content from the Los Angeles Times.