Gold Standard: Paul Thomas Anderson makes the case for 'A Quiet Place'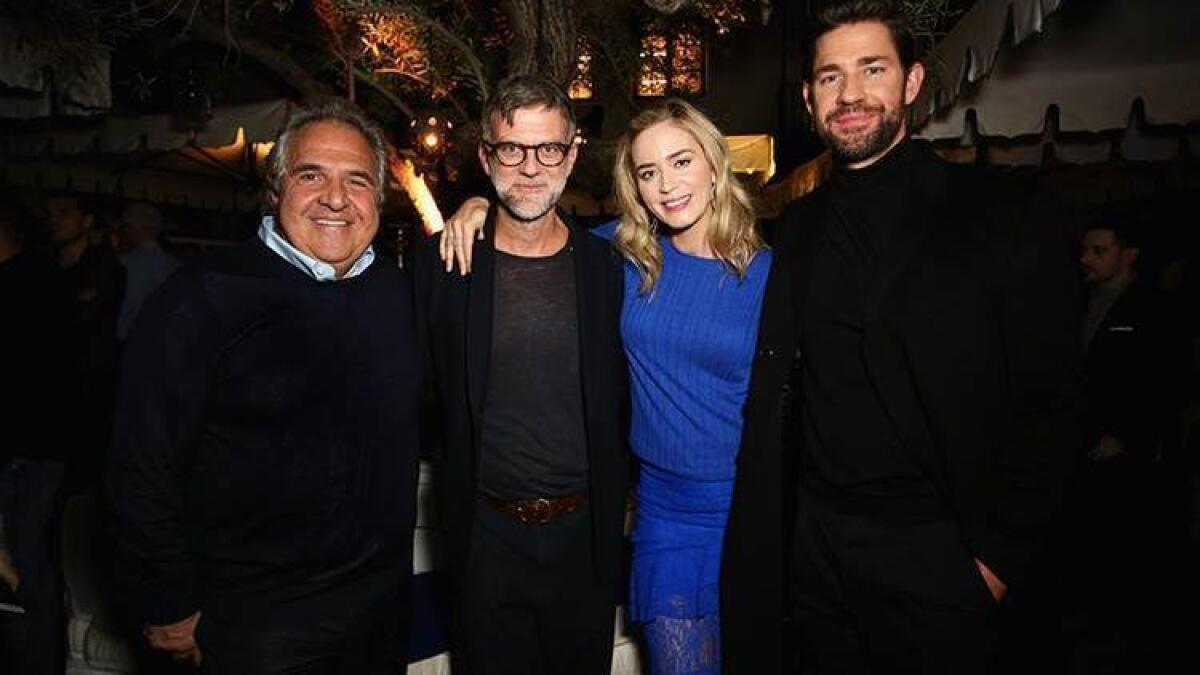 Paul Thomas Anderson and his wife, Maya Rudolph, have known John Krasinski and Emily Blunt long enough that, the filmmaker says, their four children thought of Blunt as Mary Poppins years before she was cast in the role.
Anderson shared this story with me during a recent evening celebrating "A Quiet Place," Krasinski's hit suspense-thriller about a family trying to survive a monster apocalypse by not making a sound.
After Anderson raised a glass to the movie and his married friends — Krasinski co-wrote, directed and starred as the father; Blunt delivers a bravura turn as the strong, determined mom — he sat down and reminisced about the first time he saw the film at the ArcLight Sherman Oaks.
"Everybody was completely quiet to the point where you could really hear the silence," Anderson remembered. "It's so loud, the silence, and it's not something you're used to in movies. Everybody's talking about movies on TV, but there's a reason why this was a big movie in theaters. And there was a joy going to see it with an audience. It would not have been the same without a lot of other people around you."
Anderson's children are still pretty young — the oldest, Pearl, is 13 — so they didn't see the movie. But it still became a part of their family life.
"I explained the premise to them the next day and I said, 'When I scream "Quiet Place," everybody has to be incredibly quiet,' " Anderson said. "I usually do it at the dinner table when it gets too loud. I scream 'Quiet Place' and — " Anderson makes the zipping gesture across his lips. He laughs. "It works."
So does the film, a superbly crafted horror film that works because of the extraordinary emotional investment it makes in its imperiled family. "A Quiet Place" figures to earn the obvious Oscar nominations for sound editing and sound mixing, but it merits consideration in many other categories, including screenplay. Too often, the awards-season merits of scripts boil down to word count and, of course, wordplay. But sometimes simplicity is everything. The taut, inventive "A Quiet Place" embodies that, delivering an emotional gut punch in a way that few films have done this year.
Here's an early — and, in honor of "A Quiet Place," economical — look at how the Oscar screenplay races are shaping up.
ORIGINAL SCREENPLAY
Deborah Davis and Tony McNamara, "The Favourite"
Alfonso Cuarón, "Roma"
Paul Schrader, "First Reformed"
Bo Burnham, "Eighth Grade"
Adam McKay, "Vice"
On the cusp: John Krasinski, Bryan Woods and Scott Beck, "A Quiet Place"; Nick Vallelonga, Brian Hayes Currie and Peter Farrelly, "Green Book"
In the mix: Tamara Jenkins, "Private Life"; Boots Riley, "Sorry to Bother You"; Ari Aster, "Hereditary"; Wes Anderson, "Isle of Dogs"
Analysis: The exemplary indie studio A24 has a nice little three-year streak in this category ("Ex Machina," "The Lobster" and "Ladybird"), and with two strong contenders — Schrader's powerful "First Reformed" and Burnham's poignant debut feature, "Eighth Grade" — it's one that should easily be extended.
"Green Book" has won more fans than detractors, with supporters seeing the crowd pleaser's bantering odd couple as a balm for these divisive times. Personally, I'd prefer a hand grenade, which is why I'd like "Vice" to earn a deserved spot here. Like "The Big Short," McKay's last movie (which won the Oscar for adapted screenplay), "Vice" employs inventive methods to make its point — which is, essentially, that we're on the road to oblivion unless we start paying attention to what politicians like Dick Cheney are doing to this planet. (It's a pretty great comedy too, but, coming from McKay, you probably already knew that.)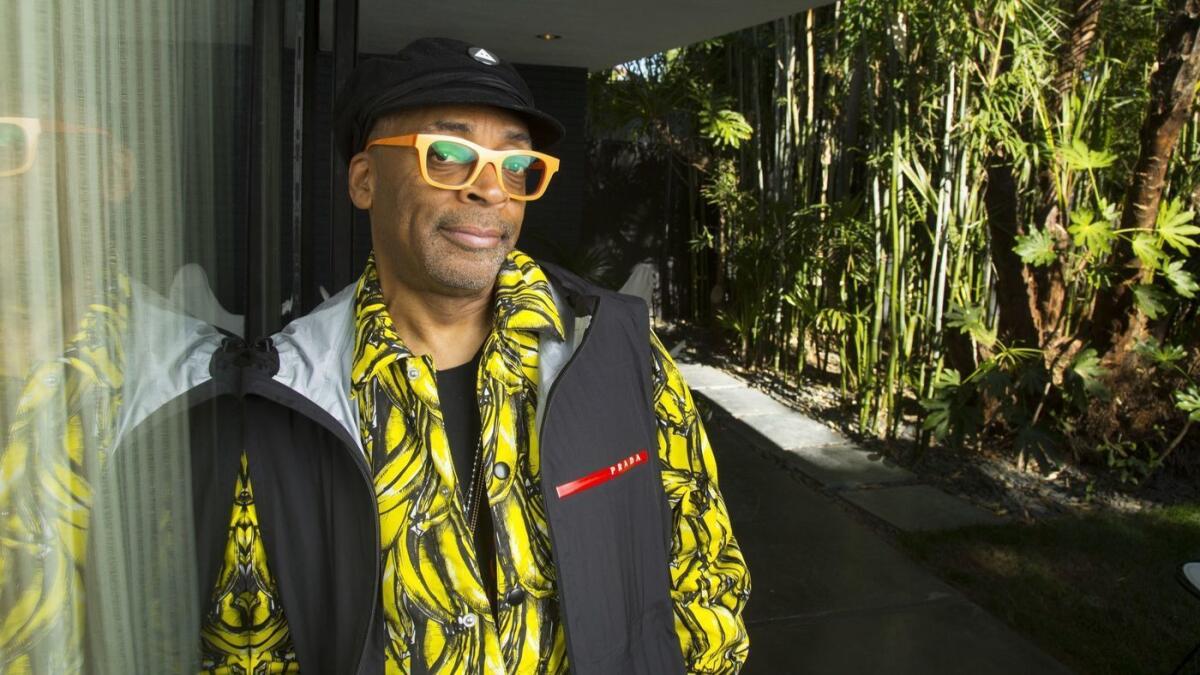 ADAPTED SCREENPLAY
Spike Lee, Charlie Wachtel, David Rabinowitz and Kevin Willmott, "BlacKkKlansman"
Barry Jenkins, "If Beale Street Could Talk"
Nicole Holofcener and Jeff Whitty, "Can You Ever Forgive Me?"
Debra Granik and Anne Rosellini, "Leave No Trace"
Bradley Cooper and Eric Roth, "A Star Is Born"
On the cusp: Josh Singer, "First Man"; Steve McQueen and Gillian Flynn, "Widows; Ryan Coogler and Joe Robert Cole, "Black Panther"; Armando Iannucci, David Schneider, Ian Martin, Peter Fellows and Fabien Nury, "The Death of Stalin"
In the mix: Audrey Wells, "The Hate U Give"; Paul Greengrass, "22 July"; Paul Dano and Zoe Kazan, "Wildlife"; Peter Chiarelli and Adele Lim, "Crazy Rich Asians"; Joel Edgerton, "Boy Erased"
Analysis: Whether you're all in on "A Star Is Born" or just love the first hour of the movie (are there other camps on this?), the consensus is this open-hearted remake delivers a fresh enough take on Hollywood myth-making to warrant being included here.
If I had to pick a favorite right now, it'd be "BlacKkKlansman," a sharp, funny critique of the ways that bigotry birthed this nation and continues to thrive in 2018. Lee has two Oscar nominations — for writing the 1989 masterpiece "Do the Right Thing" and as a producer of the 1997 documentary "4 Little Girls." The academy gave him an honorary Oscar three years ago, but this is shaping up to be the year when he wins one for real.
Twitter: @glennwhipp
From the Oscars to the Emmys.
Get the Envelope newsletter for exclusive awards season coverage, behind-the-scenes stories from the Envelope podcast and columnist Glenn Whipp's must-read analysis.
You may occasionally receive promotional content from the Los Angeles Times.