You never know with Sundance, but we might be talking about a couple of these movies at next year's Oscars
Last year, after the not-so-secret midnight Sundance screening of Jordan Peele's "Get Out," the film's team took an Uber back to Peele's Park City, Utah, hotel room, where they ordered room service and stayed up until dawn reading the over-the-top reactions to the movie on social media.
"The energy in that theater was so incredible," producer Sean McKittrick remembers. "Everybody was just giddy to be there and you could feel the audience engaging in the material, exploding at all the right moments. I'll never forget it."
McKittrick will also never shake the 2001 Sundance premiere of another one of his films, "Donnie Darko." This one didn't go quite as well. The film was a hot acquisition title — until Harvey Weinstein pulled up in a motorcade of Range Rovers wearing a "Donnie Darko" crew hat.
"Everybody left, assuming he had bought the movie," McKittrick remembers. Weinstein hadn't. And the response to the movie's intriguing blend of sci-fi, horror and dark comedy was decidedly mixed.
"People didn't know what to make of it," McKittrick says. "You remember that Entertainment Weekly buzzmeter? It was an arrow straight down."
With its mix of mostly unproven filmmakers and daring material, the Sundance Film Festival is a crap shoot. No one on the "Get Out" team figured the movie would go on to become an Oscar contender for best picture. And the same could be said for Sundance movies — "Beasts of the Southern Wild," "Precious," "Little Miss Sunshine," among them — that did go on to earn nominations.
So look at this list of 2018 Sundance titles knowing that we might be talking about a couple of them a year from now. And a couple of them might disappear the weekend after they arrive in theaters. (Warning: The video below includes foul language.)
"Blindspotting"
Director: Carlos López Estrada
Cast: Daveed Diggs, Rafael Casal (also co-writers)
Diggs, a Tony winner for originating the role of Thomas Jefferson and Marquis de Lafayette in "Hamilton," stars in this buddy film that focuses on gentrification in Oakland. With police brutality part of the story, expect serious scrutiny.
"The Catcher Was a Spy"
Director: Ben Lewin
Cast: Paul Rudd, Guy Pearce, Jeff Daniels, Paul Giamatti
True story espionage thriller about a baseball player who becomes a spy during World War II. "Saving Private Ryan" writer Robert Rodat adapted the bestselling book.
"Come Sunday"
Director: Joshua Marston
Cast: Chiwetel Ejiofor
Long-gestating project (Jonathan Demme was once attached to direct) about a Pentecostal preacher who comes to believe there's no hell. Martin Sheen's on board as Oral Roberts.
"Don't Worry, He Won't Get Far on Foot"
Director: Gus Van Sant
Cast: Joaquin Phoenix, Rooney Mara, Jonah Hill, Jack Black
Phoenix plays cartoonist John Callahan, who turned to drawing as a form of therapy after an auto accident left him paralyzed.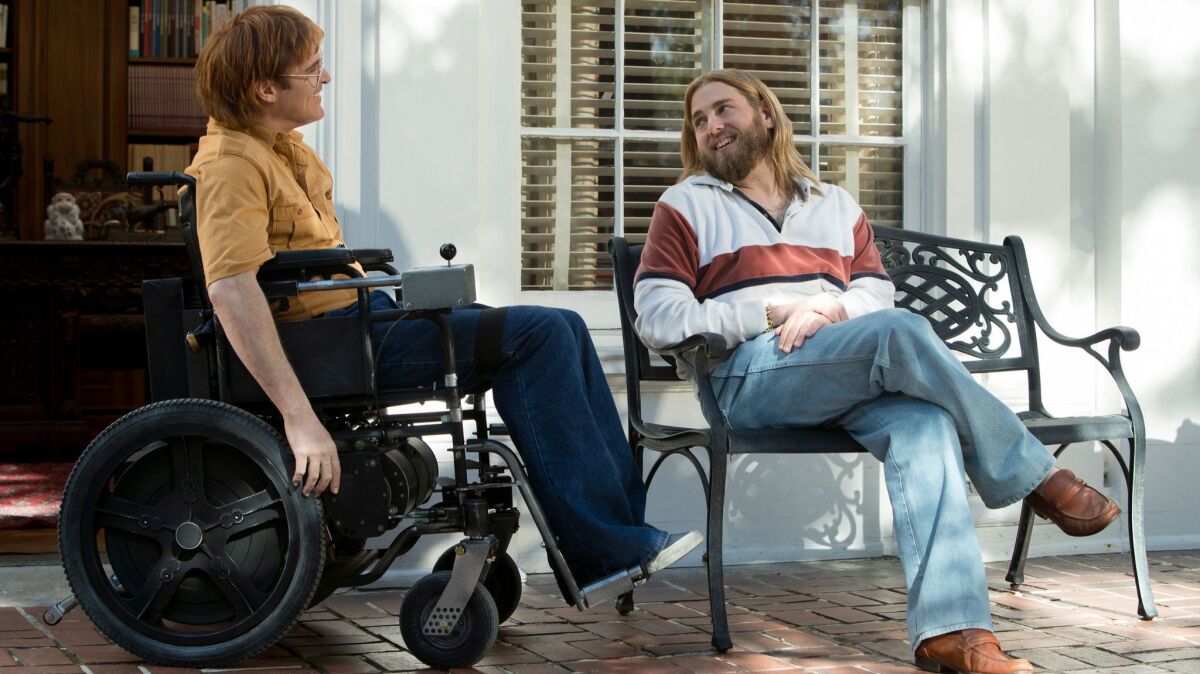 "Eighth Grade"
Director: Bo Burnham
Cast: Elsie Fisher
Thirteen-year-old navigates through the last week of middle school in the first film that acclaimed producer Scott Rudin has ever brought to Sundance. Comedian Burnham was part of "The Big Sick" ensemble.
"I Think We're Alone Now"
Director: Reed Morano
Cast: Peter Dinklage, Elle Fanning
The apocalypse isn't so bad for a recluse until he finds he wasn't the only survivor. Morano won an Emmy in September for directing the pilot episode of "The Handmaid's Tale."
"Juliet, Naked"
Director: Jesse Peretz
Cast: Rose Byrne, Ethan Hawke, Chris O'Dowd
Obsessed music fan finds long-lost demo of his hero, much to the dismay of his long-suffering girlfriend. From a great set of producers: Judd Apatow, Barry Mendel, Albert Berger, Ron Yerxa.
"The Kindergarten Teacher"
Director: Sara Colangelo
Cast: Maggie Gyllenhaal
Staten Island teacher becomes fixated on a 5-year-old prodigy.
"Lizzie"
Director: Craig William Macneill
Cast: Chloë Sevigny, Kristen Stewart
Lizzie, as in the ax-wielding Borden, whose story is told through her intimate relationship with the family's live-in maid.
"Ophelia"
Director: Claire McCarthy
Cast: Daisy Ridley, Naomi Watts, Clive Owen
Described as a "mythic spin on Hamlet through a lens of female empowerment," with Ridley playing a lady-in-waiting to the queen who captures the eye of a certain Danish prince.
"Private Life"
Director: Tamara Jenkins
Cast: Kathryn Hahn, Paul Giamatti
Infertile couple considers third-party reproduction. It's complicated.
"Wildlife"
Director: Paul Dano
Cast: Jake Gyllenhaal, Carey Mulligan, Ed Oxenbould
Boy watches his parents' marriage disintegrate after Mom begins an affair with an older man in this adaptation of the Richard Ford novel, which Dano co-wrote with real-life partner Zoe Kazan ("The Big Sick").
"Yardie"
Director: Idris Elba
Cast: Aml Ameen, Shantol Jackson
Elba's directorial debut centers on a young Jamaican man caught up in a life of gang violence, eventually hunting down his brother's assassin in London.
See the most-read stories this hour »
Twitter: @glennwhipp
Get our L.A. Goes Out newsletter, with the week's best events, to help you explore and experience our city.
You may occasionally receive promotional content from the Los Angeles Times.