'The Hate U Give' team talks 'difficult' recasting and emotional audience reactions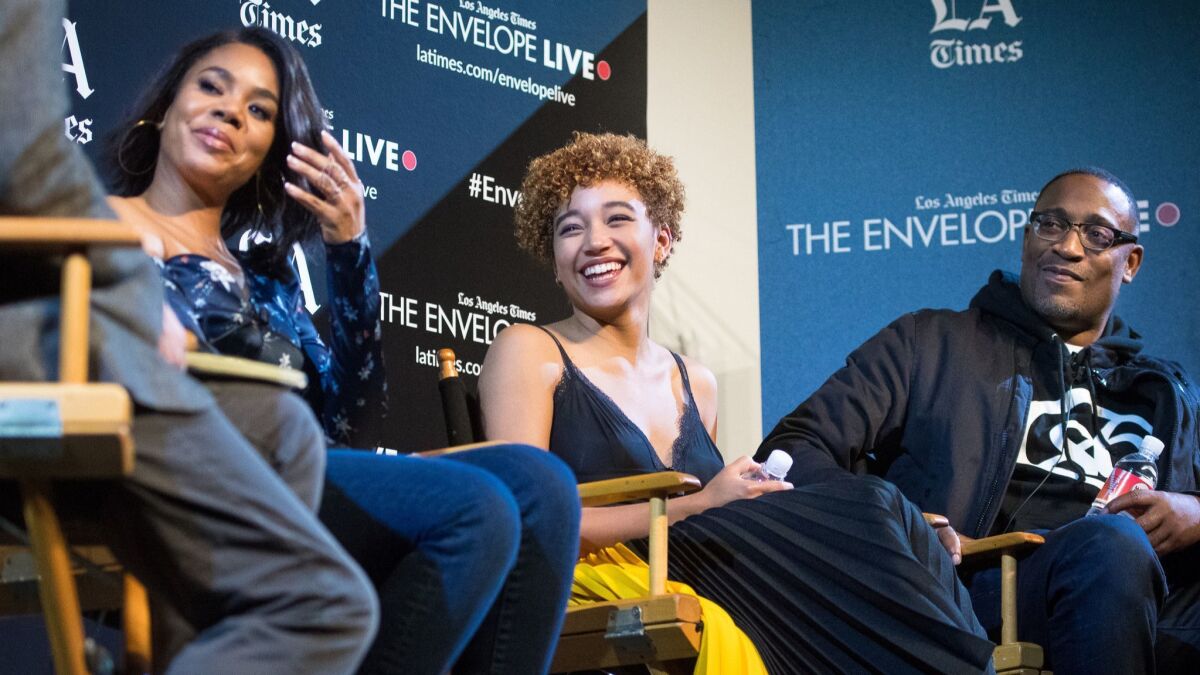 It was a moment of truth for the cast and crew behind "The Hate U Give." Just two days before director George Tillman Jr. was set to hand in his completed version of "The Hate U Give," it was discovered that one of the actors (YouTube star Kian Lawley) had made racist comments online that were quickly gaining traction.
What to do? Hand in the finished product anyway, or go back to the drawing board and re-shoot entire scenes of the film?
"We didn't want to sacrifice the integrity of the film or feel like every single component of it or person involved in it wasn't actually committed fully and morally," star Amandla Stenberg said at a recent Envelope Live screening.
Although Tillman called the decision to recast the role of Chris a "very difficult" one, he said, "It was something we wanted to get right."
He added of the new scenes, which feature "Riverdale" star KJ Apa taking over the role of Chris, the boyfriend of Stenberg's character, Starr: "We can't really duplicate it, what we did. We just gotta be in the moment and do it fresh again because the other actor is bringing it a different way.
"KJ Apa was great," Tillman added. "Just great coming in and not trying to change things, and more 'How can I help the situation?' Their chemistry was so much better in terms of working with one another."
Stenberg interjected, "Maybe because he wasn't racist," which drew laughs from the crowd.
Director George Tillman Jr. and Amandla Stenberg talk about filming the riot scene, the emotions that came with it, and reshooting the entire sequence after an actor had to be replaced following racist remarks he made online.
It's this kind of candor about tough issues like racism that hints at the heart of "The Hate U Give," an adaptation of the young adult novel of the same name that centers on the fallout after a high school student (Stenberg's Starr) sees her best friend, an unarmed black teen, killed by a white police officer.
Stenberg appeared at the Dec. 7 Envelope Live screening at L.A.'s Montalbán theater alongside Tillman, as well as Regina Hall, who plays her mother in the film. The actress talked about how it felt to dive into such a timely issue.
"It was really challenging," Stenberg recalled. "The whole experience just kind of felt like there are so many emotions that we feel within black communities that we don't always have the time to fully process, and I felt working on this project was just kind of an exercise in reflection, of just delving into those feelings and really allowing them to surface and express themselves. That was kind of therapeutic sometimes but could be really painful."
Amandla Stenberg talks about how the book and the film deal with 'relevant' modern-day issues.
Because of the subject matter, Tillman said he went to great lengths to make sure the film felt true — both to the communities that have gone through similar shootings and to the teenagers that lie at the heart of the novel on which the film is based.
"A lot of that was just trying to be as real as possible. So spending a lot of time talking to a lot of people and really just sort of basing it off the riots and uprising in Charlotte and also St. Louis," Tillman said. "Just talked to a lot of individuals that lived through it and deal with that."
He later added: "I wanted to make a film where everyone, all age ranges, can really enjoy the film, but … I knew it had to feel authentic in terms of young people."
As for the young adult segment, Tillman said the main goal was to avoid the cliches. "There's always these cliches and these moments that you see in every high school film with kids so I try to avoid all that," he said. "That's why I changed the style, changed the visual palette."
Because of that extra care, "The Hate U Give" has elicited strong reactions from audiences — something Hall said she hoped for when they were working on the film.
"I think you can't make this kind of movie and not hope that it elicits some sort of emotional response so that eventually it would provoke or cause change," she said. "Change in thinking, change in perception — it's kind of a result that makes you feel like what you did was worthy on so many levels."
The media have covered many similar incidents in the last few years, including the death of unarmed black teenager Trayvon Martin in 2012. "The truth is," Hall said, "that there are lives lost and stories, and when things happen so often, we do become desensitized.
"Our collective thinking about the issue has to change, so it's very important that people experience whatever that feeling is, but that they experience it and it causes us to move in a direction where we don't have to see this constantly."
From the Oscars to the Emmys.
Get the Envelope newsletter for exclusive awards season coverage, behind-the-scenes stories from the Envelope podcast and columnist Glenn Whipp's must-read analysis.
You may occasionally receive promotional content from the Los Angeles Times.