Q&A: In 'Crazy Rich Asians,' Michelle Yeoh finds the vulnerable heart of an intimidating character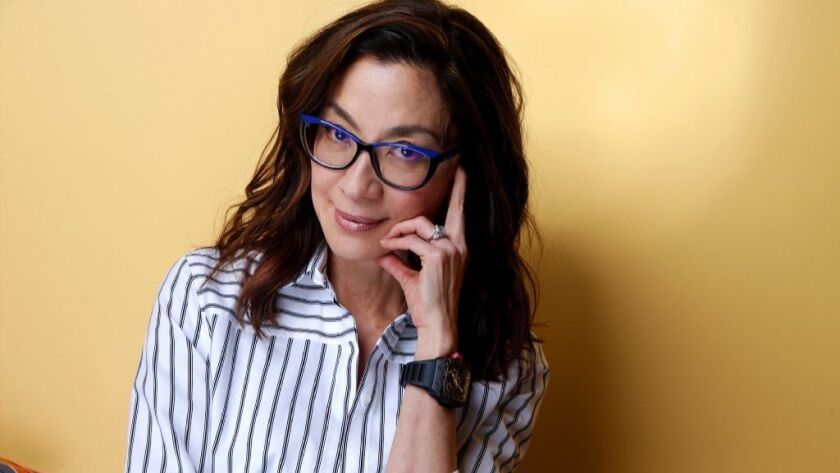 Michelle Yeoh is no stranger to playing powerful women on the big screen. The commanding Malaysian-born actress began her career as the queen of Hong Kong martial arts movies and made English-speaking audiences take notice in features such as "Tomorrow Never Dies," "Crouching Tiger, Hidden Dragon" and "Memoirs of a Geisha." This year, she made a huge impression with her portrayal of the regal Eleanor Young, the intimidating, status-conscious mother in the blockbuster hit "Crazy Rich Asians."
As Los Angeles Times film critic Justin Chang wrote earlier this year, "In a crisp, authoritative, sometimes startlingly vulnerable performance that never lapses into dragon-lady stereotype, Yeoh brilliantly articulates the unique relationship between Asian parents and their children."
On a recent Friday afternoon over a cup of coffee, Yeoh discussed the movie and the importance of seeing more Asian American roles in Hollywood. When her rave reviews were mentioned, she was visibly moved and wiped a tear from her delicate face. "I played her as an homage to all the amazing mothers that I know. I didn't want her to be this two-dimensional villain," she noted.
So, can you tell us a little bit about how you came to play this plum role?
When Kevin Kwan's book first came out in 2013, I tried to get the rights, but they were already taken. Later, when I met the film's director, Jon Chu, he told me, "You were always my Eleanor, and I told my producer Nina Jacobson that I want Michelle to play the character." I thought Eleanor was such an interesting character because she is really motivated by her maternal instincts. She is not this snob who looks down at Rachel (Eleanor's son's American girlfriend, played by Constance Wu). She wants to make sure Rachel is strong enough to handle the rules and responsibilities of this wealthy society.
How did you prepare to play Eleanor?
Although I am not a mother myself, I know a lot of women like Eleanor who are very protective of their children. I also know some of the "crazy rich" people who live in Hong Kong, Singapore and Malaysia. I had to make Eleanor very stiff and formal. She never talks with her hands. You always need to feel her formidable presence — not simply out of fear but out of respect. She has really earned the respect of others. She is like the captain of this ship. If you visit one of the kitchens in Hong Kong, you'll see these women who are definitely in charge. They set the bar very high for themselves and expect everyone else to try to reach for those tough standards.
Of course, the film was one of the major box-office hits of 2018, making over $235 million worldwide. Why do you think the film hit such a sweet spot?
It has been a long time since we had movies with all-Asian casts — films like "The Joy Luck Club" (1993) and "Memoirs of a Geisha" (2005). "Crazy Rich Asians" explored the cultural differences between Asian Americans and their relatives in Asia. It was a feel-good movie because everyone enjoys looking at all the beautiful fashions and the amazing food and feeling as if you're part of this huge wedding.
It also illustrates the old values and how some of them should really change, like the way sons are favored in those societies. I think it has a very empowering message for women, that some of those old traditions need to be broken. I work with the United Nations [as a goodwill ambassador] to promote gender equality, and a big goal is to promote education so that women don't put limits on what they can achieve.
In addition to playing Eleanor, you also broke more barriers this year by playing the dynamic starship Captain Georgiou on the "Star Trek: Discovery" series. What are your thoughts on the importance of featuring diverse roles in Hollywood?
To be fair, I have been very blessed because I started out my career by venturing out into the men's world of action movies. I set the right "Don't mess with me!" tone, and I have had great opportunities to do very different kinds of movies. However, we've been fighting a long battle to get good roles. I would get these scripts, and they'd tell me that the role was written for a man, but they would change it to fit me.
A movie like "Crazy Rich Asians" shouldn't be an event: It should be normal. We shouldn't be cast in token roles. Sometimes, they just add Asian roles because they want the movie to sell in China. Recently, I went to a restaurant and the chef came out and said, "My pastry chef, who is a young Chinese woman, made this pastry just for you because you made her feel empowered." That meant so much to me. We all need our stories to be told, and these stories and faces have been missing from the screen for such a long time.
---
From the Emmys to the Oscars.
Get our revamped Envelope newsletter for exclusive awards season coverage, behind-the-scenes insights and columnist Glenn Whipp's commentary.
You may occasionally receive promotional content from the Los Angeles Times.