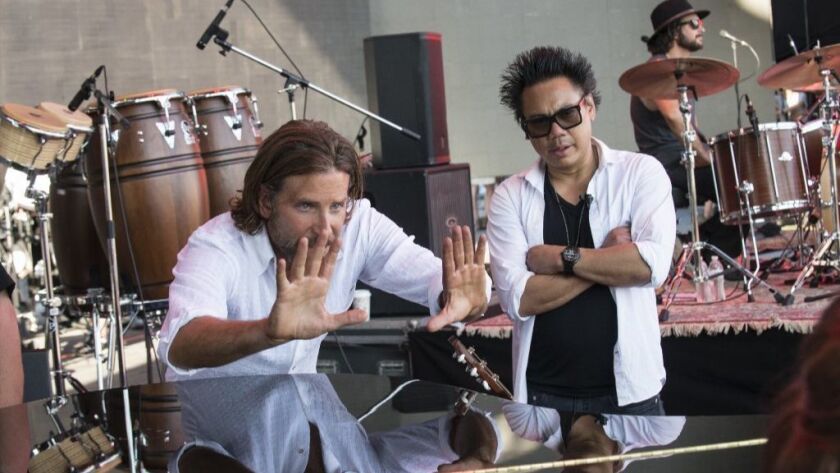 In the pre-dawn hours of Jan. 22, cinematographer Matthew Libatique looked at his phone and noticed that director Spike Lee was trying to get in touch. "It was, like, 'Why the … is he calling me at 5:30 a.m.?' " says Libatique, who had been director of photography on Lee's films "Inside Man," as well as "She Hate Me" and "Chi-Raq." "My girlfriend said, 'It's probably the Oscars,' and I was like, 'Oh, I forgot.' "
Libatique's girlfriend was right: He'd just received his second Academy Award nomination — his first was for Darren Aronofsky's "Black Swan" – this time for the Bradley Cooper-directed "A Star Is Born," starring Cooper as Jackson Maine, a gin-swigging rocker, and Lady Gaga as Ally, the rising singing star he falls for. Amid the flood of texts he next received? Congratulations from Cooper, who received a lead actor nomination but was notably left out of the director category. "A nomination for me doesn't exist without him," says Libatique. "I texted him back that he was robbed."
In a recent phone interview, Libatique spoke about collaborating with Cooper, filming at the Stagecoach festival in Indio, Calif., and what Lady Gaga was like in front of the camera.
What's it like to work with someone who is multitasking as first-time director and leading man?
It meant managing a little more than just my lights or the camera. I wanted to protect him as a director but also make sure that he had the environment to work in as an actor. So I kept things simple technically. But we hit it off right away, because we had the same idea about what the film was about, which is that as much as it was about the subculture of rock 'n' roll, stardom and themes of addiction, it's ultimately a timeless love story. That sort of philosophy spoke to where we should put the camera and ultimately led to the believability of the relationship. The thing that moves people is the love story under the package of the subculture of rock 'n' roll. It's a combination that works and speaks to why this film was made four times.
What sort of research did you do?
We watched everything from "Rock Star" to "Stop Making Sense." I went to lots of live shows preceding our shooting to see what fit lighting-wise. Bradley Cooper told me this story about going to Yankee Stadium as a guest of Lars Ulrich and how awe-inspiring and subjective it was to see this massive undertaking from the perspective of the stage. He wanted to recreate that for the film. Hence, we don't have many shots from the proscenium view.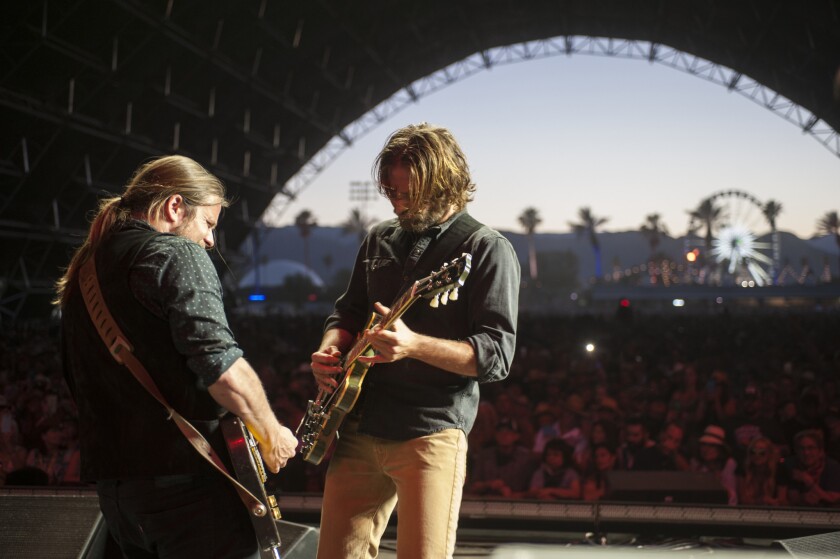 'A Star Is Born': Lady Gaga and Mark Ronson take a deep dive on 'Shallow' »
You borrowed time at real festivals like Stagecoach or Glastonbury to shoot some of the musical numbers. How many cameras did you use?
When we were onstage in real situations, I'd have a single camera or two. We didn't have much time. At Stagecoach, we had 10 minutes. At Glastonbury, we had four. I'd never experienced anything like that before. You get to feel what it's like to stand on a stage in front of all those people. It's incredible. You could feel the energy from the crowd, the frenzy of being at a live show. And they didn't even know what we were doing because they didn't want anyone to hear the music [before the film was released]. So Bradley and Gaga were really singing, and everybody who had an earpiece could hear them. But [the audience] just saw Bradley Cooper standing up there, and it was, like, "Why does he have a beard? Why is he wearing a hat?"
Talk about your cameo as a fashion photographer. Does he have a backstory?
I'm basically this guy that gets flown in to shoot [Ally]. Her level [of fame] is changing; she's ascending. I'm a person who is part of the world already. I'm there to support her as she graduates to another place. I actually had lines, but I couldn't remember them. [Laughs] What it gave me perspective on is that everybody, even actors who don't have lines, have a responsibility to give depth to a scene.
RELATED: Lady Gaga on letting go for 'A Star Is Born' and what Bradley Cooper insisted she do before filming »
So Gaga — what sort of preproduction conversations did you and Cooper have about her?
Because Bradley and I hadn't worked with her before, it was, like, "Is she going to be really good in Take 1, 2 or 3? Or is she going to be one of those actors who gets there between Take 7 and 10?" We didn't know. But she's so prepared. She's more technical than a lot of other actors I've worked with who've been around for a long, long time. What I came to find out was that she could hit a mark. She knows exactly where the light is. When she comes out to sing? She's perfect on the first take. I can only imagine that Barbra Streisand is the same way. She's a trained performer in every way, shape and form.
---