Lady Gaga on her two Oscar nods, a possible 'Shallow' performance and Bradley Cooper's snub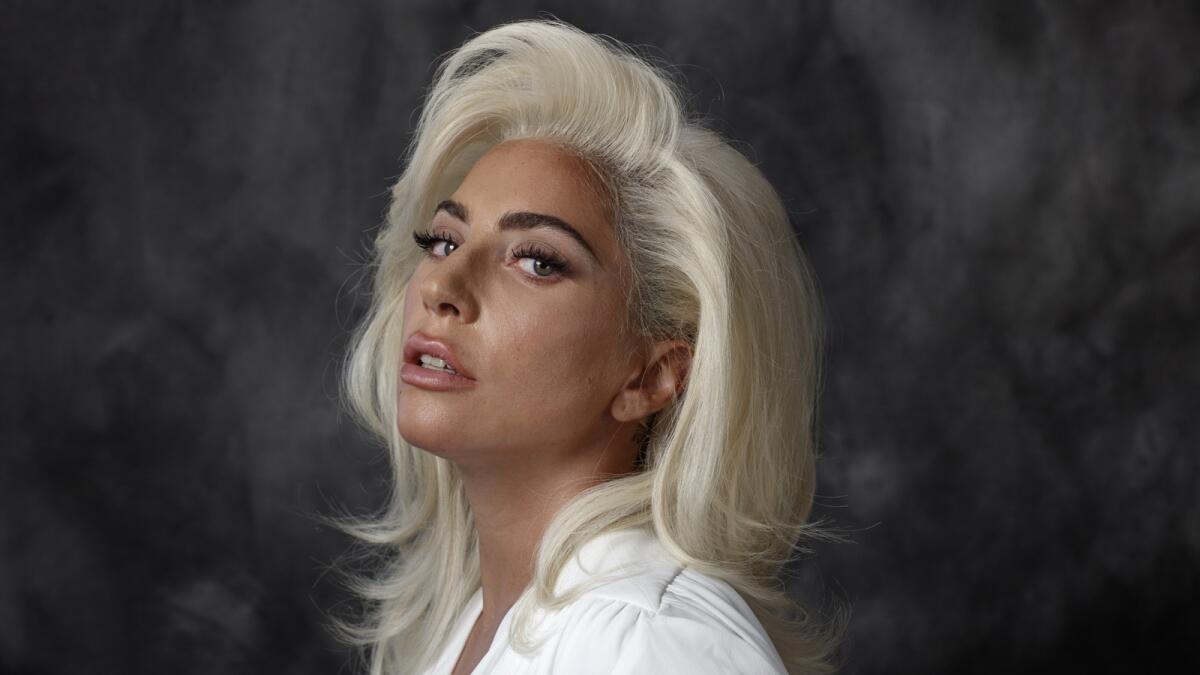 For "A Star is Born," Lady Gaga received her second and third Oscar nominations, one for lead actress and one for co-writing the song "Shallow." She was previously nominated for co-writing the song "Til It Happens to You" from the documentary "The Hunting Ground."
Directed by and costarring Bradley Cooper, the third remake of "A Star is Born" is a love story between a young singer and the fading musician battling addiction who helps her.
Hi!
Hi! I'm so overwhelmed and happy. I apologize in advance if I cry.
Are you in Vegas?
I'm back-and-forth, but I'm home now. I literally just found out about the nominations a little while ago. I'm on showbiz time right now, because my shows go so late that usually Christian [Carino, Gaga's agent and fiancé] will leave me a note in the morning if there's nominations. But I woke up and there was no note, so I thought I must not have gotten nominated — or we must not have gotten nominated. So I called my manager, Bobby — cause Bobby's good with bad news — to see what was going on. And then he told me all the nominations, and I just started crying.
FULL COVERAGE: Oscar nominations 2019 »
OK, but why didn't Christian leave the note?
I don't know! I'll have to ask him. I think he wanted me to be surprised. [Update: Lady Gaga's publicist informed The Times that the note was found.]
You've won Grammys, Emmys and Golden Globes — why is the Oscar such a big deal?
There's really no award that is more esteemed than the Oscar in acting, and for music, it is also extremely special. Since I was a little girl, I always admired all of the artists that put in so much hard work and passion into filmmaking. Watching the award shows, I used to cry with them. It was always like I felt like I was them, even though I wasn't there. It was always a big deal with my family.
You've performed at the Oscars twice — once in a 'Sound of Music' tribute and another time with sexual abuse survivors. What were those experiences like?
They were wonderful. Everybody that works with the Oscars, they're just wonderful people. They're so loving toward artists, and they're so focused on creating magical moments that people remember. I think that's why I fell in love with the Oscars when I was so little. There was a team of soldiers making sure that people at home watching were experiencing something truly special, and I got to be a part of that. I'll never forget when I sang the tribute for "Sound of Music," I had a whisper in my ear that Julie Andrews might be there. And they were running a little early, so I was literally singing in the hallway as I was walking down to the stage. And I was hitting the last notes of "Climb Every Mountain" when I saw Julie Andrews standing by the side of the stage. She saw me almost burst into tears and goes, "No, no, no, go on."
You've spoken a lot about how much you loved Bradley as a director. Are you upset he wasn't nominated?
Well, you know, you never know what's going to happen. But at the end of the day, he knows that he's the best director in my eyes, and in all of our eyes as his cast. I know that he's so happy that we've all been nominated and that the film was recognized and we all feel really, really beyond elated for the recognition.
If you perform at the Oscars, how will you figure out the act while juggling your Vegas shows?
Well, you know, that's just what we do, isn't it? We love to perform and we love to make art, so we'll make it happen. That would be a tremendous honor to perform that song at the Oscars. It was so sweet, I was getting messages this morning from my ['Shallow'] co-writers, and they wrote something funny: 'Tell me something, boy, aren't you happy we made all that noise?' I think sometimes people forget that even though this is a big movie, we're all really artists that are like kids playing in a sandbox. To be recognized at this level just makes the heart explode, because truly and deeply, I still very much feel like a child with big dreams.
Why do you think 'Shallow' has caught on in such a way?
It's similar to people's reactions to the film — I think that the film operates on a number of different levels, and Bradley, through his filmmaking, showed the world some things that they don't get to see like fame and stardom and all that comes with that. Those are not things people get to see every day. But then there's themes of addiction and alcoholism, which connect to people on a very deep level and resonate all over the world.
For the song in particular, it's a conversation between a man and a woman asking: In this modern world, do you need more? She's challenging him when she sings back to him: 'Ain't it hard keeping it so hardcore?' How long can we exist in the shallow? The song is quite counterculture, in a lot of ways. It doesn't sound like anything that is on radio. And it's there and it's being played. People don't really care that it doesn't sound like anything else or smoothly transition from the song before.
Oscar nominations 2019: See the full list »
Were you surprised when everyone became obsessed with you whoa-oh-oh-oh wail before the film even came out?
I just was really excited to see it capture people. I almost feel like that thing you call a wail is a cry or a prayer for freedom: Is this gonna happen or is it not? Let's go do this. I'm ready to get out of the shallow. That moment when I sing that way, I think that people felt a very guttural need from me that they related to.
That's what I channel while I sing in the shower.
Will you record that for me and send it to me?
Definitely not.
Envelope Live 2018-19 awards season playlist
Get our L.A. Goes Out newsletter, with the week's best events, to help you explore and experience our city.
You may occasionally receive promotional content from the Los Angeles Times.