Must Reads: Lady Gaga on letting go for 'A Star Is Born' and what Bradley Cooper insisted she do before filming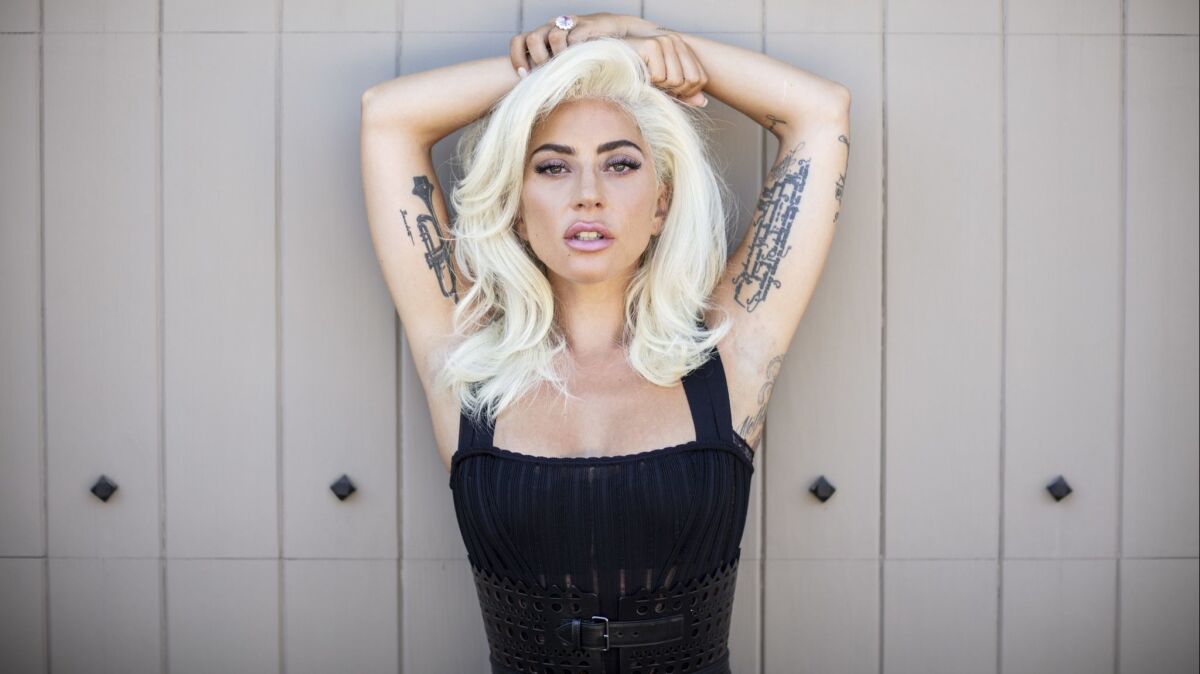 She walked downstairs and there he was, staring at her. He stepped toward her, examined her face: concealer, mascara, rouge.
"Take it off," Bradley Cooper told Lady Gaga.
She noticed something in his hand. It was a makeup wipe. With it, he erased the colors from her forehead down to her chin.
This is the woman Cooper wanted in his film, "A Star Is Born." Not the pop star masked with face paint and headdresses and hairpieces. Just Stefani Germanotta. "Completely open," he said. "No artifice."
Until that moment in 2016, during a screen test in her home, Gaga didn't realize how much she wanted the part — one played by Janet Gaynor, Judy Garland and Barbra Streisand before her. And to get it, she was going to have to "completely let go and trust" Cooper. She couldn't be that girl from the Lower East Side who spent hours doing her makeup before her gigs. She had to let the camera zoom in on her face wearing chapstick and eight-hour cream and nothing else.
"It put me right in the place I needed to be, because when my character talks about how ugly she feels — that was real," Gaga recalls. "I'm so insecure. I like to preach, but I don't always practice what I preach."
Just days before flying to Italy for the world premiere of "A Star Is Born" at the Venice Film Festival, Gaga was sitting in the living room of her Malibu home — a $23-million, six-acre estate with a two-lane bowling alley, dressage ring and safe room. The movie, Cooper's directorial debut, is the fourth version of the story to be made for the big screen. In this latest take, which will be released by Warner Bros. on Oct. 5, Cooper stars as Jackson Maine, a rock 'n' roll star whose success is at risk as he struggles with drug and alcohol addiction. But his life finds renewed purpose when he meets Ally (Gaga), an aspiring singer who becomes both his creative muse and his girlfriend. Jackson decides to take Ally on tour with him, but as her career takes off, his demons threaten to sabotage their happiness.
Although she'd already won a Golden Globe for her performance on "American Horror Story" and performed on some of the world's biggest stages — including at the Oscars and the Grammys — Warner Bros. still wanted Gaga to audition to play Ally.
"That was the studio — that wasn't Bradley or the producers, but a former executive at Warner Bros. who wasn't convinced Gaga should get the role," explains Bill Gerber, one of the film's producers who has been attached to the project since 2007, when Clint Eastwood was set to direct it. "So we convinced them. Bradley believed in her, and Warner's was generous enough to budget a proper screen test. It wasn't unanimous until we did the test, and when they saw it, it took them seconds to say yes."
Gaga says she understood why the studio wanted to test her, noting that some people "don't really know what I look like." Anyway, naysayers fuel her: "I'm totally that girl that's like, 'Bring it. I'll show you.'"
At 17, after studying at the Lee Strasberg Theatre & Film Institute, Gaga was admitted to New York University's prestigious Collaborative Arts Project 21, a musical theater conservatory and off-Broadway theater company. But she didn't thrive there. She wasn't getting auditions, and the ones she went on went poorly. She was almost cast on a domestic tour of "Rent," but producers ultimately decided she was too young. So after just a year at NYU, she dropped out.
"I was frustrated with the system," she says, "so I decided to go off on my own and pay my own rent, work three jobs, make my own music, and record in my apartment."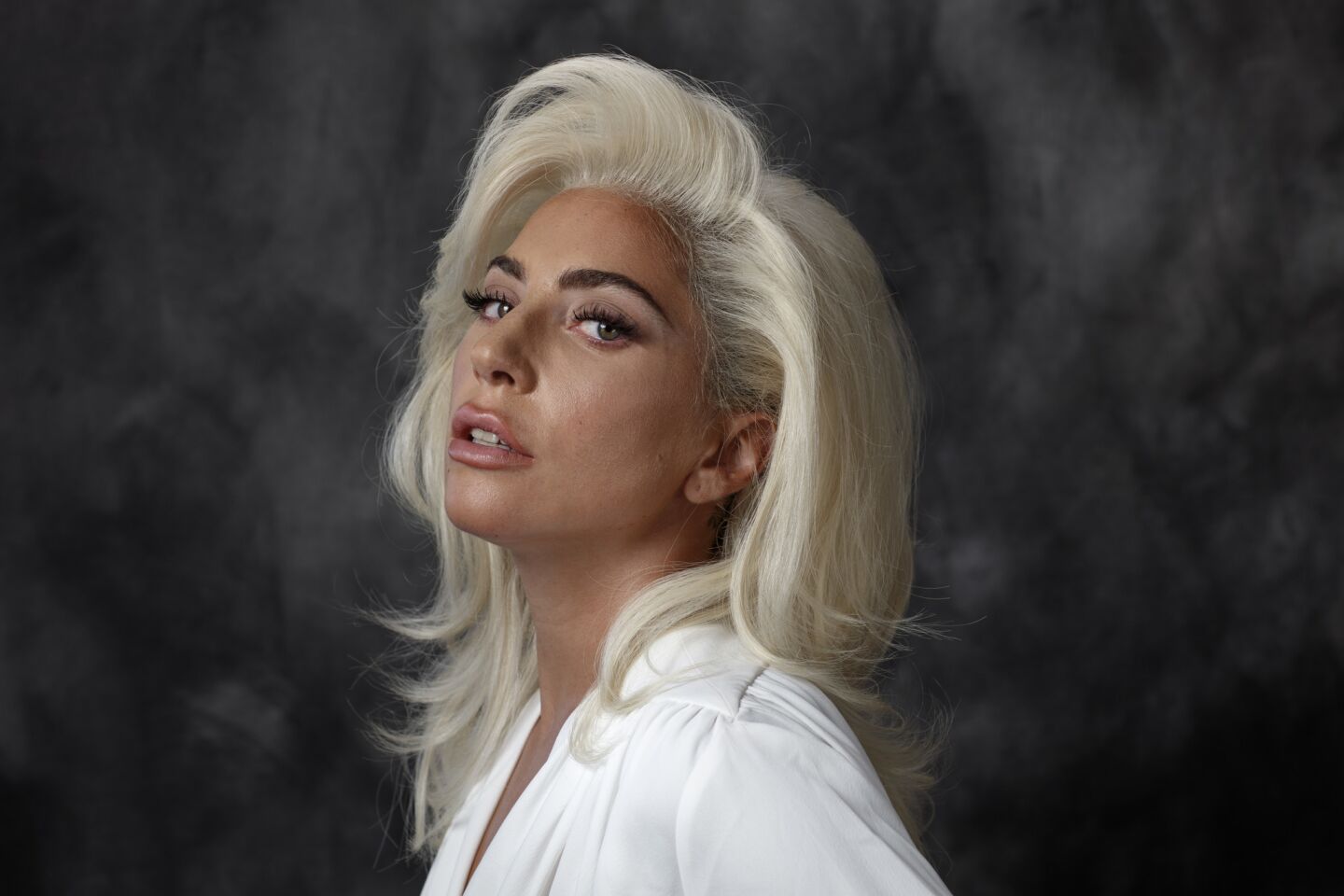 Pop star and Golden Globe-winning actress Lady Gaga is photographed in advance of her new film, "A Star Is Born."
(Jay L. Clendenin / Los Angeles Times)
In addition to her Golden Globe win, Lady Gaga has won six Grammy awards dating back to 2010.
(Jay L. Clendenin / Los Angeles Times)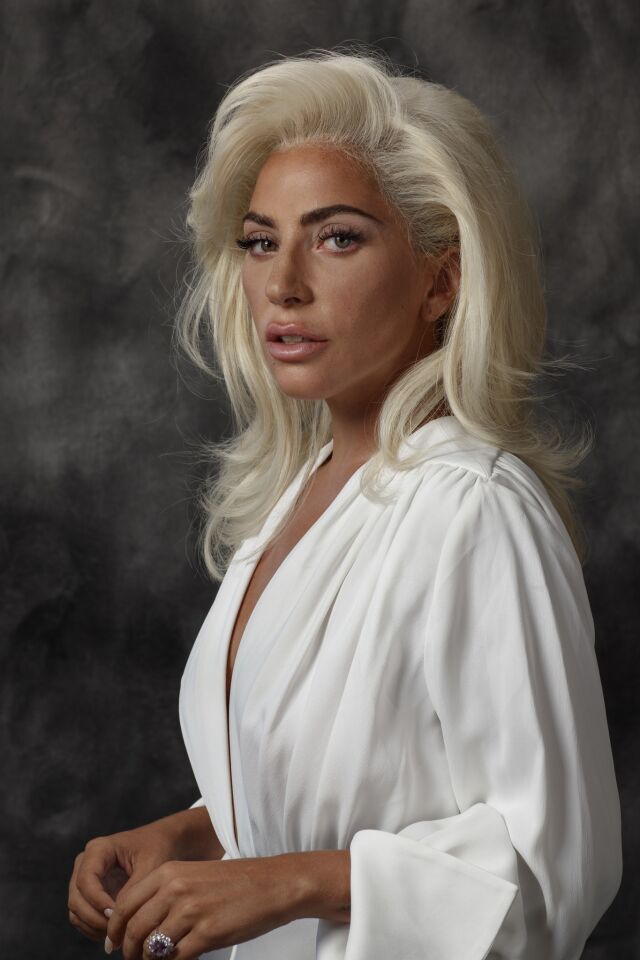 In "A Star Is Born," Lady Gaga follows in the footsteps of Janet Gaynor, Judy Garland and Barbra Streisand.
(Jay L. Clendenin / Los Angeles Times)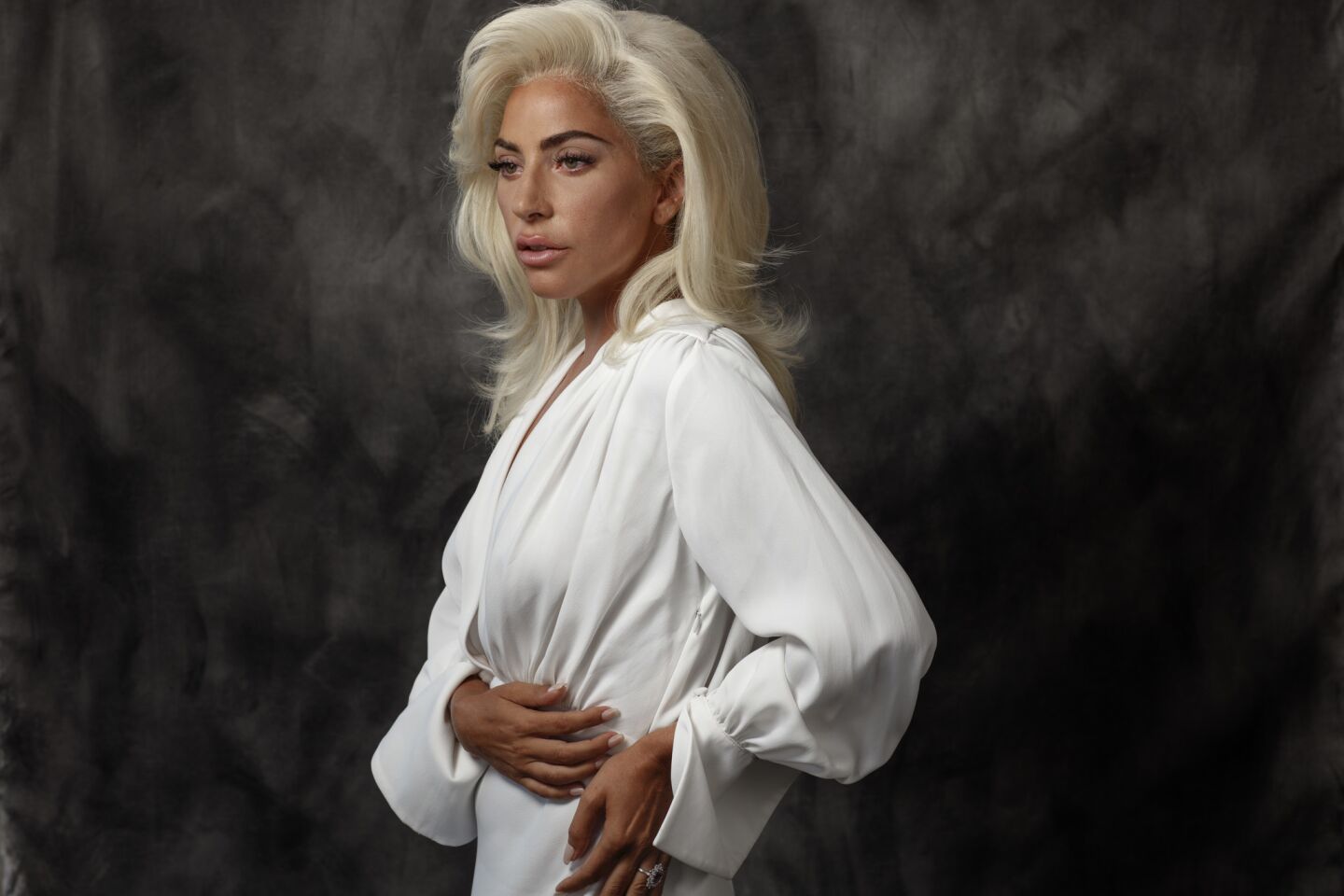 Lady Gaga's previous film credits include a small role in 2014's "Sin City: A Dame to Kill For."
(Jay L. Clendenin / Los Angeles Times)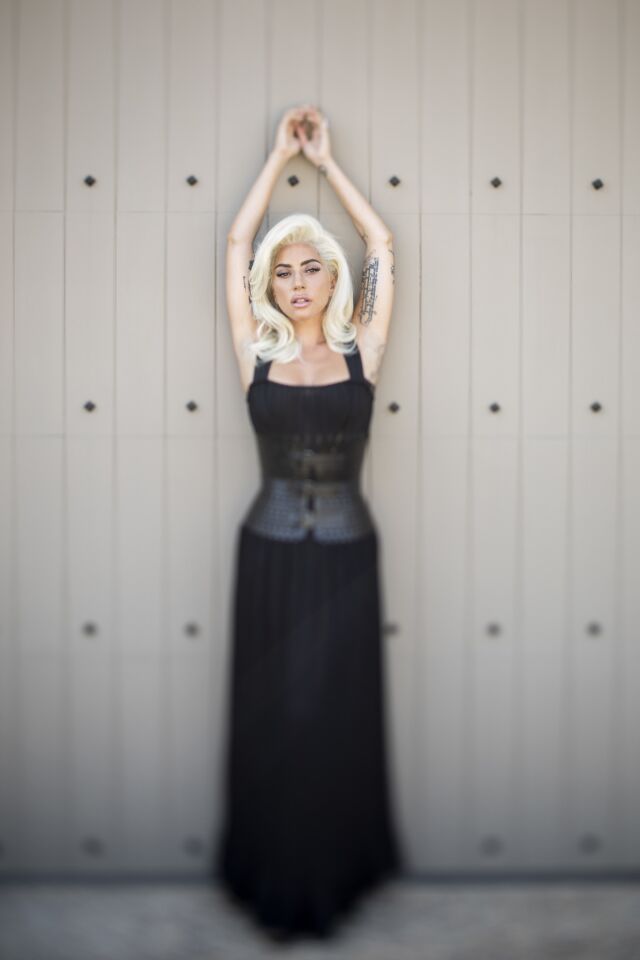 Principal photography for "A Star Is Born" began at the Coachella Valley Music & Arts Festival in 2017, the same year Lady Gaga performed at the annual festival.
(Jay L. Clendenin / Los Angeles Times)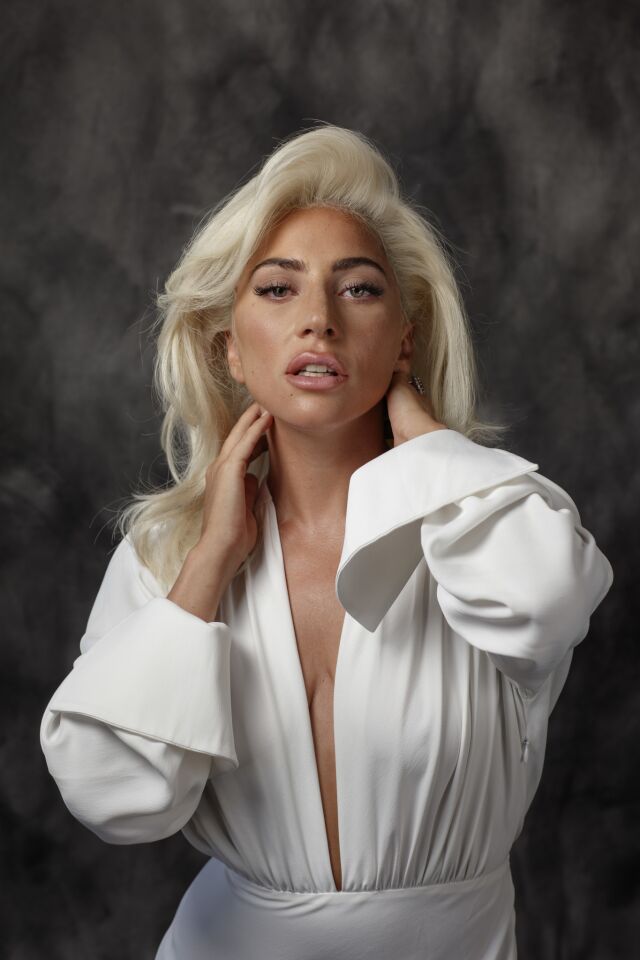 "A Star Is Born" marks Bradley Cooper's directorial debut and he also stars opposite Lady Gaga. The film will premiere at the Venice Film Festival before hitting theaters in October.
(Jay L. Clendenin / Los Angeles Times)
Last year, Lady Gaga was the subject of the Netflix documentary "Five Foot Two."
(Jay L. Clendenin / Los Angeles Times)
It's somewhat difficult to envision that version of Gaga as she perches on the edge of her couch, back erect, still wearing the black Alaïa dress and stilettos she put on for a photo shoot earlier that afternoon. The coffee table in front of her is covered with pink crystals and magazines, including one with her on the cover.
An assistant walks into the living room to offer bottled water. Also floating around Gaga's house: her manager Bobby Campbell; a member of her publicity team; and her mother, Cynthia Germanotta, who is visiting from New York. Gaga's French bulldogs are outside on the patio, which overlooks the Pacific, and whine occasionally at the glass sliding doors.
All of this is being watched from afar by cameras over in the barn, which houses both Gaga's horses and her security team, which holds cellphones for guests while they are inside the performer's residence.
To play Ally, Gaga tried to distance herself from all this. She remembered the little girl who grew up obsessed with Garland — the one who would watch the Oscars wrapped in a gown made of blankets, accepting a fake Oscar on a crate in front of her television. And she thought a lot about how she came up in the music industry when — just like her character — she was told she had the right sound but not the right look.
FULL COVERAGE: 2018 fall movie preview »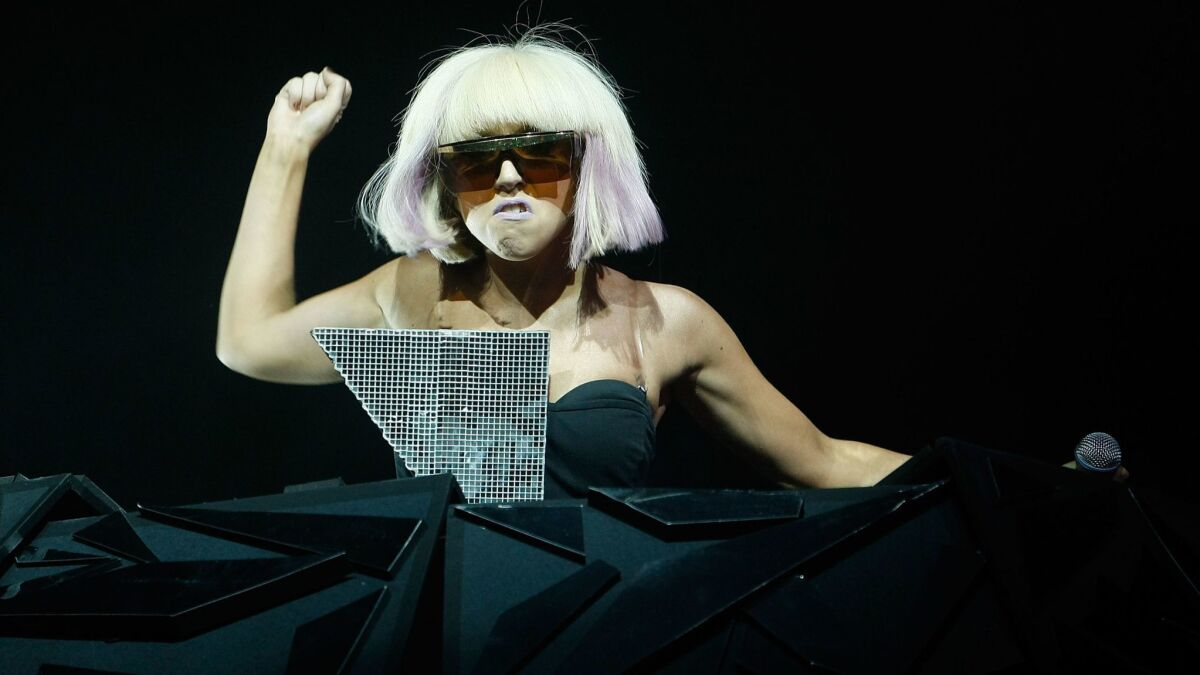 "I never cried, but I would just hold on to my records for dear life and say, 'You'll pry them from my cold, dead fingers,'" Gaga recalls of her early conversations with music executives. "What made things easier for me is that I wrote my music, so I didn't have to beg for songs or for anyone to help me. I did it myself."
For Ally's musical performances — some of which were filmed onstage at Coachella the week between Gaga's two headlining gigs at the 2017 musical festival — she decided to tone things down. She wouldn't grit her teeth or shout at the audience or throw her hands in the air. And she tried to hone in on the character's depression, focusing on how close Ally was to giving up her dreams before meeting Jackson.
"What's different from Ally than me is that when I wanted to become a singer, I hit the concrete running," she says. "I was dragging my piano from dive bar to dive bar to play music. I was calling people, faking being my own manager to get gigs. I really believed in myself that I could do this and that I wasn't going to stop until I made it. ...The truth is, when we meet Ally, she's given up on herself. And that's very different from me. I just wasn't overwhelmed by the odds. The truth is, if we were not sitting here today and I hadn't sold as many records as I have, I'd still be in a bar somewhere playing the piano and singing. It's just who I want to be."
Gaga worked with acting coach Susan Batson, who has trained Nicole Kidman and Juliette Binoche. The teacher said she found the fledgling actress "exceedingly receptive to the work," describing her as "almost beyond professional."
"It was her first [leading role], but you would have never known it, and I think that has something to do with the fact that she's done so much performing already," Batson says. "The Lady Gaga that the public knows? They won't see her."
Getting comfortable on set, Gaga admits, took some time. After months of preparation, she turned up for the first day of shooting with her lines memorized. Cooper came on set to join her in a scene, but he started off by saying a line that wasn't in the script. He was trying to get Gaga to loosen up, but she didn't understand and responded by saying the same line over and over again.
"Finally, he said, 'Are you OK?' And then I started crying," she says with a laugh. "Then I got that out of the way and then we did the scene. I had to let go of the words."
The two would go on to form a close bond during production, developing a shorthand while working on set. If Cooper wanted Gaga to evoke a feeling of warmth, he'd whisper "Tony," knowing that she has a close relationship with singer Tony Bennett and that whenever she thinks of him she gets "a certain feeling of love." If he needed her to focus, he'd say things like "ninja" or "assassin."
"Her learning curve was insane, just from the first day to the second day," Cooper remembers. "Everybody already knows that she's got a God-given talent as a singer, and she was able to utilize that plutonium to act. If this is something she wants to pursue, I will just have been lucky to have been part of her story as an actress."
Gaga also helped inform Cooper's performance as a musician. She wrote a handful of songs for the movie's soundtrack and sat with the actor in the studio, answering his questions about the logistics of what goes on backstage during a big concert. She was also candid about her personal experience with drugs, sharing how readily available substances were to her after she became famous.
"There was a buffet of options," Gaga says. "It's very lonely being a performer. There's a certain loneliness that I feel, anyway — that I'm the only one that does what I do. So it feels like no one understands. And the urge to use is because you're searching for a way to quell the pain. When I first started to perform around the country doing nightclubs, there was stuff everywhere, but I had already partied when I was younger so I didn't dabble. I was able to avoid it because I did it when I was a kid."
As "A Star Is Born" embarks on the fall awards circuit — the film is headed to the Toronto International Film Festival after Venice — Gaga says she's proud of her performance because she knows she "gave it everything." After being forced to cancel a slew of concert dates this year due to her fibromyalgia, she's readying a return to the stage on Dec. 28, when she'll launch a Las Vegas residency. (She won't reveal whether songs from "A Star is Born" will make the cut.)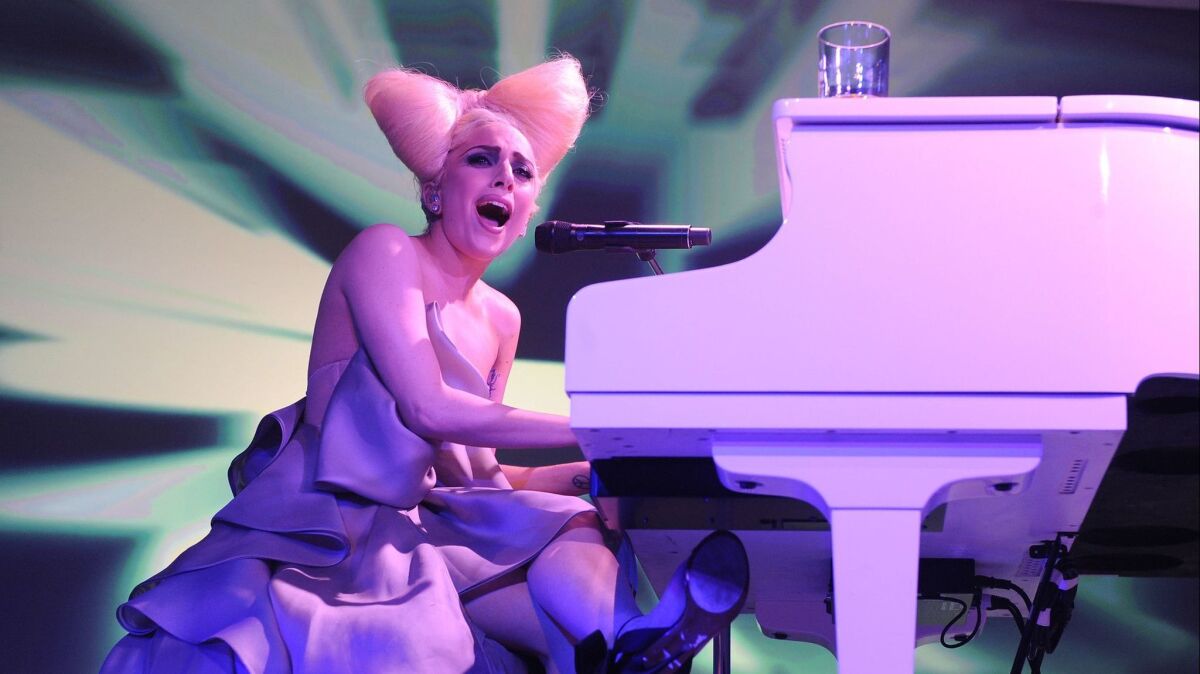 She'd like to do more acting, but not just "for the sake of being an actress. I want to tell great stories that pull from real places inside of me, from real pain, from real emotion, from my real life."
Gaga does seem to have a gift for easily accessing her emotions. When the conversation returns to self-confidence — how she began to feel beautiful after that early industry scrutiny over her looks — her eyes fill with tears.
"To be honest, I think what makes me feel beautiful is when I see happiness in my fans," she says, her voice choking a bit. "When I see or hear from them that the music that I've made has changed their life in some way, that's what makes me feel beautiful. Because this is just the outside, you know? And at the end of the day, I could be in a million movies and put out a million songs and everyone could say, 'She was so beautiful,' but that's not really what I want. I want them to say, 'I saw that movie and I cried my eyes out and I learned something about myself.'"
Related: Ahead of 'A Star Is Born,' a look back at Lady Gaga's early acting roles
Follow me on Twitter @AmyKinLA
---
Get our L.A. Goes Out newsletter, with the week's best events, to help you explore and experience our city.
You may occasionally receive promotional content from the Los Angeles Times.