Sufjan Stevens captured the essence of 'Call Me by Your Name' before he even saw the film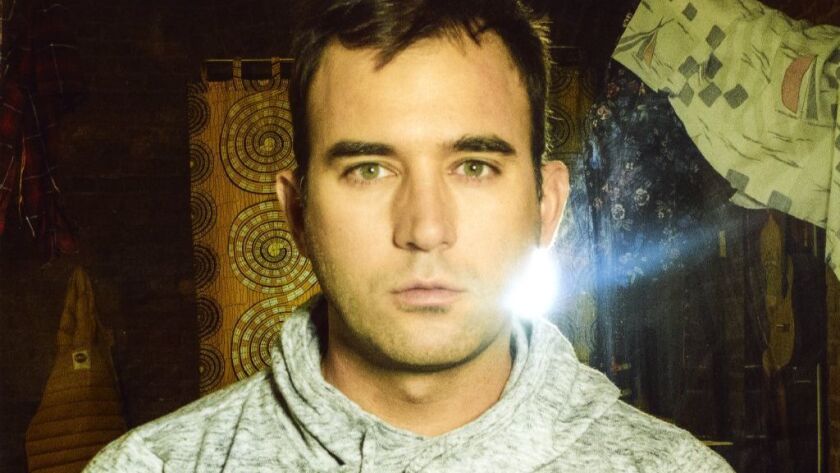 Near the end of "Call Me by Your Name," as the story's two young lovers become utterly liberated — climbing sun-soaked Italian hills next to a roaring waterfall, reveling in their romance — the wistful, whispery voice of Sufjan Stevens furls in like the mist.
"Oh, to see without my eyes," he sings above skipping mandolin arpeggios, "the first time that you kissed me. Boundless by the time I cried, I built your walls around me."
"Mystery of Love" was Stevens' first commission for a film and it earned him his first Oscar nomination.
"I think it's such a beautiful film," he says. "It's speaking to so many people in ways that my music wouldn't otherwise be speaking to them, and it's such a great message — especially now, when there's just so much conflict in our world — that it can have this representation of such pure love. It isn't obfuscated by conflict or by anything menacing."
Timothée Chalamet and Armie Hammer star in the trailer for "Call Me By Your Name"
WATCH: Video Q&A's from this season's hottest contenders »
Director Luca Guadagnino contacted Stevens in 2016 before shooting the film. He already intended to use the Detroit songwriter's 2010 ballad "Futile Devices" in a pivotal scene, as the teenage Elio (Timothée Chalamet) awaits his first rendezvous with the visiting American grad student, Oliver (Armie Hammer).
"Originally he had this really strange idea of having the whole narrative trajectory broken up there," Stevens says, "and include a brief respite from the film. There would just be a scene of me playing the song, almost like an intermission. The whole thing sounded a bit like the singer-songwriter who's in 'The Life Aquatic.'"
Guadagnino also asked Stevens for an original song, but not necessarily one tailored to the story.
"Luca designed this project around a more general aesthetic affiliation with me and my music, and what it means to him," Stevens says. "He wasn't just thinking about specific content, he was thinking about all of my songs. When I saw a first screening, he said, 'I just want you to know that a lot of this project is an homage to your work and to you.' I don't know, maybe he says things like that to everybody. But it struck me that there was an essence to my repertoire that was inspiring or influencing him. I don't think I'm his muse — Lord knows it's Tilda Swinton."
Stevens read the André Aciman source novel and the James Ivory screenplay, then wrote and recorded two new songs without seeing the film or knowing where they might end up.
"Visions of Gideon" plays over the end credits, on a long shot of Chalamet in a moment of teary reflection. "Mystery of Love," with its references to blackbirds and Alexander the Great's lover Hephaestion, was a song Stevens had previously been developing but couldn't quite crack until he connected it to "Call Me by Your Name."
"I wasn't really trying to get too literal with the film," he says. "I wanted the songs to stand on their own — partly because I hadn't seen the film, and didn't really know what the vibe was going to be. So I just did what I do, which is just write, you know, the typical forlorn love song that's based on these concepts from the film like first love, summer love, transcendence, but also deep sensations, deep feelings, sorrow — just that relationship between passion and confusion."
"Mystery of Love" builds from Stevens fingerpicking an acoustic guitar up an octave to the uncredited mandolin acrobatics of Chris Thile — "the greatest living mandolin player on the planet," according to Stevens — then adding piano and shimmering synth as well as some female backup singers, in a constant motion of hopeful and dreamlike ascent.
"Part of the reason why it was really difficult for me to finish it, lyrically and compositionally, until I had engaged with this project was because it's all about a kind of universal first love," Stevens says. "And also knowing the finite nature of things, that nothing's forever. That's what's so amazing about this film, it's such a fully immersive engagement with a fleeting experience. It's a once in a lifetime event, and that's what first love is for most of us. It's unparalleled."
---
From the Emmys to the Oscars.
Get our revamped Envelope newsletter for exclusive awards season coverage, behind-the-scenes insights and columnist Glenn Whipp's commentary.
You may occasionally receive promotional content from the Los Angeles Times.