Tom Hardy's characters frighten him too — but he can't stay away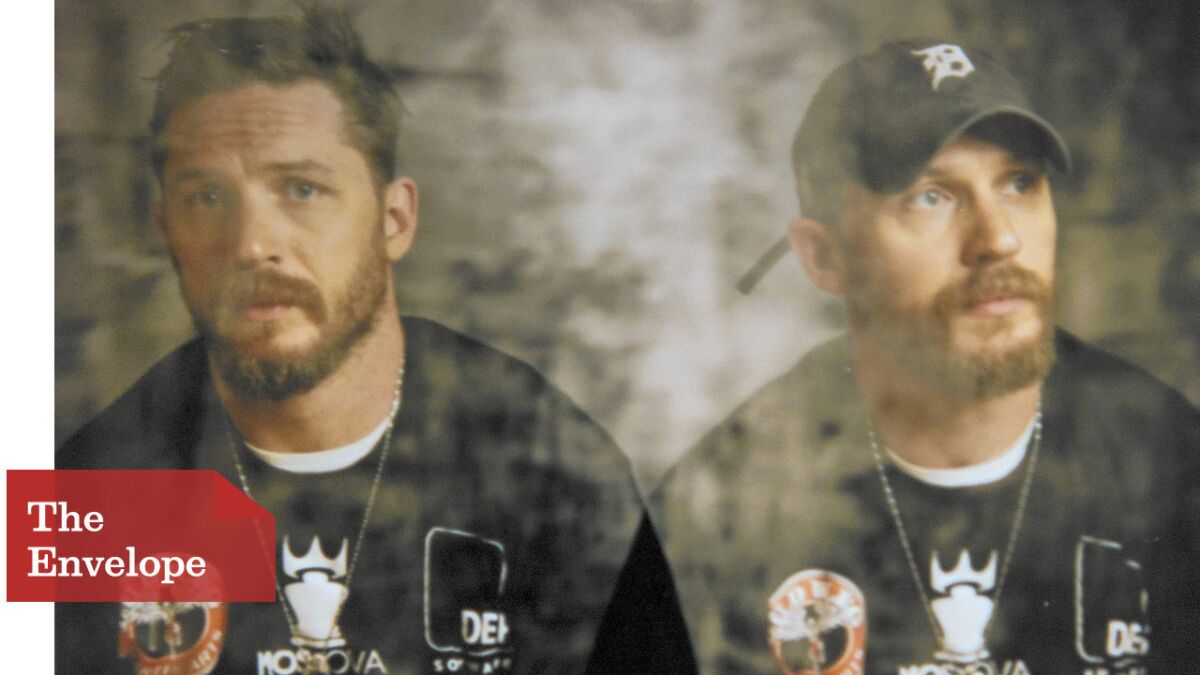 There are two very different Tom Hardys.
There is the Hardy moviegoers have gotten to know onscreen, an actor with a brooding intensity and a special flair for playing hard, sometimes vicious men in films like "Bronson," "Warrior," "The Dark Knight Rises" and "Mad Max: Fury Road." Then there is the offscreen Hardy, a sensitive softy who loves dogs and giving out hugs and who, speaking by phone from his home in London on a recent afternoon, talked excitedly about the imminent prospect of becoming a dad for the second time: "I'm waiting on a baby to land. It could be any minute!"
SIGN UP for the free Indie Focus movies newsletter >>
That more gentle and thoughtful Hardy — Tommy to his friends — is just as frightened as everyone else by the kinds of forbidding alpha-male characters he has often played. ("I'm as masculine as an eggplant," he once told an interviewer.) In a strange way, that fear is exactly what draws him to those roles.
"I think things that frighten me are compelling and I want to understand them," Hardy, 38, explained. "Wherever I go around the world, there's always somebody out there who's a bit scary and I'll collect that. Or animals — I'll learn from animals as well." He laughed. "Though you can't really talk to an angry orangutan in the same way you can talk to a lot of people."
As it happens, there are also two very different Tom Hardys in the actor's new film, "Legend." Opening in limited release Nov. 20, the movie stars Hardy in the dual roles of Ronnie and Reggie Kray, the notorious real-life twin gangsters who ruled over a brutal organized crime empire in London in the 1950s and 1960s. In what many critics have deemed a tour de force performance, Hardy creates a study in contrasts, with Reggie boasting polish and charm while Ronnie is a paranoid schizophrenic prone to unpredictable flashes of violence.
Take a guess which role Hardy was more excited to play.
When Hardy first met with the film's writer-director, Brian Helgeland, over dinner to discuss the film, Helgeland was initially interested in having him just play Reggie, which is more of a traditional leading-man role. But from the start, Hardy was single-mindedly focused on the dangerous, unhinged Ronnie.
"Tom doesn't want to be a leading man in a way because it's a little dull for him," said Helgeland, best known as the writer of such films as "L.A. Confidential" and "Mystic River." "There was a little bit of a friendly showdown, and at the end of the dinner he basically said, 'I'll give you Reggie if you give me Ron.' I don't think either of us realized what we had agreed to at that point but we quickly learned."
As both Hardy and Helgeland were well aware, the track record of actors playing twins has been a rather spotty one. On one end of the spectrum, you have well-received turns like Jeremy Irons in "Dead Ringers" and Nicolas Cage in "Adaptation"; on the other, you have Jean-Claude Van Damme in "Double Impact" and Adam Sandler in "Jack and Jill." Helgeland was wary of it coming across as a distracting gimmick. "If you couldn't get past that, then the movie sunk," he said.
The technical challenges involved in pulling off dual roles were formidable to say the least, particularly given the film's relatively lean budget of around $25 million. "On a daily basis it was like doing a Sudoku that got progressively more complicated," Hardy said. "There wasn't a lot of money so we sort of worked it out like we would in a stage play but with sleight-of-hand."
Tapping into the menace and hair-trigger violence of the Krays was the easy part for the actor. "With Tom, you have this paradoxical tremendous accessibility as an actor and then this danger, where you just don't know what he's going to do," George Miller, who directed Hardy in this summer's "Mad Max," told The Times last year.
Where exactly Hardy pulled that darkness from, however, remained a mystery to Helgeland. "Tom is a teddy bear — when he arrived on set, you had to schedule at least five minutes for him to hug almost every member of the crew," Helgeland said. "I know from things I've read that he had some problems in the past with addiction and things, and he certainly draws on all of that. But I never really talked to him about it." (Earlier in his life, Hardy struggled with substance-abuse issues but he has been sober since 2003.)
For Hardy, the biggest challenge was actually portraying Reggie's romantic side, as he enters an ultimately doomed love affair with a local East End girl named Frances (Emily Browning). The fact is, for all his versatility as an actor, he has never felt entirely at home as a romantic lead.
"I remember when I was younger, I went up to play Mr. Darcy [in an adaptation of 'Pride and Prejudice,']" Hardy recalled. "One of the execs at the studio told me quite categorically, 'Every woman has an idea of who Mr. Darcy is, and I'm afraid you're just not it.' I was like, 'Fair enough.' I'm obviously not a romantic lead, so I'm not going to focus a lot of my attention on being something that I'm not. I like to play people who've got a bit of range on them: a little bit of dark and a little bit of light."
If that has meant a slower, more circuitous path to movie stardom, so be it. Even as "Fury Road" catapulted him to greater levels of fame and he finds himself being mentioned as a potential successor to Daniel Craig as James Bond, Hardy — who will next be seen in Alejandro G. Iñárritu's western thriller "The Revenant," in theaters Dec. 25 — says fame for its own sake has never been on his agenda.
"I'm just Tommy who does his thing," he said. "I guarantee you within a couple of years' time this will all blow over and I'll be back to being about as interesting as I am, which is not very interesting at all. I'm just doing a bit of acting now and then. It's like I came to deliver a pizza and I got really lucky."
ALSO:
Michael Stuhlbarg might be the most popular actor you don't recognize
The true stories behind the making of six Oscar-contending documentaries
December's Oscar hopefuls have to catch up with 'The Martian,' 'Room,' 'Mad Max' and more
From the Oscars to the Emmys.
Get the Envelope newsletter for exclusive awards season coverage, behind-the-scenes stories from the Envelope podcast and columnist Glenn Whipp's must-read analysis.
You may occasionally receive promotional content from the Los Angeles Times.