'Vice' director reveals the elaborate musical scene that didn't make the final cut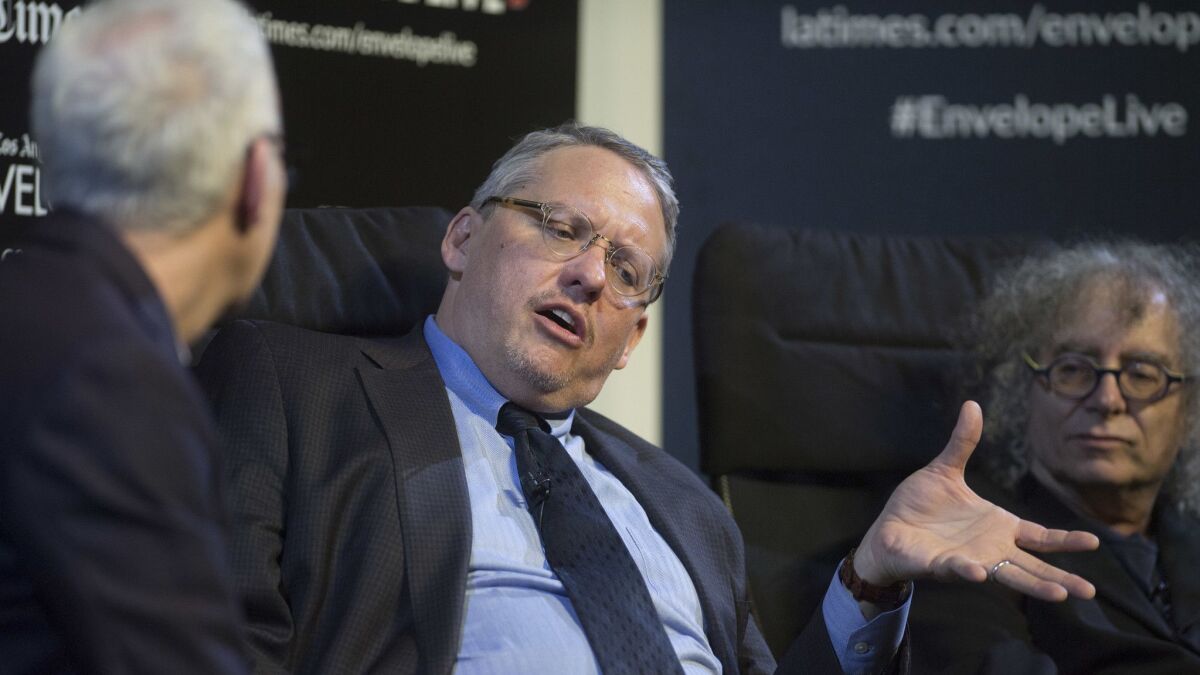 Dick Cheney may be one of the most unpopular political figures in recent American history – a CBS News/New York Times poll had him leaving office in 2009 with a staggeringly low 13% approval rating – but the current movie about his life has been an awards-season darling. The honors for "Vice" have included Golden Globes and Critics' Choice wins for Christian Bale, nearly unrecognizable as the secretive vice president. Last month, the film received eight Oscar nominations, including three for writer-director-producer Adam McKay, and an editing nod for Hank Corwin.
Last week, McKay and Corwin sat down with the Los Angeles Times' Glenn Whipp for a Q&A at an Envelope Live screening at the Montalban in Hollywood, to discuss exploring such a shadowy figure.
"Ultimately, I think it's a movie about addiction. It's a love story wrapped in addiction" to power, McKay said. "We did a lot of research and we read a lot of interviews and had our own journalists go around – I could find no operating ideology. It shifted constantly …
"I think this addiction to power cracks open really animalistic, dark, dark stuff."
GENRE BENDING
McKay talks about the movie being considered a comedy and how it's the ludicrous situations within something very serious that causes laughter.
The film explores some disturbing chapters of recent American history, yet generates laughs in part because of its deadpan reading of their inherent absurdity. The film was nominated as a comedy by the Golden Globes.
"We took out the laugh track at the last second," McKay cracked.
"The example I gave them was like, 'If you were on the Titanic, and the ship was about to sink, and you had just heard for three or four months how it's the most unsinkable ship ever built, do you laugh or cry?' I told the Hollywood Foreign Press [Assn.], 'I'd laugh. I'd just go, "This is crazy, this is happening." ' "
He went on to recall President Trump visiting Butte County in California after the devastating Camp fire that killed 86 and burned 153,000 acres: "And he says, 'We need to rake the forest more. We need to rake them more.' And I said, 'This is the craziest … I have ever seen in my entire life. Is that funny or is it horrifying?' and I honestly can't answer it. So, sure. 'Comedy's' great."
STORY ALWAYS WINS
McKay and Corwin reveal there was an entire musical number cut from the film.
Corwin revealed they had shot "a wonderful musical number; it was surreal, it was fun. You had [Steve Carell as Donald Rumsfeld] and Bale walking through a congressional cafeteria and the place just breaks out into song and dance. You had Brittany Howard from the Alabama Shakes singing. You had the choreographer from 'Hamilton' [Andy Blankenbuehler] … It was great, by itself."
"It was great," said McKay, "but it didn't work … Despite all the amazing footage we shot, the scene where Rumsfeld told him about the bombing of Cambodia did what that scene was supposed to do, but better. You could really taste the power in your mouth."
TEST SCREENING ENERGY
McKay and Corwin talk about how they handle test screenings and what they take away from them.
The filmmakers said there was an early cut of the film that they liked that came in at 2 hours, 40 minutes, but they felt test audiences' energy waning while watching it.
Corwin said, "In a test screening, you don't need to see the scores, you just need to experience the film the way an audience is experiencing it. Adam is remarkable in that he can see it through other people's eyes."
McKay clarified that he didn't intend to chase every peak and valley in an audience's response. But they wanted to "find that compromise between the sweep of what we were trying to tell and the energy of the viewing experience. Because we weren't making this movie to be some obscure experience for the audience; we wanted people to see this movie and respond to it."
THE ENDING
McKay and Corwin talk about the ending and how Bale played a big part of crafting that scene.
The film's ending features a glimpse into how McKay and Bale saw who Cheney really is, what he really believes. It sprung from an actual interview Cheney did with ABC's Martha Raddatz, in which he infamously responded to her comment that public opinion had turned against the Iraq war with a dismissive "So?"
"The way Christian approaches any character is that he becomes that character," said McKay, "and he really felt like Cheney needed to have his say. What would he say in that moment?"
So McKay wrote something and Bale, based on his research, came up with something as well, that represented what Cheney might have said if he had elaborated on that "So?" Bale delivered the combined material in direct address to camera.
"The second he did it, I was like, 'That is terrifying.' … Christian goes, 'Then I've failed. I wanted to make him sympathetic.' I said, 'I'm just telling you my reaction. That felt like the Gorgon turned to me and looked at me.'
"But it was never meant to be at the end of the movie – I didn't see that until our friend here, Hank Corwin, decided to end the movie with it."
YOUNG DICK AND LYNNE
McKay talks about cutting the back story of Dick and Lynne Cheney's teen years from the film.
McKay says Cheney's story "mirrors the progression of America. He's a normal kid from a town in Wyoming who just wants to make the girl he loves proud. That moment when he calls her when he's in the White House and says, 'You'll never guess where I'm calling from' – we've all had moments like that in our lives.
"But somehow in the arc of America, that kind of 'local boy makes good, makes his wife proud' kind of thing became something much darker. Became a quest for power and control, a desire to cover up the parts of ourselves we don't want the world to see, and led us to this place of borderline madness that we're in right now."
"Vice" director Adam McKay talks about cutting the story of Dick and Lynne Cheney's teen years from the film.
For more information on future Envelope Live screenings and events, click here.
FULL COVERAGE: Get the latest on awards season from The Envelope »
---
Get our L.A. Goes Out newsletter, with the week's best events, to help you explore and experience our city.
You may occasionally receive promotional content from the Los Angeles Times.