Following last year's Billie Jean King biopic "Battle of the Sexes," real-life women warriors continue to champion change on the big screen as they did in life. Supreme Court Justice Ruth Bader Ginsburg, portrayed by Felicity Jones, gets her close-up in "On the Basis of Sex." War correspondent Marie Colvin, played by Oscar nominee Rosamund Pike, braves gunfire to report on the casualties of terrorism in "A Private War." And in "Colette," Keira Knightley's 20th century French novelist Sidonie-Gabrielle Colette defies convention in both her stories and her private life.
Director Mimi Leder opens "On the Basis of Sex" by tracking young Ruth Bader Ginsburg on the first day of class at Harvard Law School in 1956, when she's one of nine women in a class of hundreds. "I really understood that feeling, because I was the first female admitted to AFI's cinematography program," says Leder, who has gone on to direct projects ranging from "Deep Impact" to "E.R." and "The Leftovers."
"Up until recently, I've always been on the set with a sea of men," she says. "Today, of course, as women have broken into so many fields, I try to have gender parity on productions I work on, so there's a lot of women on the set now. But it's taken time to make that happen."
FULL COVERAGE: Get the latest on awards season from The Envelope »
The movie culminates in a 1971 court case in which Ginsburg and her husband, Martin (Armie Hammer), successfully argue that statutes discriminating on the basis of sex are unconstitutional. Leder says, "I like to call this movie an origins story about a superhero, but really, it's a story about a woman who made change happen. Ruth was smarter than anybody, she didn't let anything stand in her way, and her husband Marty was incredible. Their marriage was an equal partnership and in that sense a metaphor for the film."
Ginsburg's activism helped foster the 21st century mind-set at the London Times that enabled war correspondent Marie Colvin to do her work without being harassed by male colleagues. As depicted in "A Private War," Colvin lost an eye and ultimately her life while covering fighting in Sri Lanka, Libya and Syria.
Director Matthew Heineman says, "Obviously, Marie Colvin was a woman, but I don't think she necessarily wanted to define herself as such. The story was never about her. It was always about the people she wrote about. Marie didn't care about the geopolitics of a conflict, the size of a bomb or the kind of guns. She cared about human beings and wanted to create a sense of empathy for civilians caught in the crossfire of these conflicts."
Before directing "A Private War," Heineman shot documentaries including the Oscar-nominated "Cartel Land," so he understood firsthand the importance of bearing witness to hellish scenarios.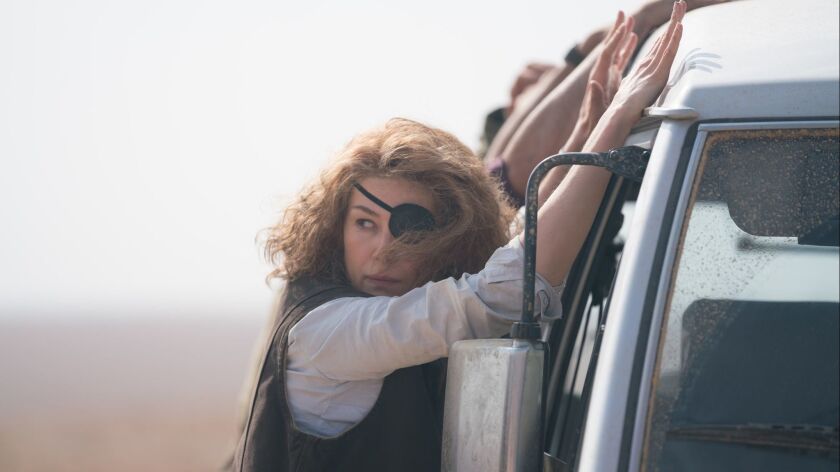 "I felt an enormous kinship with Marie, because as a documentary maker, I've been in meth labs and torture chambers and shootouts — places where you don't necessarily want to find yourself. Making a film about Marie Colvin felt like a very natural fit not only as an hommage to Marie but also because, in this time of fake news when journalists are under attack, I feel it's really important to celebrate people like Marie who are out there fighting for the truth and shedding light on dark corners of the world."
Whereas "On the Basis of Sex" and "A Private War" focus on women acting on behalf of others, "Colette's" title character impacted culture in the early 1900s simply by speaking up for herself. "She was a trailblazer, but Colette was not a social activist," says director Wash Westmoreland, who previously steered Julianne Moore to an Oscar nomination in "Still Alice." "Colette's contribution was that she lived her life in a way that did not allow gender restrictions of the time to affect what she wanted to do in the world."
It took a while to get there. In her 20s, Colette was literally locked in a room by her husband Willy (Dominic West) until she finished writing her autobiographically inspired coming-of-age novel "Claudine." Willy, a popular writer of the time, put his name on her work, and "Claudine" became a bestselling sensation in France. Westmoreland says, "Young women in literature were often portrayed as meek and obedient and chaste until Colette wrote this character who's smart and feisty and sexual. Women all over France read 'Claudine' and said, 'That's me.'"
Colette later fell in love with Missy (Denise Gough), an aristocratic lesbian who dared to wear pants in public. "At that time it was actually against the law for women to wear pants," marvels Westmoreland. When Colette kisses Missy on stage at the Moulin Rouge, riots erupt. "It was considered quite scandalous, but Colette just assumed that in her own life, nothing could stop her from being who she wanted to be."
---