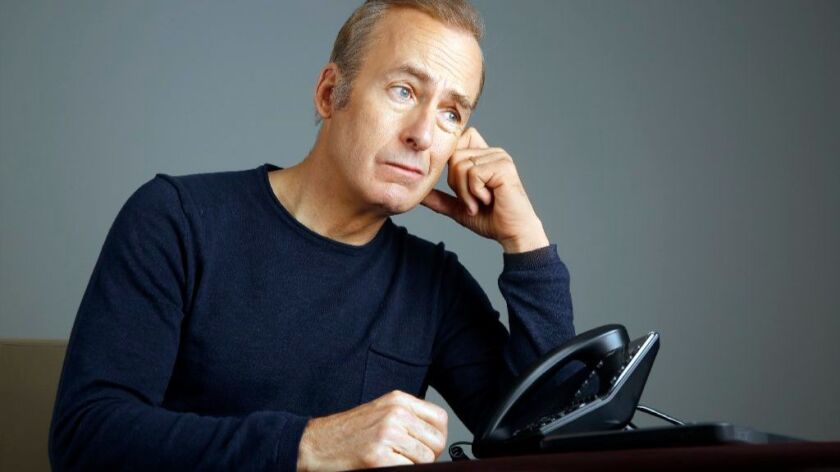 Reporting from New York City —
Con games are about trust — but Bob Odenkirk, who has a trustworthy face, insists he could never pull one off. "I would feel too guilty," he says. But Odenkirk, whose roots are in comedy writing for "Mr. Show" and "Saturday Night Live," has made an acting name for himself as a con artist of multiple personas, including Saul Goodman (on "Breaking Bad") and Jimmy McGill (on "Better Call Saul"). With its third season just ended, "Saul" has cleared the way for Jimmy's transition into the more cynical Saul, while Odenkirk keeps everyone guessing (and laughing).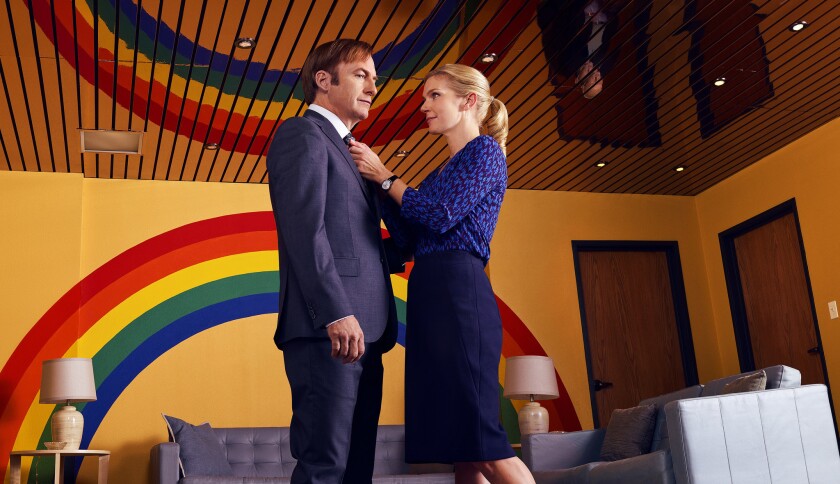 We've just seen the third season of "Saul." How close is Jimmy to becoming his new incarnation?
Jimmy right now is playing in the kiddie pool of criminals, of duplicity, of unethical behavior. Gus [Fring, played by Giancarlo Esposito] is the deep end. We still had some fun in Season 3, but this dark storm cloud is approaching and building around Jimmy. There was a big tectonic shift, an internal shift toward the end of this season.
How do you divide playing Jimmy from Saul?
Jimmy is somebody with a real conscience — a great Catholic conscience. Coming from Chicago and a Catholic family myself, there's this whole machinery there that generates guilt. When you see Jimmy making a choice this season where he's ignoring the obvious damage he's going to do because he's angry with the world — that's Saul to me. That's everything but the lime green socks.
You sound like you understand Jimmy on a fundamental level.
I've thought about what is universal about him in his journey. Some people are very lucky and at a very young age they know how their talents fit in the world, they go for it, they're a success and a star. The more common journey is what Jimmy is going through: They're 35 and they're like, "Am I ever going to find the place where these talents of mine fit?"
You write nearly as much as you act these days, so do you think of yourself as an actor who can write comedy, or a comedic writer who can act?
A writer who acts. Writing is more reliable to me. However much you're struggling, you can always take out a piece of paper and write something and feel good about your day, because you tried. Acting, you rely on so many other people to even get the job.
Had you ever considered writing some "Saul" scripts?
No, no. I'm a much better actor if I haven't helped, and if I can't change the words. If there's a chance for a line, I'll contribute when comedy is present. But big story moves — arcing and altering — that's out of my league.
When did you first know you were funny?
Well, my brother's funnier than me. Bill, he writes for "The Simpsons." I was silly as a kid. There's like one picture of me when I was 7 where I'm not making a face. I wrote comedy sketches in junior high for class projects, and I got big laughs. That was a big motivator. But I was always very skeptical of it. I was hired at "Saturday Night Live" when I was 25, but I only started to have more faith in myself around 32.
We've seen another, future iteration of Jimmy, on "Saul": Gene, who works at Cinnabon. Is there a future series for him?
I've heard ["Saul" creators] Vince [Gilligan] and Peter [Gould] say that they'd like to see what happens with Gene. I hope to get to play a fifth character. There's [con man] Slippin' Jimmy, Jimmy McGill, Saul Goodman, Gene and then … maybe just James? A more mature, forthright … I don't know who he'd be, but I don't think he'd ever lose his natural proclivity for working a game.
You had a pretty expansive résumé even before "Breaking Bad," but how did playing Jimmy/Saul alter your career?
I'm still trying to figure it out. Acting was always such a secondary thing for me most of my career. I have this opportunity now to be considered for other things, so it's like, "Well, what do you want to do?" I'm 54 and I don't have a million options. These guys have trusted me with material they had no right trusting me with; there was no proof existing anywhere that I could do it. I'd read some monologues and it's like, "Why would you let me do this? Why would you trust me with this?"
See the most read stories this hour »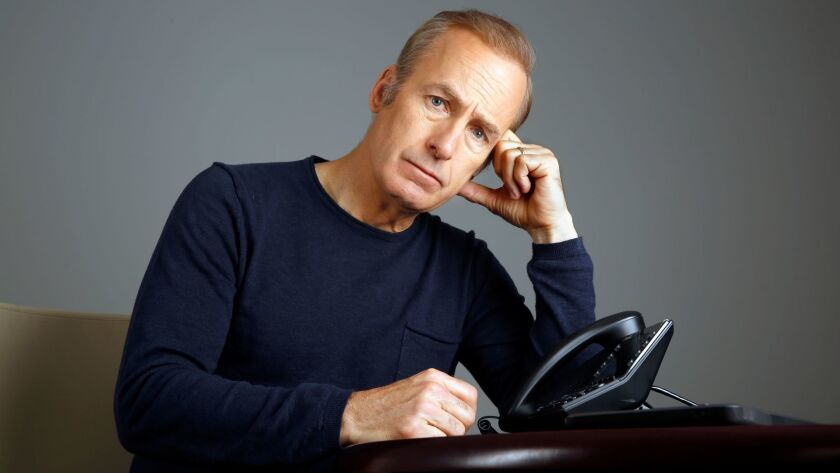 ---