Hugh Grant shifts into character roles and is having the time of his life
Hugh Grant, a self-proclaimed "grumpy Londoner," wants to make clear that he's always been a somewhat reluctant star. "I'm not as crazy about show business as some other actors I've met," he said recently, in a penthouse suite at the AKA Beverly Hills. "There's always been other things I wanted to do."
In the 1990s and early 2000s, he was Hollywood's go-to exemplar of British bachelordom, projecting sarcasm and wit in a number of beloved romantic comedies, including "Four Weddings and a Funeral," "Notting Hill" and "About a Boy."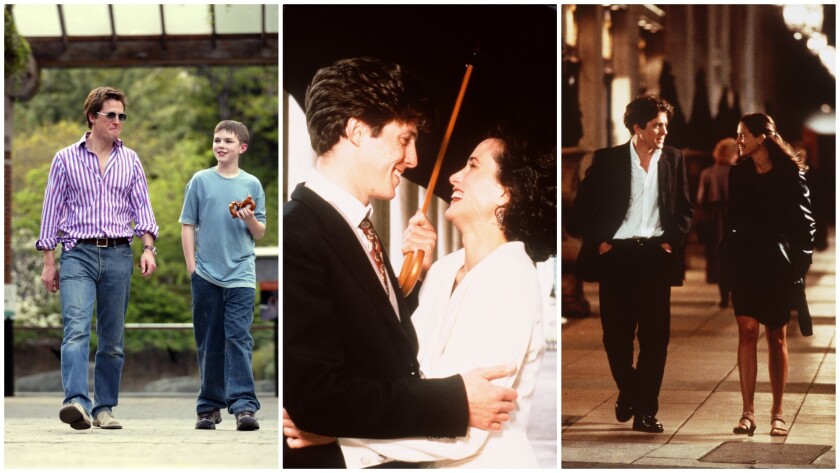 Over the last decade, the 58-year-old Grant has slowed things down, reshaping himself into a character actor. "When I was in my mid-40s I decided I just didn't want to do so much," he said. "Then subsequently, as you hit 50, the business winds you down, and as it turns out, that's been rather nice."
This year, he's earned substantial praise for two very different performances that each indulge the nastier edges of his charisma – as British politician turned alleged criminal Jeremy Thorpe in Stephen Frears' BBC/Amazon miniseries "A Very English Scandal," and as dog-food commercial star and greedy thief Phoenix Buchanan in "Paddington 2."
According to Grant, after years of playing variations on a persona, "recently I have been playing parts which are more characterized. So, you know, there's more of a voice, and physical things: different movement, different eyes, different hair. And it's been oddly liberating. I think I actually act better when I'm more characterized. I'm marvelous in a dog suit."
In "A Very English Scandal," he stars as the closeted leader of Britain's Liberal Party in the 1960s and '70s, who's hiding an affair with an unstable younger man named Norman Scott (Ben Whishaw), and is eventually accused of conspiring to murder him.
The drama is based on a true story, one that Grant remembers well. "I was in my teens at school when the whole scandal was happening. I was loving it. The whole of Britain was loving it. A prominent member of the establishment in his three-piece suit, with all these extraordinary dark secrets. And this incredible trial, with a crazy judge and all the things that Norman said. We were all just rubbing our hands and enjoying it like an episode of 'Monty Python.' "
Thorpe is something of a villain, but the character's depth depends on Grant's familiar romantic charm. Before he tries to kill Norman for threatening to out him, he first has to seduce him. And their affair is an unusually tender one.
"I'm not sure how much of that is true, but I definitely decided we should go that way with our film," Grant said. "If they were in fact in love when they had that relationship, then when he's trying to kill Norman, he's also killing the thing he loves. And that's kind of typical of the repressed Englishman: 'Mustn't go there. That's messy, all that love business. Kill that.' "
Grant, who has worked almost exclusively in film, acknowledges that he had to be coaxed into the idea of doing television, though the self-contained three-part miniseries is the length of a long movie. "I was one of the last holdouts not to do television," he said, "partly because I just didn't watch it. About two months ago one of my kids showed me how to work Netflix."
"Paddington 2," the universally acclaimed sequel to the London-set live-action animated comedy about a good-natured anthropomorphic bear, might seem like even more of a departure for Grant. He was a fan of Paul King's original film but hadn't sought out the project.
"Well, one day a script turned up with a cover letter that said, 'Hi, we're making 'Paddington 2,' and there's the part of a washed-up narcissistic actor and we thought of you.' This was hurtful, but I needed a job," Grant deadpanned.
"I'm moved by the film," he said. "I cry at the end. I've even tried to see the good in people — I can't do it. I can only see the negative — but I've tried taking Paddington's advice."
Though he's eager to continue demonstrating his range as a performer, moving beyond his typecasting as an amiably sardonic Romeo, he's aware that his legacy is inextricably tied to a successful run of romantic comedies.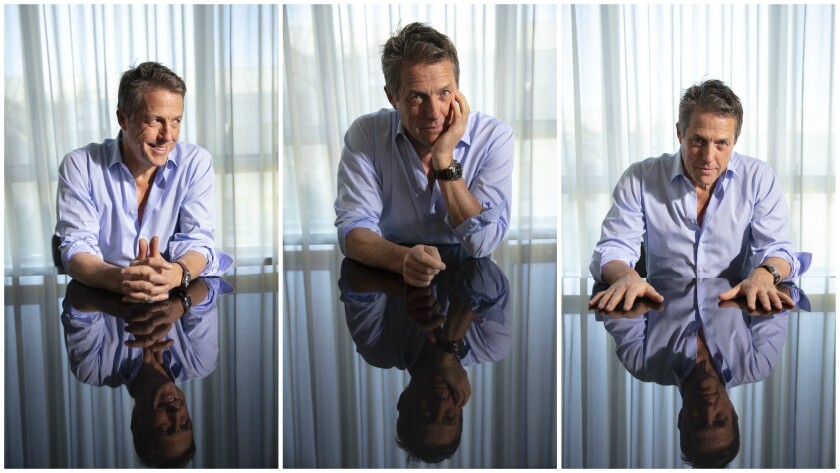 "I don't wish to look a gift horse in the mouth," he said, "because really the success I had in those films was a gift. But it was never a genre I was particularly mad about. I prefer people killing each other."
He even claims to be unaware that Richard Curtis' 2003 "Love, Actually" has been canonized as the ultimate holiday rom-com. "I knew that in England, everyone watches it at Christmas," he said. "I didn't know that happened here. I must get my accountant on that."
---
From the Oscars to the Emmys.
Get the Envelope newsletter for exclusive awards season coverage, behind-the-scenes stories from the Envelope podcast and columnist Glenn Whipp's must-read analysis.
You may occasionally receive promotional content from the Los Angeles Times.