NBC's "Jesus Christ Superstar Live in Concert!," which broadcast the 1970 rock opera musical by Tim Rice and Andrew Lloyd Webber from the Armory theater in Williamsburg, Brooklyn, on Easter Sunday, was by all rights a success.
Visually ambitious (if sometimes audio-challenged, thanks to an overenthusiastic audience of 1,200), the rock 'n' religion revival drew nearly 10 million TV viewers who watched such superstars as John Legend playing Jesus Christ and Alice Cooper as King Herod. And producers Neil Meron and Craig Zadan couldn't be more proud.
"It was a big breakthrough for us," says Meron. "It was a true test to see if audiences would stick with it and respond to it – and for us, that's a great achievement. We really weren't expecting the absolutely remarkable response from the audience, which was a little overwhelming."
WATCH: Video Q&A's from this season's hottest contenders »
Reviewers were kind as well. Of Legend and Sara Bareilles as Mary Magdalene, L.A. Times critic Lorraine Ali said, "They brought the songs to life for a modern audience without forsaking the original charm of the numbers.
"Their melodious deliveries were complemented by the gruffer voice and more theatrical likes of [Brandon Victor] Dixon. As Judas, Dixon led spectacular numbers such as 'Superstar' that required athleticism and some seriously soulful belting. He nailed it on both counts."
Fortunately, down on the stage as fans cheered and reached out, the performers kept their cool – even while retelling one of the most emotional stories of all time, complete with glitter, gold and giant cowled coats. Here's how some of them saw it happen, as told to The Envelope.
John Legend (Jesus Christ)
First time: Musician Legend's first entree to the show came while he participated in show choir while in high school. "We would sing songs from musicals, and one we did was an Andrew Lloyd Webber medley," he says. "I never watched the entire thing until it was time to prep for this."
Messiah mind: "I was raised in a religious home with many ministers," says Legend, "but it's also important to think about how Andrew and Tim thought about him, not just how religious folks think of him."
Racial blowback: Neither Legend (nor Brandon Victor Dixon, who played Judas) heard racially based protests over their casting. "Anyone who thinks for one second about where Jesus was born and raised, he probably doesn't look like the Nordic people who've played him in the past," Legend says. "The idea was to make the cast look like America, make it diverse."
Bonus hallelujah: "I managed to get through without any lyrical flubs," he laughs.
Sara Bareilles (Mary Magdalene)
First time: "I was about 12 when I saw the film," she says. "I grew up Catholic, and I remember being rapt by the song 'Gethsemane (I Only Want to Say)'; I was so emotionally moved by it."
Connecting to Mary: "It was about listening to a bunch of different interpretations of the songs, and when it came time to go look into the eyes of the people you share the stage with."
Lone woman: Mary is the only major female character in the show with a voice, Bareilles recognized. "Where she lives in this production is in sync with much of the religious stories we know so well," she says. "Those were, sadly, in some ways very male-dominated story arcs. But what I love about Mary is she's so uncomplicated: She's this reflection of purity and love."
Hallelujah bonus: Bareilles really wanted to keep Mary's dress, but made off with another piece of her costume instead: "I'm not sure I'm supposed to tell anyone, but I love my Mary sandals."
Alice Cooper (King Herod)
First time: While on tour in the 1970s, Cooper saw the movie based on the musical, and in 1996 he recorded "King Herod's Song" for a London cast recording of the show. "Tim Rice wanted a little more venom than the one they had before," he says. "He wanted Herod to be a little more cynical. They usually cast Herod as a fat idiot who's nervous and scared. They wanted this version to be a little more rock 'n' roll."
Familiar role: Herod is a lot like Cooper's onstage persona, he says. "If you're going to have a villain, have an arrogant one who's very much in love with himself, who holds the audience in disdain," he says. "My show is vaudeville and hard rock, and it's all acting. So I told the director I wanted to play that."
Hallelujah bonus: Herod's gold silk suit was covered in oil-painting prints of all of his victims. "From what I understand, my costume was about one-third of the cost of the entire cast," he says. "When the show was over, I said, 'How hard will you be looking for this on Monday?' But NBC wanted it for their archives."
Brandon Victor Dixon (Judas Iscariot)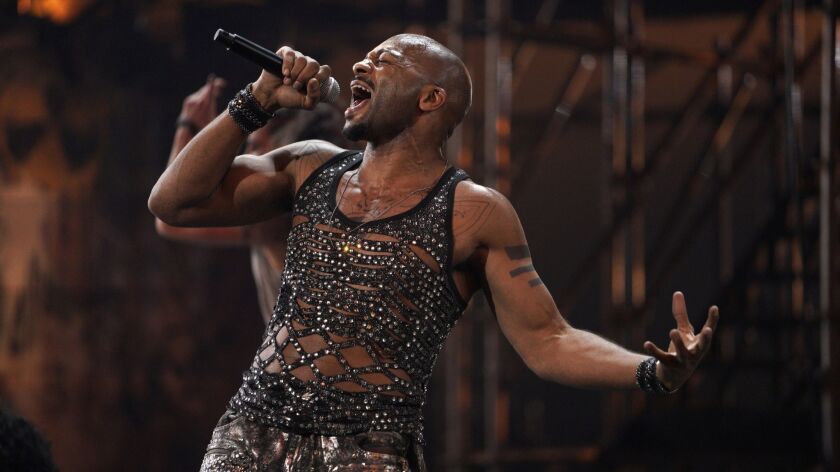 First time: "The first time I heard more than one song from this show was the week before I started rehearsal," says Dixon. "Even after I got the job I hadn't quite finished with the movie, so I hadn't known that Judas comes back after he dies."
Antihero Judas: "My lofty goal was to make people feel differently about someone they thought they knew," he says. "That's a perspective I wish we could turn towards people in the world around us more."
Familiar role: Dixon sees parallels in Judas and the character he played in Broadway's "Hamilton," Aaron Burr. "They share some of the same characteristics," he says. "'Hamilton' is the name of the show, but you see much of it through Burr's perspective, Aaron is the one who shot him, he's the badass in the arsenal of our history."
Hallelujah bonus: No, he did not shave his head for the role: "The Lord God made that decision for me eight or nine years ago."
---