Linda Cardellini brings some 'Judy Sunshine' to Netflix's 'Dead to Me'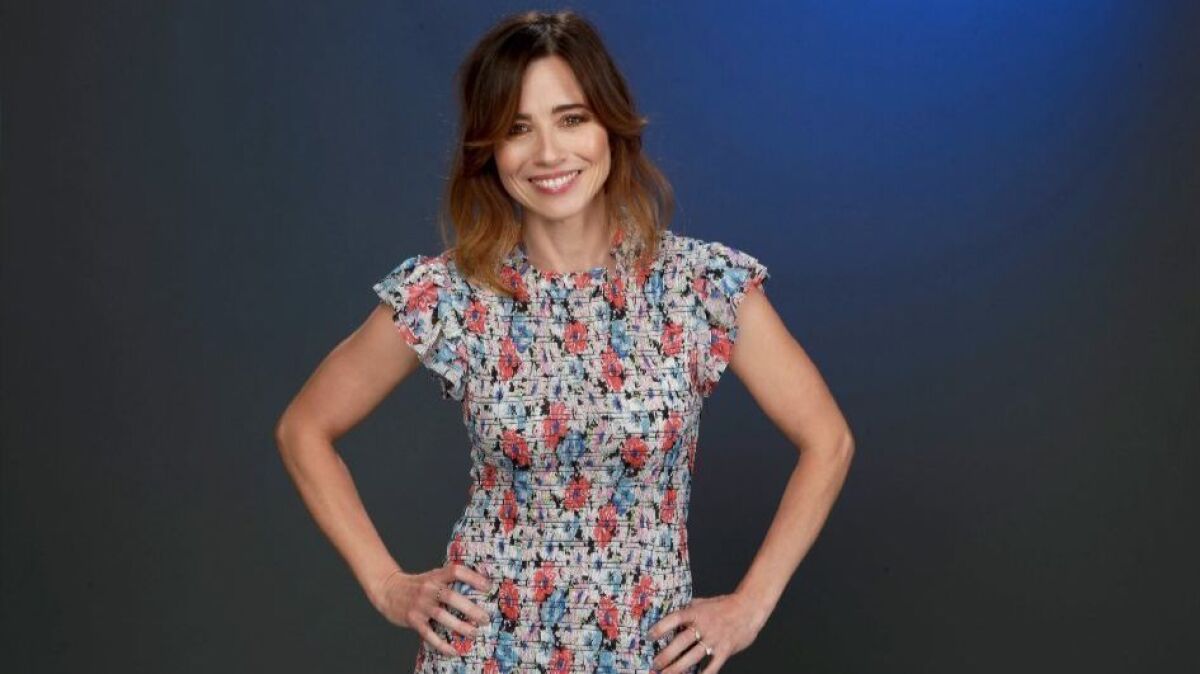 Netflix's "Dead to Me" is a dark comedy, serious drama and mystery all at once. And that makes perfect sense to costar Linda Cardellini.
"I think, for me, having gone through certain periods of great grief, or grief that really shocks you, you don't get through it unless you have a sense of humor," said the actress. "I think the saying, 'Laughing at a funeral' happens because people really, truly do. And I have done it before, inappropriately so. But it's a release, and I think the idea of being able to get through the hardest thing, you have to have a certain way of looking at it from the outside and laughing about it. So the comedy and tragedy sort of go together."
Cardellini dropped by the Los Angeles Times video studio for an Emmy Contenders chat about her acclaimed Netflix show, "Dead to Me."
WATCH: 2019 Emmy Contenders video chats »
In the series, created by Liz Feldman, Cardellini plays the occasionally kooky, warm-hearted Judy. Judy meets bitingly sarcastic Jen (Christina Applegate) at a grief group where Jen is trying to cope with the death of her husband via hit-and-run. Despite their contrasting personalities — and deep secrets — the two become the best of friends.
Cardellini appreciated that the most consequential of Judy's secrets — that she was the hit-and-run driver who killed Jen's husband — comes out in the series' first episode. Rather than having that mystery driving the plot, so to speak, it becomes an intriguing subtext of the very real friendship that develops between the two women: something Jen doesn't know, while the audience does. Cardellini praised Feldman's ability to maintain the careful balance of how much to reveal to the characters, to the audience, and when.
"It goes from almost hyper-real to some absurd situations that Judy's involving herself in. She goes from being incredibly loving to doing something that is so self-destructive. And destructive for other people. The idea of balancing all of that was so much fun.
"But at some points, I would say to Liz, 'Can we do this several different ways?' We would do it three or four ways — some ways where the audience knew and was in on it with Judy; played it where it was completely straight; one that was more broad. It was really fun to play with all of that because I knew Judy's secrets would go throughout the first season, and so to find a way to play it in different ways so it didn't feel repetitive was a fun challenge for me, and Liz was really great with helping me with that.
"Sometimes I would get a little darker — 'Yup, we need a little bit more Judy Sunshine.' That's what we'd call it, 'Judy Sunshine.' She doesn't engage in conflict very well at all, so any time that somebody was yelling at me, or anything I had to take, I had to find different ways to take it in and deflect it for somebody who doesn't engage in conflict."
That balance, and that insistence on "Judy Sunshine" poking through some substantial clouds, represents an unusual exploration of grief and friendship, especially in a multilayered, twisty, dark comedy.
"I love the way this show explores grief because nobody grieves in the same way," she said. "But I think, in life, whenever something has sort of rocked my world and I've been hit by a grief that I didn't know was coming, you look at the other person, and if you can recognize the grief in the other person, there's some comfort in that. And I think that's what bonds these two women from the beginning, even though there's a lot more."
She laughs at the thicket of plot twists and spoilers that make it a bit difficult to discuss in detail.
"There's a lotta layers underneath it for my character."
To see this entire interview, click on the video below.
---
Get our L.A. Goes Out newsletter, with the week's best events, to help you explore and experience our city.
You may occasionally receive promotional content from the Los Angeles Times.