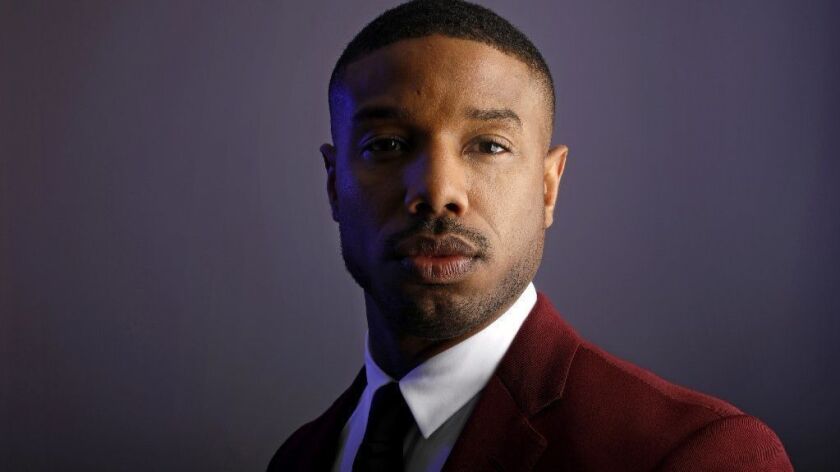 It's a Sunday and Michael B. Jordan is in the back seat of a town car, driving to New York for a photo shoot on his day off from shooting "Creed II." While he's in the city, he might stop by a favorite restaurant for a quick bite — the film's boxing scenes were shot weeks ago, so he can dial back on the dieting regimen just a bit — and then it's back to Philadelphia for a "Creed II" wrap party.
Only — and this is par for the course for Jordan's work-focused life — it's not really a wrap party as he has an early call Monday for a full day of filming montage scenes for the movie and then another few days of shooting after that. This particular Sunday was the only available day to put the cast and crew together to celebrate the (near) end of the movie, though the party would have to compete with Game 2 of the NBA Finals. (Jordan is squarely behind the Cavs or, more precisely, he worships their star, LeBron James. "He's the greatest to ever play the game," Jordan says, passing over the man who shares his name. "We're witnessing history, and it's an honor to watch.")
Three years ago, Jordan said he'd gladly devote the decade of his 20s to his career and then, once he hit his mid-30s, he'd start to live a little. Now 31 and fresh off a charismatic turn as antagonist Erik Killmonger in the transcendent superhero movie "Black Panther," Jordan laughs as he recalculates that particular timeline.
"Maaaybe late-30s?" Jordan says. "Hopefully. But I'm not stopping anytime soon. I don't think I know how to stop, how not to work and create and build this foundation."
I'm not stopping anytime soon. I don't think I know how to stop, how not to work and create and build this foundation
Michael B. Jordan
Since "Black Panther," that foundation has expanded to include a new HBO movie adaptation of Ray Bradbury's cautionary sci-fi classic "Fahrenheit 451" and "Creed II," due Nov. 21, in which Jordan reprises his role as Adonis Creed opposite Sylvester Stallone's Rocky Balboa.
All that means Jordan, who describes himself as "extremely quiet" and averse to attention, has barely had time to understand how his life may have changed following the extraordinary success of "Black Panther," which grossed $1.3 billion in worldwide box office and became a groundbreaking, cinematic celebration of black culture. Jordan did find time to sneak into a couple of theaters after it opened, finding a front-row seat at downtown's Regal L.A. Live and then, another night, joining some friends at the back of an auditorium at the Crenshaw Plaza 15 (everyone still calls it the Magic Johnson Theaters, Jordan included) so he could see it with the "home crowd."
"It's crazy how things can change in such a short amount of time," Jordan says of the response to the movie. "It's a lot, man. It's a lot. It's … uh … it's an adjustment. I'm having my growing pains, but I'm getting through it."
"He'll get through it," says "Fahrenheit 451" director Ramin Bahrani. "I've met his parents. He has such a solid family upbringing, I don't think anything's going to rattle him."
Jordan bought his mom and dad a house in Sherman Oaks a couple of years ago, moving them from his childhood home in Newark, N.J., so they could be together and he could help care for them. He cites his dad's discipline and work ethic and his mom's creativity and artistic impulses as essential to shaping his life.
"Buying them a house, taking care of them is something I've always dreamed of doing," Jordan says, "I know a lot of people who don't have their parents. That's not something I look forward to. I want to keep them close, have them watch me grow and keep me grounded and be able to share things and laugh and just soak up those memories." He pauses, then adds a thought perhaps directed at anyone trolling him for living with his parents at the age of 31. "You know, the great thing about having a house? You can get another one. But at this part of my life, it's awesome."
There's a shot in "Fahrenheit 451" in which Jordan's character, a book-burning firefighter, recalls a memory he had long suppressed — his father handing him an open book to read. Jordan traces the image back to his own childhood in a part of Newark he describes as "hood as …," using a choice expletive to complete the thought. His parents had a small home library and Jordan soon began his own, picking up as many volumes in R.L. Stine's "Goosebumps" series as he could. ("I'm a collector and that might have been where it started," Jordan says. "I loved those crazy covers. They stimulated my imagination.")
One day, Jordan's dad gave him a copy of "The Autobiography of Malcolm X." "That had an impact on me," Jordan says. "That started me thinking as a young man. It kick-started an appetite for knowledge."
This was around the time Jordan, at the age of 14, landed a key role on the revered HBO drama "The Wire," playing Wallace, a young drug dealer. Wallace's vicious murder at the hands of two best friends remains one of the most heart-wrenching deaths in television history. ("I watch that now, and I had dirt on my upper lip," Jordan says. "I couldn't grow any hair. I look so young.")
Jordan went by instinct on "The Wire." To this day, he has never taken an acting class, preferring to deeply research his characters on his own, writing their histories in journals (he has the volumes lined up on a shelf like a set of encyclopedias at the Sherman Oaks house) and keep everything grounded. It clearly works. Bahrani remembers meeting Jordan in Atlanta to discuss "Fahrenheit 451" while he was shooting "Black Panther." Bahrani had read stacks of interviews and profiles and felt like he knew what to expect — an actor who was focused, determined and ambitious, but also friendly and affable.
"He came in and he was a little bit rough, a little bit pushy and not very open. And I'm thinking, 'This is not the guy I read about,'" Bahrani remembers. "Then he took out the gold teeth, plopped them on the table and says, 'Man, I'm so sorry. I'm just stuck in this character.' Then he shook it off and was the Michael B. Jordan I'd read about."
Once Jordan finally finishes "Creed II," he's going to take a couple of weeks to clear his head and then throw some journals into a backpack and head to Atlanta to meet Bryan Stevenson, an attorney who founded the Equal Justice Initiative, challenging the unfairness faced by minorities and the poor in America's criminal justice system. Jordan optioned Stevenson's 2014 bestselling memoir "Just Mercy" shortly after it was published and plans on spending enough time with Stevenson this summer to "get in his back pocket" before the movie begins filming in September.
"There's a lot of responsibility with every movie, but especially with that one," Jordan says. "I'm going to be taking a lot of notes." Mulling that over prompts another thought, one that makes him laugh at its absurdity given how hard he trained these past few months for "Creed II."
"I remember writing in my journal recently and my hand started to hurt," Jordan says. "And I thought, 'Wow. I've only been writing five minutes. Why is my hand cramping up right now?' Because I haven't been writing as often as I used to. Just my thumbs. My thumbs are extremely strong from texting. But holding a pen, I'm a little out of shape. I'm going to spend the summer working on that."
Twitter: @glennwhipp
---