Lolly Adefope of "Shrill" discusses the "natural chemistry" she shares with star Aidy Bryant on and off the screen.
There's a reason why the friendship between Aidy Bryant and Lolly Adefope's characters feels so authentic in Hulu's "Shrill," and that reason's name is Ariana Grande.
Based on the bestselling body-image memoir from writer and comedian Lindy West, "Shrill" has been praised by critics for its deft portrait of a woman named Annie (Bryant) discovering her self worth and leaning into her power after being shackled by low-self esteem in her youth because of her size. The half-hour series, which will return for a second season, also offers a tender and honest look at female friendships through Annie's BFF/roommate Fran (Adefope) — a standout fan favorite with her clever zingers and her delivery of the sort of brutally honest advice that only a true friend is willing to give.
Adefope said she had a natural chemistry from the start with Bryant. It helped too that they didn't mind being in each other's company when the cameras weren't rolling in Portland, Ore., where the show shoots.
"We went for sushi, we went shopping," Adefope said during a recent visit to the L.A. Times video studio. "We went to a bar, and there was no one in the bar. And so we asked if we could play Ariana Grande and they let us. We harmonized Ariana Grande. We spoke a lot about Ariana Grande — her power. We talked about her a lot, just in such a casual way, like, 'Have you see what Ariana Grande is doing today?' "
WATCH: 2019 Emmy Contenders video chats » » » » »
But many viewers are just as interested in what the character Fran might be doing when she's not on-screen in any given scene. So, what might an episode from the perspective of Fran, a self-assured British black lesbian, look like?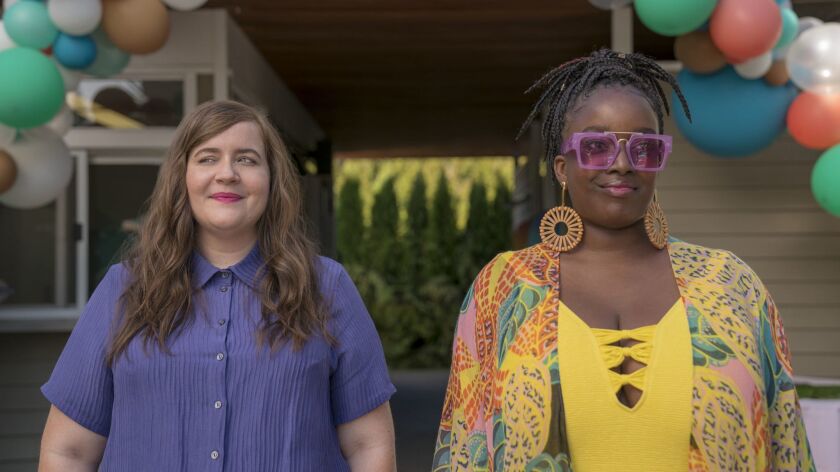 "I think it would be interesting to see where she gets her confidence from," Adefope said. "How did she become this person, how did she develop into being this person who has so much self-belief? And also to see whether Annie's right: Does she treat women badly? Is that just who she is or is she gonna take that advice and change her ways? I think she's not that vulnerable even though she's very open and honest. You don't really see much vulnerability to her. Are we going to see some sides to her where actually she's not that confident as she seemed before, or is she just settled and great and everything is perfect in her world … which it never is."
Elsewhere in the conversation, Adefope talked about what it was like shooting the show's standout pool party episode ("The joy that you see on the show was very apparent on set"); how comedy helped her own self-confidence; and working opposite Steve Buscemi in TBS' "Miracle Workers."
For the full conversation, check out the video below.
Twitter: @villarrealy
---