Sterling K. Brown knew 'This Is Us' was special from the start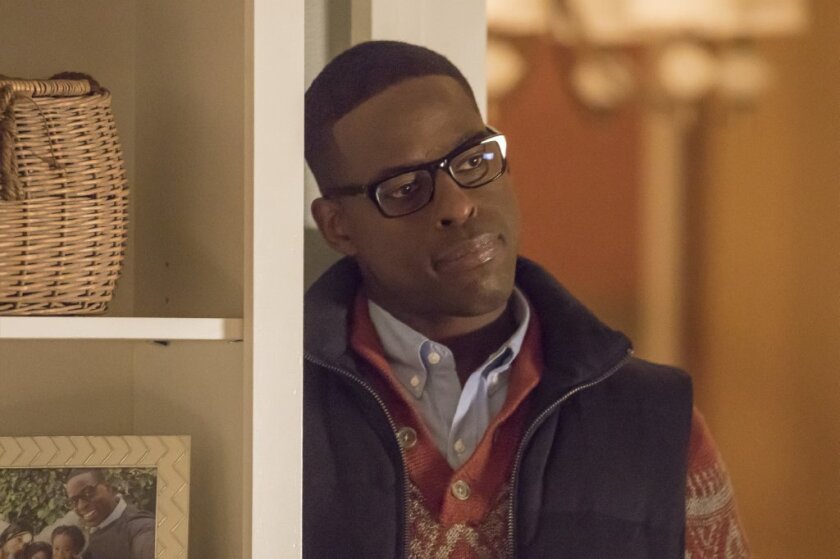 After 15 years as a professional actor, Sterling K. Brown more than appreciates the "bomb of good fortune" he's been in the middle of over the last 12 months. It started with landing an Emmy Award-winning and now SAG Award-nominated role as L.A. County prosecutor Christopher Darden in "The People v. O.J. Simpson," was followed with another SAG-nominated role in the NBC series "This Is Us" and, most recently, the news that he'll appear in "Black Panther," director Ryan Coogler's highly anticipated Marvel Studios adventure set for an early 2018 release.
On SAG nominations morning, however, Brown wasn't so much appreciative as overwhelmed when he realized he'd earned separate nods for both the limited series and the breakout hit family drama.
Brown believes it's one of the greatest honors to be recognized by your peers for your work, and at that moment, he recalls, "I started to cry. Just sobbing like a baby because you know to have a supporting role in what I consider a wonderful ensemble and to see the nominees that I was nominated with in that category. My wife woke up because she heard me cry. She said, 'What's the matter?' I said, 'I just got nominated for 'This Is Us.'' She's like, 'Baby, it's OK. It's OK.'"
Landing the role of Randall Pearson on arguably the most popular new TV show this season happened through a series of connections that started when Brown shot Glenn Ficarra and John Requa's "Whiskey Tango Foxtrot" in April 2015. That's also when he heard he'd landed his breakout role in "O.J. Simpson." At the end of the run of filming that critically acclaimed limited series, he got a call from Ficarra and Requa saying they'd love for Brown to meet their "Crazy, Stupid, Love" collaborator, Dan Fogelman, for a new television show he was working on. Brown says he thought the script was "something special" right away.
This is something special happening. This is entertainment but this is not just entertainment. This is something that's going beyond the pale.
Sterling K. Brown
"I've been reading scripts for a long time and something that's nuanced and heartwarming and funny and just beautiful doesn't land on your lap that often," Brown says. "I went in, met with Dan and had a great meeting. Then a couple of weeks later I had the audition. We were in the courtroom doing closing arguments and things like that for 'People v. O.J.' and in between time I was working on my lines for 'This Is Us' to do the best I could to smash this audition. I took the role right at the end of 'People' and we shot the pilot in February of 2016 just as 'People' was hitting the air."
"This Is Us" follows the lives of three siblings — including the adopted Randall — all born on the same day and their parents in a separate timeline that takes place over 30 years before. After seeing the pilot and hearing early critical reaction, Brown knew "This Is Us" had turned out as well on screen as he'd hoped reading the first script. It wasn't until his cousin, who lives in Washington, D.C., insisted they have a video call that he truly began to realize what an impact the show was having with viewers. She first congratulated him on his recent Emmy win but made it clear she thought "This Is Us" was "the one."
"My cousin's not prone to tears," Brown says. "She shed a tear and got very emotional just talking about the point of entry [into the show] for her as an individual. She's plus-size, [like the character Kate]. Having been adopted by our grandparents, she knows what it's like to be a biological child and an adopted child because she was adopted by our grandparents from her mom. She had a very interesting sort of rearing as well. She's an artist so she could relate to [third sibling] Kevin. I think she said something like, "I don't think I have to go to therapy next week.'"
Brown adds, "I was like, 'Wow, wow, this is something special happening. This is entertainment but this is not just entertainment. This is something that's going beyond the pale.'"
The 40-year-old actor will spend some time after "This Is Us" wraps its first season filming the aforementioned "Black Panther." He'll join a notable cast including Chadwick Boseman, Michael B. Jordan and Lupita N'yongo, and he's thrilled his 5-year-old son can now grow up in a world where African American superheroes are part of the rule and not the exception. And being a fan of the comic book doesn't hurt either.
"All I've ever wanted to do is tell good stories and do good work," Brown says. "It seems like because of the year that I've had, those opportunities are starting to come to me more and more and more. I feel blessed. Really, really blessed."
See the most read stories this hour »
ALSO
Academy Awards 2017: Complete list of nominations
Sterling K. Brown on how 'This Is Us' changed the way he talks to his kids
'People vs. O.J.'s' Sterling K. Brown dived headlong into the glove scene: 'I was livid'
---
From the Emmys to the Oscars.
Get our revamped Envelope newsletter, sent twice a week, for exclusive awards season coverage, behind-the-scenes insights and columnist Glenn Whipp's commentary.
You may occasionally receive promotional content from the Los Angeles Times.