The first thing you should know about Tracee Ellis Ross is that her signature laugh is as genuine in person as it sounds on television.
Before a conversation centered on her third Emmy nomination for "black-ish" formally began, her visitor relayed a quick personal story about a surprise building inspection for a prospective new owner (one Diana Ross), an unkempt bathroom and the withering look this apartment dweller received from Ross' famous mother. Needless to say, Ross knew the look well and could not control her laughter at the mental image.
As the interview began on a recent warm afternoon at the Grafton on Sunset, Ross took some time to relax and reflect with the production of the fifth season of ABC's critically acclaimed comedy only a month away. "One of the things I think that our show does incredibly is we aren't trying to keep up with ourselves. We keep trying to be honest," she observed.
WATCH: Video Q&A's from this season's hottest contenders »
That is very much apparent in the story lines show creator Kenya Barris showcased over the past 24 episodes. This past season, the series tackled the importance of Juneteenth (the holiday celebrating the abolition of slavery), postpartum depression, racial bias and, notably, the difficulties in maintaining a strong marriage. The latter found her character, Dr. Rainbow Johnson and her husband, Dre (Anthony Anderson), separating for a significant amount of time. (It should be noted that an episode reportedly centering on current politics and the president was pulled by the network and has still not aired).
Ross said that at the beginning of a season, Barris usually gives her a slight heads up on where Rainbow's story line might be going, but by the back end she's often reading major revelations only when she gets a new script.
"I did not know I was going to be pregnant last season until I read the script for a table read. I also did not know Bow's father was gonna die until the table read, because it was the last episode," Ross said. "Usually, I read a script in advance, but it was one of those weeks where the script came late. We were up at 4 in the morning and it hadn't gotten read. I literally did that cheating thing that you shouldn't do as an actor, because I was doing a cold read, where I wasn't in the scene, so I started flipping forward with it."
The potential breakup of Rainbow and Dre led to an outcry on social media from fans and all either actor knew was that the arc was going to last four episodes. Despite the scare for viewers, Ross loved how the show handled the drama and the comedy in the situation.
"Long-term relationships, there's not always someone to blame. It's not always some incident occurred that sort of starts the break," Ross said. "Sometimes it gets dicey. You start growing in different directions, or a big change happens and it pulls you apart in a way that's unexpected. So that's really what we set up is just that we had unexpectedly got into this rift that was only getting bigger, and not getting smaller."
One key scene in the finale found Rainbow and Dre arguing in front of their children and parents after their son Junior's (Marcus Scribner) graduation ceremony. Ross noted it was uncomfortable to shoot for both herself and Anderson, especially as they were much closer to their on-screen "kids" during the escalating argument than it appeared on screen.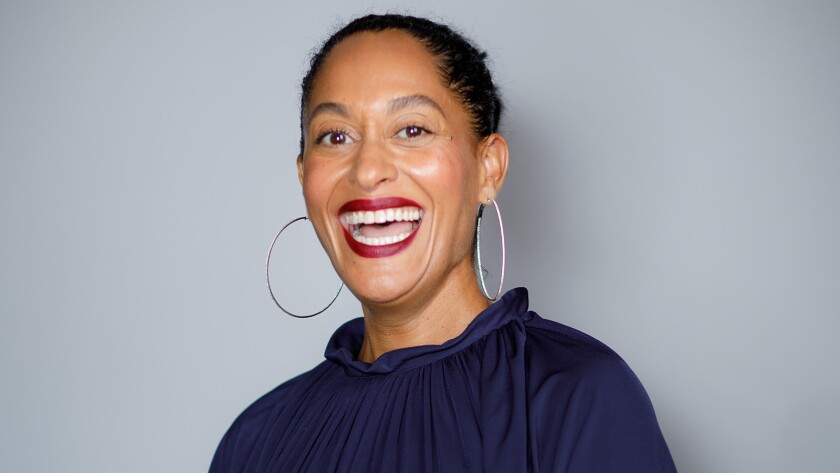 Our show is played with a lot of grounded realness, not sort of over-the-top broad comedy, even though there are hilarious moments.
Tracee Ellis Ross
"Our show is played with a lot of grounded realness, not sort of over-the-top broad comedy, even though there are hilarious moments," Ross said. "It's really anchored in this very real family. So, there were numerous times where you're like, 'I know that's … funny, but I can't say that in front of the kids.' They are actual real children. You know what I mean?"
Another standout moment for Ross occurred earlier in the season in the postpartum depression episode, "Mother Nature." Rainbow has always had a mutually contemptuous relationship with her mother-in-law, Ruby (Jenifer Lewis). After she's poked just a few too many times, she unleashes a rage that's not been seen before with a network censored bleep to boot. Originally, that scene was shot in two takes and the production was ready to move on, but she wanted to do more, Ross said.
"I'm always like, 'Come on, Anthony. Let's do it again. I want to do it again,' And I asked if we could do it again, and if I could actually authentically curse if that's what came up, which is where that bleep came from," the actress said. "There was something out there that didn't have the same energy. And it was the beginning of the scene. Something about the cursing launched me into something completely different, and my coverage in that scene is all from one take."
Despite the high drama the show can uncover, it still has strong comedy chops, Ross insisted. "I know that we do dramatic stuff incredibly well, but I got to be honest, we do comedy better than most."
---