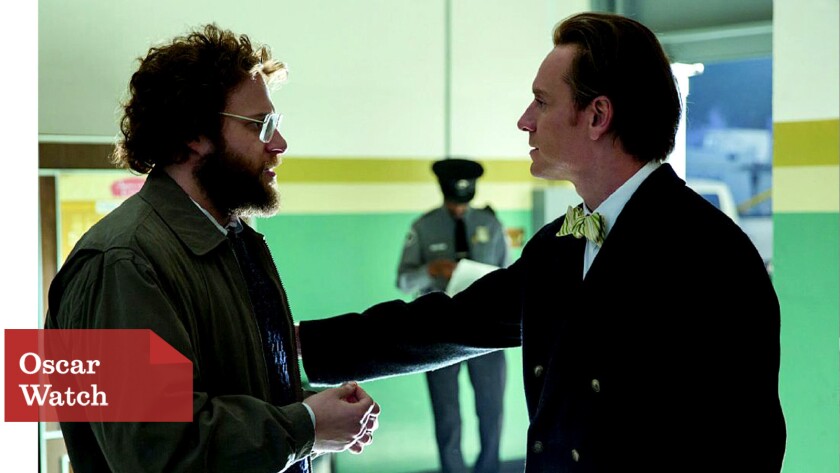 Oscar Watch, charting the smiles, the frowns, the ups and downs of the awards season, comes to you every Monday from now through the end of February.
LIKE
MEH
DISLIKE
---
'Steve Jobs' early obits
Variety called it a "bomb." The Wall Street Journal chalked it up as a casualty of a brutal "box office bloodbath." The hyperbole surrounding "Steve Jobs'" very bad weekend at the multiplex has been so wild that you might imagine the movie standing with a certain someone on top of that zombie-surrounded trash Dumpster on Sunday night's "The Walking Dead," only the Dumpster is also in the middle of Hurricane Patricia. On Black Friday. At the mall.
How can it possibly survive?
And, more importantly (for our purposes, at least), how can it go on to contend for all those Oscar nominations it was supposed to win?
A quick recap: "Steve Jobs," the ambitious, impressionistic look at the late Apple co-founder's life opened on Oct. 9 in four theaters in Los Angeles and New York. The reviews were (mostly) great, and so was the box office, with the film taking in just over $500,000 in those four theaters. It added another 56 theaters the following weekend, adding $2.23 million to its take.
And then came this past weekend's mushroom-cloud-laying disaster in which "Jobs" expanded wide to 2,493 theaters to the sounds of silence. Its per-screen average of $2,916 was roughly the same as "Hotel Transylvania 2's" fifth weekend. Not good.
'Steve Jobs' film: Mixed reviews from Silicon Valley
Does this make "Jobs" less of an artistic achievement? Of course not. And given its A- Cinemascore rating, we can say that the people who bought tickets came away satisfied. And maybe they'll tell two friends about it and they'll tell two friends and so on and so on and so on. "Steve Jobs" could rise from the ashes yet.
Though consumer curiosity seems iffy, industry interest has never waned. Academy members were turned away when "Jobs" screened two weeks ago at the sold out 1,000-seat Samuel Goldwyn Theater. If you weren't in the lobby a half-hour early, you were making new plans for your Saturday evening.
And RSVPs for awards screenings continue to outpace capacity. An academy and guild screening set for Wednesday at the academy's 286-seat Linwood Dunn Theater in Hollywood is 100% overbooked. Not booked, overbooked.
There hasn't been much correlation between box office and awards-season success in recent years. Indie movies like "Whiplash," "Winter's Bone" and "127 Hours" didn't crack the $20-million mark. The 2010 best picture winner "The Hurt Locker" grossed just $17 million.
But those were independent films and expectations were modest. The word "flop" never entered the conversation, though, in the case of "The Hurt Locker," there was much hand-wringing over why moviegoers resisted such a great movie.
Kenneth Turan: 'Steve Jobs' is smart, energetic, compelling, just like the man
If "Jobs" continues to plummet commercially, Universal and its awards-season consultants will have to counter the sting of that rejection by reminding voters of its artistic merits and success with critics. Other studio movies of late have overcome obstacles to win a best picture nomination. "Les Miserables" had so-so reviews; "Zero Dark Thirty" caught flak for its politics. By comparison, negating a meager box office for a talking-heads movie (no, not that one) about an unlikable historical figure (in this movie, at least) doesn't seem like a stretch.
Really, "Jobs'" best picture fate remains more tied to the academy's response to five upcoming movies that haven't been (widely, if at all) seen: "The Revenant," "Joy," "The Hateful Eight," "Concussion" and "The Big Short." How those movies land -- and how many of them do -- will likely dictate the destiny of not only "Steve Jobs," but movies like "The Martian," "Room" and "Bridge of Spies."
In other words: There might be another bloodbath in the near future.
Email: glenn.whipp@latimes.com | Twitter: @glennwhipp
---