What the SAG Award winners mean for the Oscars
Oscar nominations haven't even arrived yet. So why does it feel like we already know who's going to take home the trophies when they're handed out March 4?
We don't, of course. The motion picture academy still might add a wrinkle or three into the race when nominations are revealed Tuesday. And after that, there's still more than a month of time before voters have to turn their ballots in. Who knows what might happen? Maybe everyone will listen to Frances McDormand and allow one of the "young ones" to take home an Oscar "doorstop."
Because the actors branch comprises nearly 17% of the Academy of Motion Picture Arts and Sciences' membership, Sunday's SAG Awards are a pretty trustworthy sign of what is to come at the Academy Awards. And this might be one of those years when the match game lines up perfectly.
Let's look at why.
FILM ENSEMBLE
The winner: "Three Billboards Outside Ebbing, Missouri"
History: The winner of this award went on to take the best picture Oscar 11 of 22 years. (The ensemble prize wasn't awarded in 1994, the SAG Awards' first year.)
Will history repeat itself? We know "The Shape of Water" won the Producers Guild's top honor Saturday night. We also know that it didn't land a SAG ensemble nomination, an omission that has consistently doomed movies' best picture chances for more than two decades.
That doesn't mean "Shape" can't win — or won't win — without that nomination, particularly in this year's free-for-all race for the academy's most prestigious prize. Guillermo del Toro's lush romantic fantasy will probably pull in the most Oscar nominations Tuesday, and Del Toro stands as the favorite to win the Oscar for direction. And though it's true to the spirit of its creature-feature tradition, "Shape" also possesses a deep, baked-in love for other kinds of movies too — the kind of thing Oscar voters adore.
Full Coverage: SAG Awards 2018 »
But last year's left-field win by "Moonlight" showed that voters also can be persuaded to go in a different, bolder direction. "Get Out" would be one choice. "Lady Bird" another. But that's the problem: There are two movies vying for that vote. And guess what? Neither of them won this SAG ensemble award. "Three Billboards" did. And while a backlash against the way the movie handles race has been brewing for weeks, it would seem that few listened — or agreed — as Martin McDonagh's movie took three of SAG's five film prizes.
At this moment, "Three Billboards" and "The Shape of Water," both Fox Searchlight titles, have to be considered the front-runners for best picture. Again: At this moment. I think this race might take one last surprise turn.
LEAD ACTRESS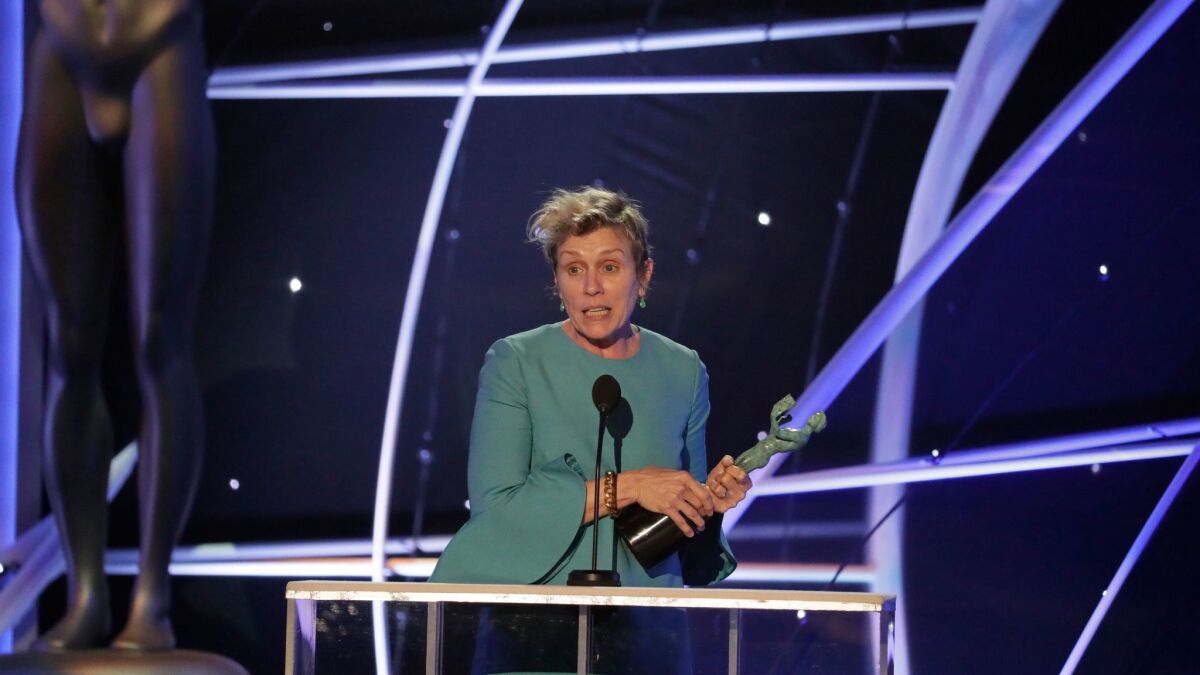 The winner: Frances McDormand, "Three Billboards Outside Ebbing, Missouri"
History: SAG and the academy have matched 17 of 23 years, including the last five.
Will history repeat itself? Did you see that ovation? In her speech, McDormand made a crack about "coming out of the woods every few years." One of the reasons McDormand has separated from the other outstanding women in this category has to do with that scarcity. She doesn't work in film that often. She doesn't give interviews. And she doesn't seem to care what anyone else thinks. She is who she is. Take it or leave it. Combine that with her glorious, relentless turn in "Three Billboards" and you have the makings of a second Oscar win, 21 years after "Fargo."
LEAD ACTOR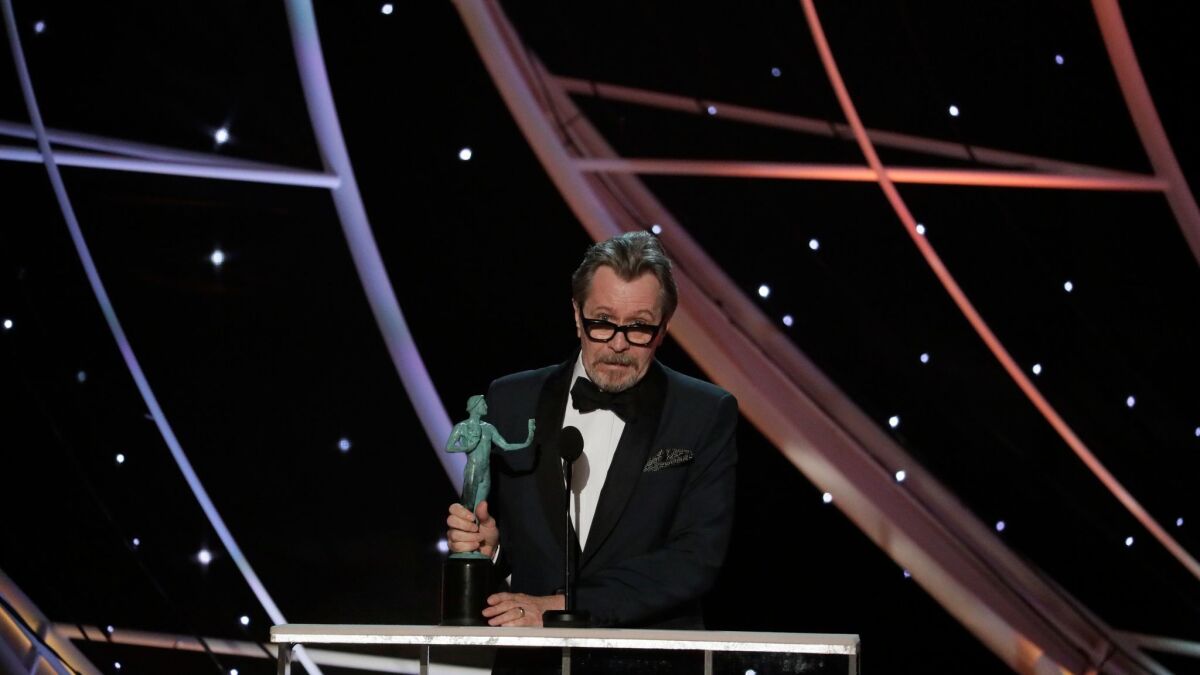 The winner: Gary Oldman, "Darkest Hour"
History: This category has been the most reliable indicator of Oscar victory, with SAG and the academy matching 18 of 23 times. When Casey Affleck prevailed over SAG winner Denzel Washington last year, it broke a 12-year streak of correlation.
Will history repeat itself? Let a new streak begin! You could argue that Oldman has given better, more nuanced performances, but his portrayal of Winston Churchill is the kind of terrific, tour de force turn that wins Oscars, particularly when an actor is deemed overdue as Oldman is. Plus, he has already won almost everything else.
SUPPORTING ACTRESS
The winner: Allison Janney, "I, Tonya"
History: The SAG award winner has gone on to take the Oscar 16 of 22 times, including the last eight. (Kate Winslet won the category in 2009 for "The Reader," but was nominated for — and won — the Oscar for lead actress.)
Will history repeat itself? It sure looks like the streak is going to hit nine. The only woman to win the SAG Award and the Golden Globe in this category but lose the Oscar was Lauren Bacall 21 years ago, and I think we all remember the look on her face when Juliette Binoche's name was announced. (Bacall wrote in her memoir: "It's not a good thing to be a shoo-in.")
So for Janney's sake, let's say she's not a shoo-in. Let's still believe that the lovely Laurie Metcalf — insightful, invincible, intractable as the loving, hard-to-please mom in "Lady Bird" — might still parlay all those critics prizes into an Oscar victory.
SUPPORTING ACTOR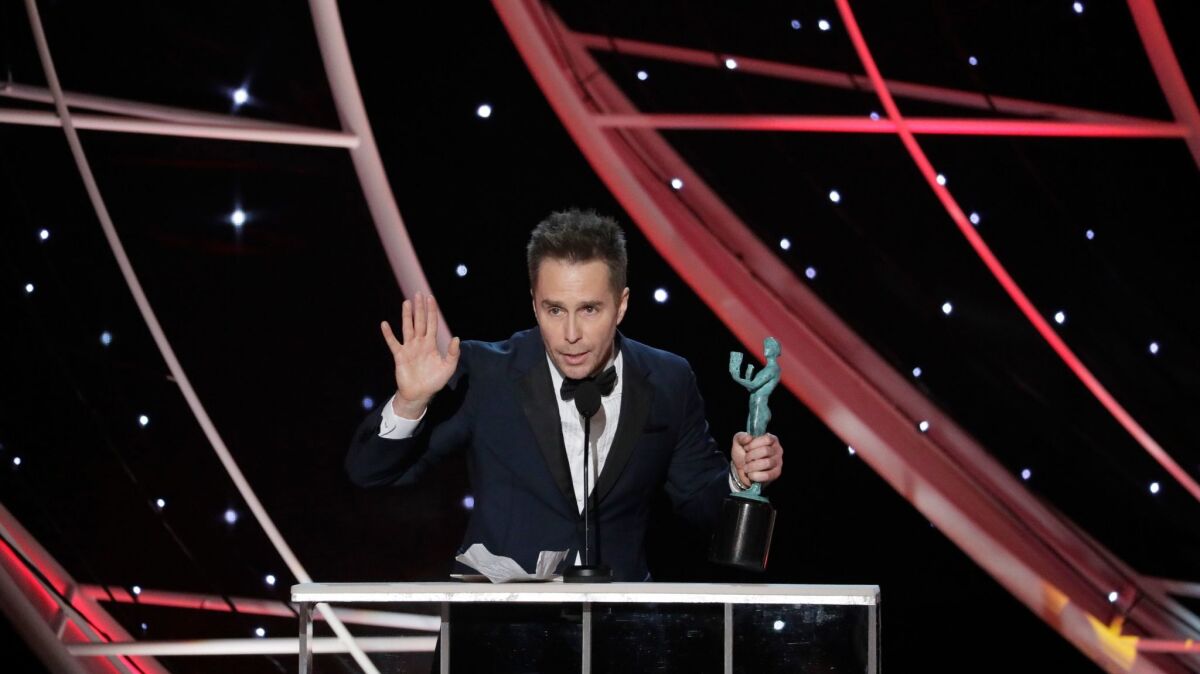 The winner: Sam Rockwell, "Three Billboards Outside Ebbing, Missouri"
History: The SAG winner has gone on to win the Oscar 14 times in 23 years.
Will history repeat itself? It would be nice, for many reasons, to see "The Florida Project" or its director, Sean Baker, show up among the Oscar nominees Tuesday morning. For one thing, it would mean that there's some broad support within the academy for Baker's extraordinary movie, meaning that it's possible that Willem Dafoe could give Rockwell a fighting chance at the Oscars.
Right now, though, with the SAG win and the Golden Globe in hand, Rockwell looks formidable. But the recent pushback against both "Three Billboards" and the story line of Rockwell's racist cop character (no spoilers!) could do some damage if more voices join the chorus. There are still more than five weeks until academy members reach their voting deadline. That's an eternity, even if the outcomes of some of these competitions seem to be hardening into stone.
See the most-read stories this hour »
On Now
Video: William H. Macy says, 'It's an odd time to be a man'
On Now
Video: Daniel Kaluuya on how the realm of possibilities will widen with a black superhero
On Now
'Orange Is the New Black' actress Selenis Leyva on show's diversity, 'Time's Up'
On Now
Miles Brown of 'black-ish' on his favorite episode so far this season
On Now
Paul Reiser on what makes 'Stranger Things' a special show
On Now
Video: The Beatdown Biddies from 'Glow' would tell Trump he's a "big orange dumb baby"
On Now
Video: Zoe Kazan on SAG having all female presenters
On Now
Video: Kate Nash on how 'Glow' made her fearless
On Now
Video: Beanie Feldstein on 'Lady Bird' being a 'completely female' story
On Now
'Veep' Actors On The SAG 2018 Red Carpet: "We Need More Women Involved In Everything"
0:39
Twitter: @glennwhipp
---
From the Oscars to the Emmys.
Get the Envelope newsletter for exclusive awards season coverage, behind-the-scenes stories from the Envelope podcast and columnist Glenn Whipp's must-read analysis.
You may occasionally receive promotional content from the Los Angeles Times.