Daniel Day-Lewis standing tall in lead actor Oscar race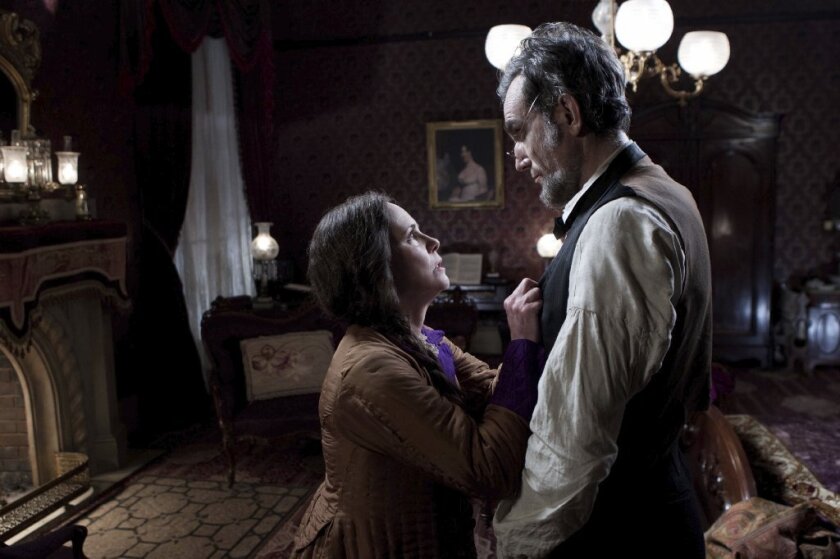 If the lead actress Oscar race already seems fairly settled for Jennifer Lawrence as we argued here, the outcome of the lead actor contest seems even more of a foregone conclusion. The best argument against Daniel Day-Lewis' inside-out, understated genius in "Lincoln" is that academy voters might be inclined to give the respected John Hawkes or the gonzo Joaquin Phoenix a first Oscar before bestowing Day-Lewis a third. Or that magazine covers like this one create a backlash of resentment that might work against the "world's greatest actor."
We're not buying it. Then again, we haven't heard Hugh Jackman sing "Bring Him Home" in "Les Miz," so maybe come Thanksgiving weekend, we'll be whistling a different tune. For the moment, though, here's an early snapshot of the race for best actor.
1. Daniel Day-Lewis, "Lincoln"
2. Denzel Washington, "Flight"
3. Joaquin Phoenix, "The Master"
4. John Hawkes, "The Sessions"
5. Anthony Hopkins, "Hitchcock"
Bubbling under: Bradley Cooper, "Silver Linings Playbook"; Jean Louis Trintignant, "Amour"; Richard Gere, "Arbitrage"; Bill Murray, "Hyde Park on Hudson"; Ben Affleck, "Argo"; Matt Damon, "Promised Land"; Suraj Sharma, "Life of Pi"; Tom Hanks, "Cloud Atlas"; Jack Black, "Bernie"
Not yet seen: Hugh Jackman, "Les Miserables"; Jamie Foxx, "Django Unchained"; Christoph Waltz, "Django Unchained"
For your consideration: Tom Hanks, "Cloud Atlas." We're well aware that "Cloud Atlas" has its flaws. But it's also a supremely entertaining cinematic puzzle, one with Hanks, who plays six roles, at its center. Sure, his British gangster is a bit of a goof, but he was utterly convincing as the conniving ship doctor and the earnest, futuristic tribesman. Watch the movie and give this chameleon his due.
Analysis: We like the first four listed to make it in. Cooper could easily leapfrog over Hopkins in the coming days as their respective movies arrive in theaters. For the moment, we'll stick with the well-liked Sir Anthony, whose movie seems a more comfortable fit for older academy voters. And, as stated above, Jackman's arrival as the virtuous Jean Valjean could seal the deal on that remaining slot. Character arcs don't come much grander than the one Victor Hugo laid out for his "Les Miz" protagonist. "Two-four-six-oh-one!"
ALSO:
Oscar 8-Ball: Ben Affleck's 'Argo'
Best actress Oscar: Jennifer Lawrence takes the lead
'Lincoln,' 'Skyfall' pack houses -- including film academy's
PHOTOS: Memorable red carpet moments

TIMELINE: Academy Awards through the years
---
From the Oscars to the Emmys.
Get the Envelope newsletter for exclusive awards season coverage, behind-the-scenes stories from the Envelope podcast and columnist Glenn Whipp's must-read analysis.
You may occasionally receive promotional content from the Los Angeles Times.