For George Stevens Jr., career turn led to honorary Oscar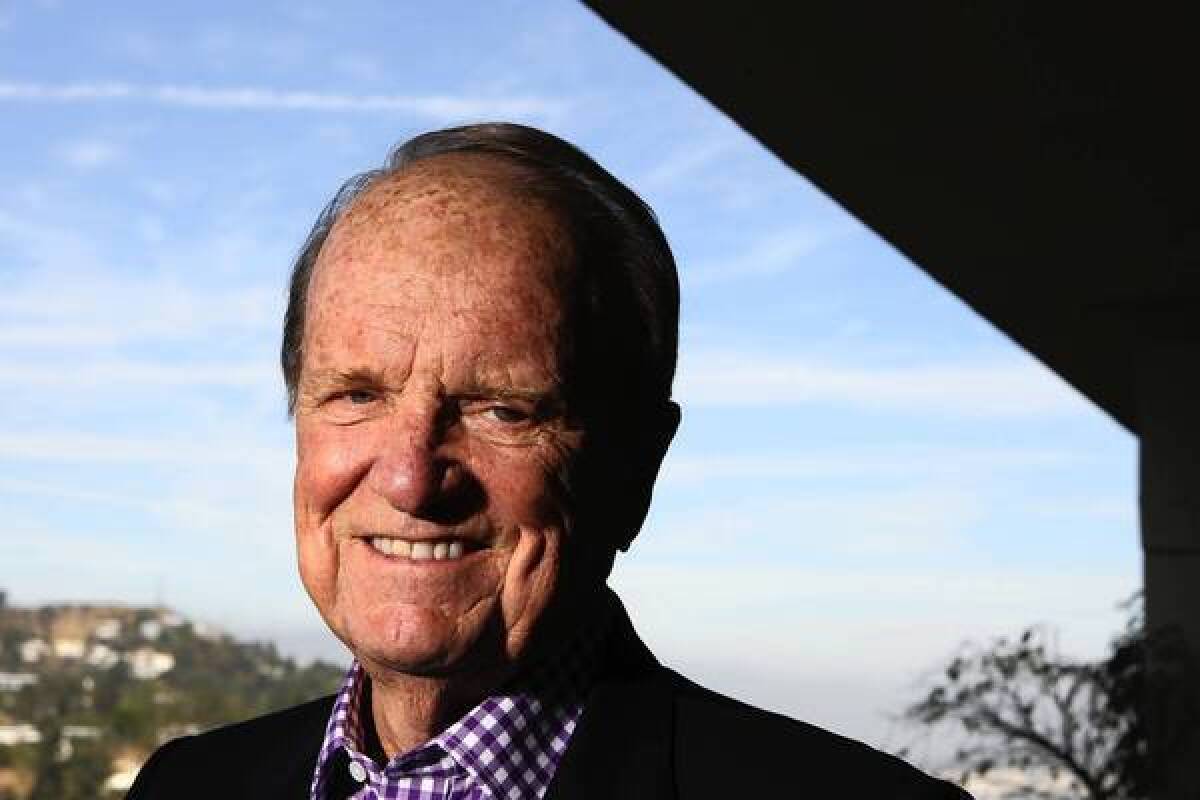 George Stevens Jr. was brought into the family business as a teenager when he worked as a production assistant on the 1953 Western classic "Shane," which his father, George Stevens, was directing.
After college, he joined the crew of his dad's 1956 epic "Giant," for which the filmmaker won his second best directing Oscar, and then shot the location footage in Amsterdam for his father's 1959 drama, "The Diary of Anne Frank."
"I think I was the first one who directed a major part of one of his pictures," Stevens said in a recent interview. "In my mid-20s, I was directing episodes of 'Alfred Hitchcock' and 'Peter Gunn.' I was pretty much on course and — as I sometimes joke — was prepared to devote my life to become the second best film director in my family."
But Stevens' career took a 180-degree shift when he met newscaster Edward R. Murrow shortly after John F. Kennedy became president. Stevens ended up leaving Los Angeles, his collaboration with his father and episodic TV, and moving to Washington, D.C., to work for the United States Information Agency.
Since relocating to the nation's capital, Stevens has founded the American Film Institute and the Kennedy Center Honors, wrote and directed two acclaimed miniseries ("The Murder of Mary Phagan," which he co-wrote with Larry McMurtry, and "Separate but Equal"), wrote the Broadway play "Thurgood," executive produced Terrence Malick's 1998 World War II drama "The Thin Red Line," directed documentaries and penned books, the latest being "Conversations With the Great Moviemakers — the Next Generation."
Stevens has earned 15 Emmys, two Peabody Awards, the Humanitas Prize and eight Writers Guild of America awards. On Saturday, he'll add another major award to his crowded mantel.
Stevens, stuntman-turned-director Hal Needham ("Smokey and the Bandit') and legendary documentarian D.A. Pennebaker ("Don't Look Back") are receiving honorary Oscars for lifetime achievement at the Academy of Motion Picture Arts and Sciences' Governors Awards. DreamWorks' executive and producer Jeffrey Katzenberg will receive the Jean Hersholt Humanitarian Award.
Stevens, 80, is thrilled.
"I had no anticipation of it," he said, relaxing on a sunny afternoon in his apartment off Sunset Boulevard during a visit to Los Angeles. "It's awfully nice when good surprises come along."
PHOTOS: Hollywood backlot moments
He remembers accompanying his father to the 1954 Oscar ceremony, where the older Stevens received the prestigious Irving Thalberg Award.
"That was the night 'Shane' was nominated for everything," he said, smiling. "But Dad's and my dear friend, Fred Zinnemann, won for 'From Here to Eternity,' and we were not unhappy about that."
Academy President Hawk Koch said Stevens has "served our country by recognizing the central role of the arts, and especially film. George Stevens made iconic films associated with Hollywood's golden age. George Stevens Jr. has built on his father's work to expand the idea of what an iconic film is and to remind us if you look closely, we are always in a golden age."
The Governors Awards, which will be held at Hollywood & Highland's Ray Dolby Ballroom, are taking place the same weekend as the 35th annual Kennedy Center Honors in Washington, so Stevens will be logging quite a few frequent flier miles this weekend. (Dustin Hoffman, bluesman George "Buddy" Guy, David Letterman, ballerina Natalia Makarova and the members of Led Zeppelin are this year's honorees.)
"We rehearse Friday and Saturday," he said. "I will leave Washington at 3 p.m. Saturday afternoon, miss the State Department dinner with Hillary Clinton, where the honors are actually presented. I'll fly here, and then I will fly back overnight and be back on stage at 8:30 a.m. Sunday. The show is Sunday night."
Just as his father did with him, Stevens has collaborated with his son, writer-director Michael Stevens, on several projects, including the "Kennedy Center Honors" telecasts.
PHOTOS: Classic Hollywood behind-the-scenes
Stevens was hesitant to move to Washington in 1962. He was starting to work with his father on "The Greatest Story Ever Told," the 1965 epic about the life of Christ, when he got a call asking him to meet with Murrow while the journalist was in Los Angeles.
"Murrow had left CBS at the urging of President Kennedy to run the United States Information Agency," said Stevens. "He wanted someone to run the motion picture division."
Murrow offered him the job, but Stevens turned it down because of his commitment to work with his father, whom he described as "a wonderful man and a wonderful father."
"Three days, later, Dad and I were walking across the Fox studio for lunch, and somehow Murrow came up," Stevens recalled. He told his father what had transpired.
"I will never forget, Dad looked at me and said, 'You have to do it,'" Stevens said, emotion creeping into his voice. "I went back to see Murrow...."
Are you an aficionado of iconic Hollywood? Like our Classic Hollywood Facebook page to get more Times coverage.
PHOTOS AND MORE
VIDEO: What movies to see during the holidays
The Envelope: Awards Insider
PHOTOS: NC-17 movies: Ratings explained
From the Oscars to the Emmys.
Get the Envelope newsletter for exclusive awards season coverage, behind-the-scenes stories from the Envelope podcast and columnist Glenn Whipp's must-read analysis.
You may occasionally receive promotional content from the Los Angeles Times.