Radio guru turns podcast curator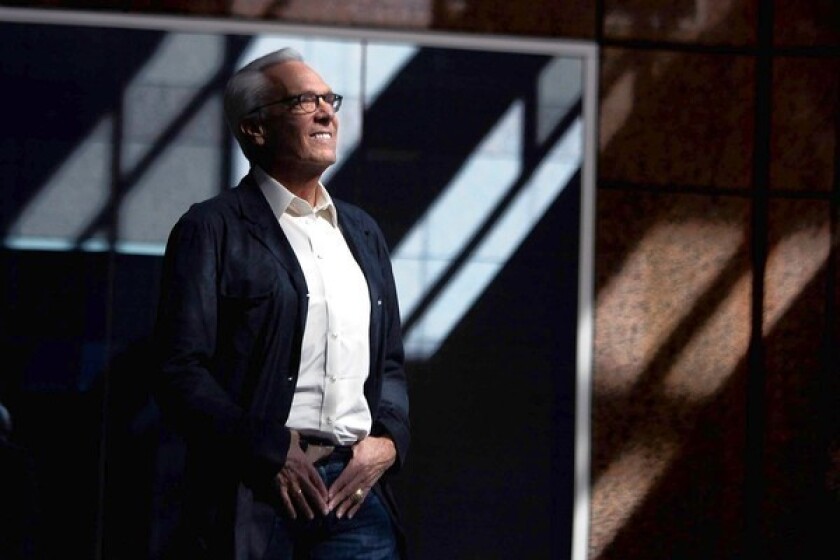 The man who made a fortune bringing the Super Bowl, Bill O'Reilly and Grateful Dead concerts to listeners nationwide via their local radio stations has returned to programming. But now he's bypassing conventional radio.
Norman J. Pattiz, who created and turned Westwood One into one of the biggest and most recognizable radio networks in the country, is this week launching PodcastOne.com, a one-stop site that offers shows from hundreds of online broadcasters for listeners to browse and download.
"You can't look at radio as a bricks-and-mortar operation, and consumed on a radio over a certain frequency," Pattiz said. "That's a recipe for disaster. So much of radio is being consumed online, and on the Internet."
PHOTOS: Hollywood Backlot moments
Podcasts are shows available online that listeners can hear on their computers or download to their smartphones, iPods, tablets or other devices. Unlike conventional radio, a podcast can be saved, stopped, replayed and consumed at the listener's leisure.
Pattiz said PodcastOne gives him "the opportunity to put out content to a mass audience, without the constraints of having to convince a program director or a station group."
Many of the programs are archived versions of the hosts' radio shows, or extra content beyond those programs. Or, more often, the podcasts are hosted by radio refugees — onetime hosts who grew too pricey for downsizing networks, or who got squeezed out by radio-station format changes.
One of the most popular podcasters is Adam Carolla, who started podcasting when he lost his morning show in February 2009, when talk station KLSX-FM (97.1) switched to pop music. At the beginning, his program was downloaded about 100,000 times per night; now he averages about 350,000.
The goal of PodcastOne is to make the site convenient for listeners by providing them archives of shows they like and a menu of those they may not know. A Carolla fan could listen to his show, but also check out the archive of classic episodes of Loveline, the sex and relationship advice show on KROQ-FM (106.7) that Carolla hosted for many years with Dr. Drew Pinsky. Or someone who likes conservative talker Laura Ingraham can browse shows from similarly minded hosts.
Podcasts are available numerous places — iTunes, TuneIn.com, Podcast.com or even the hosts' own websites. But unlike aggregators that might offer thousands of shows, Pattiz said, PodcastOne curates its collection to about 200 — "the best of the best," he said — which the company then promotes to listeners and advertisers alike. In addition, the site offers exclusive content and has a feature — like Pandora and other music services — that suggests other shows that a user might like based on previous downloads.
The advantage for the podcasters who team up with PodcastOne, rather than go solo or host their programs elsewhere, is that they can draw on the company's ad sales, promotion, audience research and technical expertise.
"What nobody's done is organize [podcasts] and give them the kind of attention they need to make them a real significant opportunity for advertisers," Pattiz said.
Pattiz said his business will make podcasts more attractive to advertisers, maybe more attractive than radio. Traditionally, radio ads are sold based on an estimated number of listeners. With podcasts, there's less estimating — because the number of downloads is a fixed figure.
To make that advertiser pitch more appealing, PodcastOne partnered with Edison Research, the New Jersey-based media survey and polling firm, to gather intelligence they can use to persuade advertisers.
So far, Pattiz said, they've discovered that 85% of people who download listen to that show within 48 hours, and 60% do so immediately. In 2012, Edison found, 29% of Americans 12 and older had listened to an audio podcast, up from 23% in 2010 and 13% in 2007. Half those listeners were ages 12 to 34, and 38% said they used an iPod, smartphone or other device to listen to digital audio in their cars at least once a week.
Another plus for the business: Pattiz said they're offering only spoken-word programs, not music, so they don't face the same royalty payments that have hobbled online radio outfits offering music, such as Pandora or Grooveshark.
Right now the service features hosts as varied as former congressman and presidential candidate Ron Paul, to adult entertainers Jayden Jaymes and Jayden Cole, to quirky comedian Tom Green.
As the site grows, it will add more content, Pattiz said.
"This requires a sizable investment. I'm uncomfortable doing it with other people's money," Pattiz said. So he's investing "several million" of his own dollars. "For right now, I'm daddy."
PHOTOS: Hollywood Backlot moments
But the entrepreneur stresses that his motivation is not entirely financial.
"I don't need to do this," he said, adding that he could have spent his retirement on other interests, such as his beloved Lakers, whom he's watched courtside for 28 years. "The thing that motivates me is doing something nobody prior has been able to successfully pull off."
Pattiz, now 70, founded Westwood One in 1976. The syndication company became a radio network in its own right, buying up the Mutual Broadcasting System and the NBC Radio Network, and distributing NFL football, the Super Bowl and the NCAA Basketball Tournament, among other programming.
Over its history, Westwood One was among the nation's largest providers of traffic information, and delivered news, sports, music, talk and entertainment programs to more than 5,000 radio stations. Pattiz retired from the board of directors in 2010.
"This was like starting Westwood One all over again," he said. "This is an old dog that needs to understand new tricks."
MORE
INTERACTIVE: TVs highest paid stars

ON LOCATION: People and places behind what's onscreen

PHOTOS: Hollywood back lot moments
---
From the Emmys to the Oscars.
Get our revamped Envelope newsletter for exclusive awards season coverage, behind-the-scenes insights and columnist Glenn Whipp's commentary.
You may occasionally receive promotional content from the Los Angeles Times.