Christian Bale delivers straight talk on his 'American Hustle' con man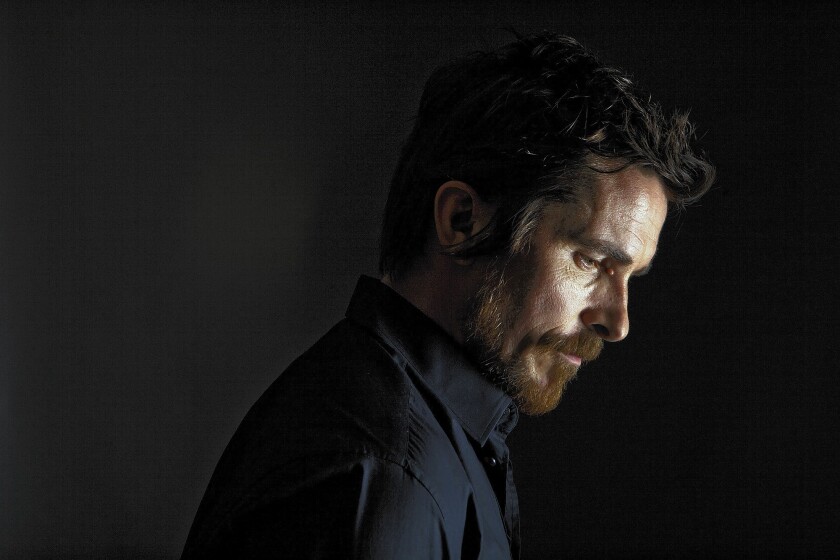 Sometimes, when adapting history for the big screen, a few fabrications are required.
Take, for example, Irving Rosenfeld, the schlubby Bronx huckster Christian Bale plays in the period caper "American Hustle." A consummate swindler with a fondness for jewel-toned velvet jackets and an outrageously bad toupee, the character is inspired by real-life con man Melvin Weinberg. But the actor is careful to point out that they are not the same person.
"Mel would absolutely kick me ... if I ever said it was him," Bale, 39, said with a grin. "He'd say he's far too flamboyant. I had somebody describing Irv as being quite sweet, and I know Mel would just want to vomit. ... For it to truly be a proper character, you have to go beyond an imitation. You have to have the license to be able to create something more."
It's certainly true that "American Hustle" is nothing if not a wild, euphoric exercise in creative extrapolation. A fictionalized account of the FBI's Abscam sting operation of the late '70s and early '80s, the film centers on Rosenfeld, who finds himself at the mercy of hapless agent Richie DiMaso (Bradley Cooper), who is determined to make his reputation by nabbing dirty politicians — and possibly mobsters.
After DiMaso apprehends Rosenfeld and his mistress, Sydney Prosser (Amy Adams), for a scam loan operation, he coerces the duo into using their con skills to assist in a sting designed to snare politicians for accepting bribes. Things become complicated, though, when DiMaso develops feelings for Prosser and Rosenfeld's brash young wife (Jennifer Lawrence) inserts herself into the operation.
Sitting down for an interview six months after filming on the production had wrapped, Bale hadn't entirely left Rosenfeld behind. He'd spent the better part of a late November morning in a Santa Monica sound booth working with director David O. Russell to re-record dialogue for the movie to perfect his dialect, and some of the 43 pounds of flab he'd packed on to play the out-of-shape Rosenfeld still lurked around his waist.
"I discovered that I put on weight like Santa Claus," Bale said. "I just get this belly that kind of extends out. I still have not been able to put on jeans."
PHOTOS: Golden Globe nominations snubs and surprises
That grand, bloated belly is the first bit of Irving that audiences see when "American Hustle" opens, as the character, shirt unbuttoned, stands in front of a mirror, carefully teasing and spraying his meticulously constructed comb-over into place. His appearance, so incongruous with his ability to bluff, dupe and deceive, struck Bale as his way into the role.
"He's the consummate con man who cons nobody with what's happening at the top of his head," Bale said. "It's like one ear throwing a lifeline to the other one, and nobody is fooled by it whatsoever. That is so much more interesting than playing [him] for some sort of slick character."
Bale's immersive approach to character has come to define him as an actor. By the time he stepped on stage to claim his first Oscar for his portrayal of a twitchy, crack-addled former boxer in Russell's 2010 drama, "The Fighter," the actor had long since garnered a reputation for his willingness to wrestle his body into submission to more perfectly disappear into another man's skin.
His penchant for self-transformation is perhaps exemplified by his twin year-end performances. In November's "Out of the Furnace," a searing blue-collar drama set in eastern Pennsylvania, Bale wore tattoos and stoicism to play a steel mill worker beset by personal tragedy. "Furnace's" resolute Russell Baze has little in common with flamboyant charmer Rosenfeld, except perhaps a willingness to go to great lengths to protect those they love and the same observant brown eyes.
PHOTOS: Golden Globes 2014 nominee reactions
Although both movies found favor with critics, it's "American Hustle," with its disco-fueled aesthetic and nimble scheming, that has fast-talked its way into award season front-runner status alongside a radically different sort of historical film, the somber, affecting "12 Years a Slave."
Before December had concluded, Russell's gleefully garish romp had captured numerous critics' honors, in addition to Screen Actors Guild and Golden Globe nominations. (Bale was nominated for a Globe for lead actor in a comedy or musical.)
The movie's ineffable spirit might have been amplified by Russell's method of direction. The filmmaker had rewritten an Eric Singer script that recounted the Abscam sting in a much more straightforward fashion, yet he still encouraged the actors to experiment to find ways to fine tune scenes on the movie's Boston set.
"Often we would come in, in the morning, and he would say, 'You know, I don't feel the scene. I'm not happy with it. Let's make something else up today,' " Bale said.
While the actor said he's quite comfortable feeling out a path for his character, Russell's unusual process — he will sometimes offer notes while the actors are performing and cameras are rolling — did lead to some conflict.
"We had a little period when we were [butting heads] on the set, all for a desire to come up with the best work," Bale said. "We've been through that before. There are different dynamics with different people. With David, I know that his heart and mind are very unique and absolutely sincere and that we are going to come up with something very interesting. So be it if we have to rock and roll a little bit in order to get there."
VIDEO: Highlights from the Envelope Screening Series
As for the new accolades that might come his way, Bale is somewhat circumspect. Recognition is always appreciated, he said, but it isn't what motivates him. The actor, who's currently playing Moses in director Ridley Scott's 2014 biblical epic, "Exodus," is more concerned about moving on to the next great acting challenge.
"I'm human. I would absolutely be lying if I said it's unimportant to me," Bale said before clarifying his point. " 'Importance' is the wrong word, but does it give you a sense of pride? Yes. Human beings saying we like what you've done, we'd like to give you something that shows how much we liked what you've done. That being said, is the movie less of a movie because it receives no awards? Clearly not."
FULL COVERAGE: Everything Golden Globes

PHOTOS: Top nominees | Reactions

PHOTOS: Miss Golden Globe through the years
---
From the Oscars to the Emmys.
Get the Envelope newsletter for exclusive awards season coverage, behind-the-scenes stories from the Envelope podcast and columnist Glenn Whipp's must-read analysis.
You may occasionally receive promotional content from the Los Angeles Times.