Critic's Notebook: 'Orange Is the New Black' Emmy nods a win for women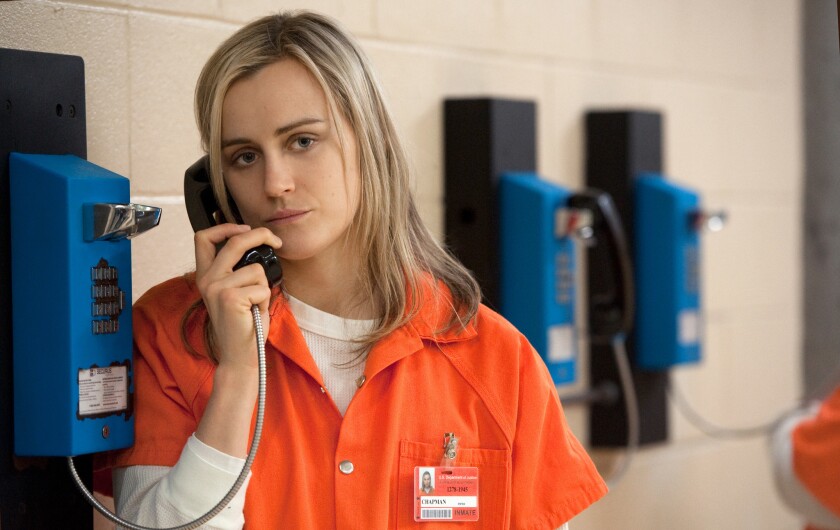 In this year's Emmy race, "Orange Is the New Black" embodies the most important change in television in recent years.
No, not Netflix. Women.
"Orange," with multiple-nominee "House of Cards," does give Netflix an Atlas-like stance over the television landscape; HBO is the only other outlet with both comedy series and drama series nominees.
But with 12 nominations, more than any other scripted comedy, "Orange Is the New Black" has a much bigger point to prove: Women, both as creators and characters, are changing the nature of comedy, and television.
Set in a Connecticut correctional facility, the series was created by a woman (Jenji Kohan), from a memoir by a woman (Piper Kerman) and features, with a few fine exceptions, an all-female cast.
A single episode follows more female performers in a wider variety of roles than could be seen a decade ago in all the Emmy-nominated shows put together.
Much has been made over the recent increase of female leads in television. Certainly, the great exodus from film to television began with women. When she couldn't find roles in movies, Sally Field came to television, as did Glenn Close, Holly Hunter, Kyra Sedgwick, Mary-Louise Parker and Geena Davis. Women still working prolifically in film soon followed — Laura Linney, Toni Collette, Anna Paquin, Kathy Bates, Melissa McCarthy.
Their presence is not just a question of gender equity. As any good sociologist might have foreseen, this shift has changed how television tells stories, often blurring the lines between comedy and drama, between satire and pathos.
There is no better example of this emerging hybrid than "Orange Is the New Black." Last year the show's star, Taylor Schilling, was nominated for a Golden Globe for lead actress in a drama series and lost. While some critics were surprised that Netflix considered "Orange" a drama, others saw the category switch to comedy for the Emmys as an odds-raising calculation. Compared with "Breaking Bad" and "Game of Thrones," "Orange," and its female-majority cast, could be dismissed as lightweight.
Certainly it is as funny as HBO's "Girls" or Showtime's "Nurse Jackie," two other Emmy-loved, female-centric comedies that do a lot of boundary-blurring.
There is plenty of drama in "Orange," and the laughter it provokes is often rueful, in recognition of shared pain and the dreadful absurdity of the personal choices that so often cause it. Indeed, the humor of "Orange," "Nurse Jackie," "Girls," or Showtime's "The Big C" and HBO's hospice comedy "Getting On," sometimes evokes a 12-step meeting. Or a consciousness-raising session in which the first step toward change is not just acknowledging the problems the characters face, but their universality.
This, of course, is the basis of all comedy. The shift is in the nature of the problems. Women have historically been able to laugh at their romantic foibles, their marital frictions, their familial imperfections and, more recently, their attempts to juggle all the demands on their time. But the flaws, and problems, of TV's female leads mostly remained skin-deep.
In this age of broken heroes and fractured worldviews, the women we watch are still held to a higher standard than men. Unfettered by either the whore or madonna template, men can exhibit a far greater range of "bad" behaviors. Male leads don't even have to be likable. In this age of the antihero, TV prefers its men broken, complicated, intriguing. Likability can actually be a drawback.
Not so for female characters, for whom likability remains key. As some less-than-perfect female characters — Lori on "The Walking Dead" and Skyler on "Breaking Bad" — have proved, women still must display some measure of warmth, some degree of compassion, or risk audience vitriol. Don Draper can essentially abandon his children and still be the subject of our empathy, not so ex-wife Betty. Claire Underwood on "House of Cards" may turn out to be even colder and more calculating than her husband Frank, but she isn't allowed to have nearly as much fun either.
Comedy, as viewers discovered with "Sex and the City," allows female characters freedom not yet found in the "real" life of drama. Carrie and company could have lots of diverse and meaningless sex without being considered sluts because the humor thwarted judgment, made room for the women to be more finely drawn.
Seven years after "Sex" premiered, Kohan planted the seeds of "Orange Is the New Black" with her Showtime series, "Weeds," in which a newly widowed suburban mom turns to drug dealing to pay the bills. Although much more traditionally comedic in its earlier seasons than "Orange," "Weeds" made it possible for a woman to engage in criminal, and increasingly violent, behavior without alienating the audience.
Now, as male comedians like Louis C.K. use humor to prove that men can be passive and bewildered and still be, you know, men, the women of "Orange Is the New Black" can do and say horrible things without being defined and diminished by them. As prison inmates, they are all considered criminals; some are violent, some are psychotic and all near-fatally self-obsessed. But the narrative leavens their actions and predicaments with humanity — which is also the basis of comedy.
---