Video: Emmys 2014: Watch the nominations live online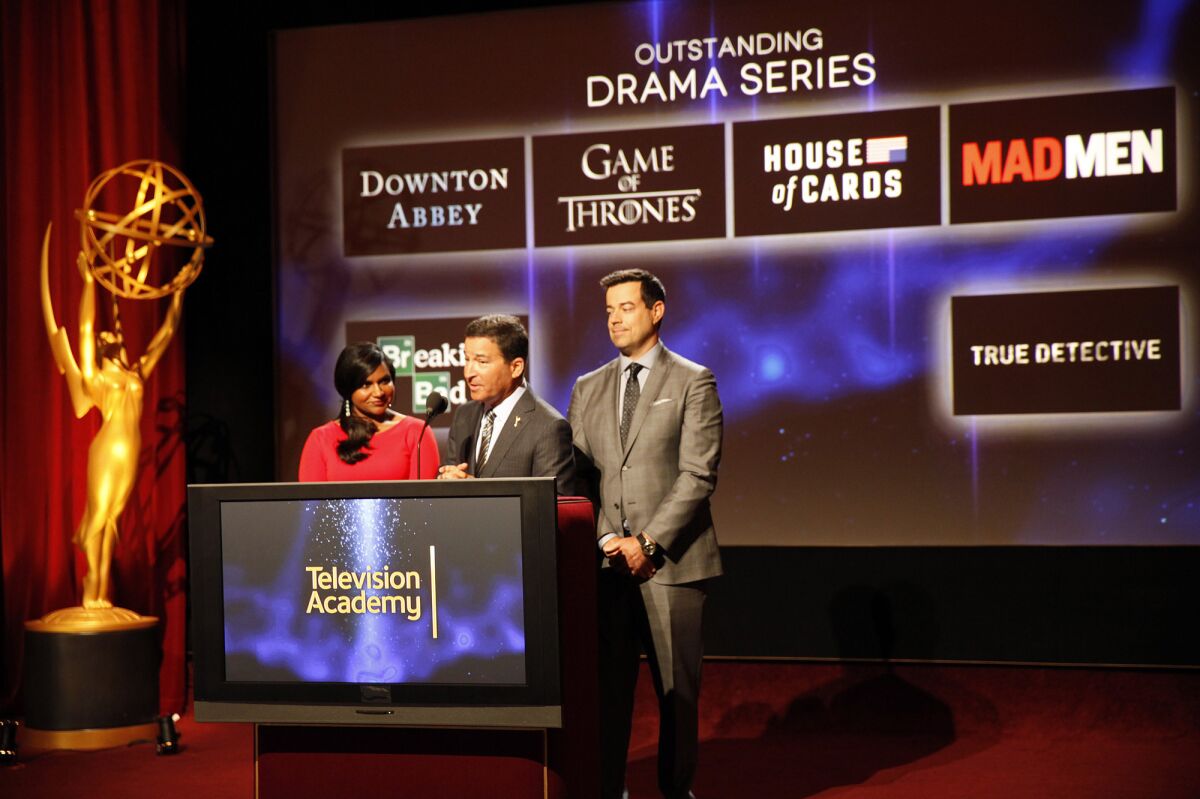 Who will be nominated for the 66th Emmy Awards? You can watch the nominations here on Thursday morning, as Mindy Kaling and Carson Daly are slated to announce them at 5:40 a.m. Pacific time.
This year, the drama and comedy series races could have a new twist. Thanks to an abundance of apparently award-worthy television, the TV academy decided to expand those two categories to up to seven nominees each. Even so, some popular shows are sure to be left out.
In the comedy series race, "Modern Family" -- which has dominated during its four-year Emmy run -- will probably face off against a new, formidable challenger in Netflix's "Orange Is the New Black." But the field could also include any number of shows such as "Louie," "The Big Bang Theory," "Veep," "Brooklyn Nine-Nine," "Girls," "Parks and Recreation" and "Silicon Valley."
Emmys live: 'Game of Thrones' dominates with 19 nominations
For drama series, it's a similar story. "Breaking Bad" won the Emmy in this category last year, and it is a favorite to gain a nomination and even a repeat victory for its final season. Still, there are plenty of other would-be contenders in "True Detective" (positioned, notably, as a drama series and not as a miniseries), "Game of Thrones," "The Good Wife," "The Americans," "House of Cards," "Masters of Sex," "Mad Men" and "Downton Abbey."
As if those races weren't crowded enough, perhaps the Emmy Awards' deepest category is lead actress in a drama. To start, there's Tatiana Maslany ("Orphan Black"), repeat winner Claire Danes ("Homeland") and past nominees Robin Wright ("House of Cards"), Kerry Washington ("Scandal"), Julianna Margulies ("The Good Wife") and Elisabeth Moss ("Mad Men"). The contenders could also include Lizzy Caplan ("Masters of Sex"), Michelle Dockery ("Downton Abbey") and Keri Russell ("The Americans").
After three years in which TV movies and miniseries were lumped together in one group, the television academy believes there's enough programming to again warrant a separation. In the miniseries category, that means FX's "Fargo" and "American Horror Story" could vie against each other, alongside potential nominees "The Hollow Crown," "Luther" and "The White Queen."
FULL COVERAGE: Emmys 2014
HBO will look to continue its recent dominance in TV movies, with "The Normal Heart" a virtual lock for a nomination and most likely victory at the awards. Other nominees could include "The Trip to Bountiful," "Sherlock: His Last Vow," "Return to Zero," "Killing Kennedy," "Burton and Taylor" and "Clear History."
Of course, it's all just speculation until the nominations are handed out Thursday -- and then, the real speculation will start as to who walks away a winner on Aug. 25, when Seth Meyers hosts the 66th Primetime Emmy Awards. The ceremony will be broadcast live on NBC from the Nokia Theatre in Los Angeles.
Until then, stay tuned.
---
Get our L.A. Goes Out newsletter, with the week's best events, to help you explore and experience our city.
You may occasionally receive promotional content from the Los Angeles Times.