25 Images
Justin Timberlake: Career in pictures
Those who can act, sing and dance are often called triple threats. For those who think those talents aren't enough, there's Justin Timberlake. The former child star and boy-band member who has a collection of Grammys and loads of commercial success for his music has tried his hand at acting over the years, appearing in films like the Facebook movie "The Social Network" and the based-on-a-true-story crime drama "Alpha Dog." He also has his own clothing label, tons of endorsements and even bought a golf course. During his down time, he's helped with charitable causes. Here's a look back at his career.
(Kirk McKoy / Los Angeles Times)
Justin Timberlake didn't waste any time getting into the biz. As a child, he appeared on "Star Search" and "The Mickey Mouse Club." Can you spot him? He's at top right. Christina Aguilera, also a teen pop star, is in the middle row at right, and, of course, there's Timberlake ex Britney Spears in front on the right. Also pictured: Ryan Gosling, next to Spears; Tate Lynche, middle row, left; T.J. Fantini, top left; and Nikki DeLoach.
(Disney)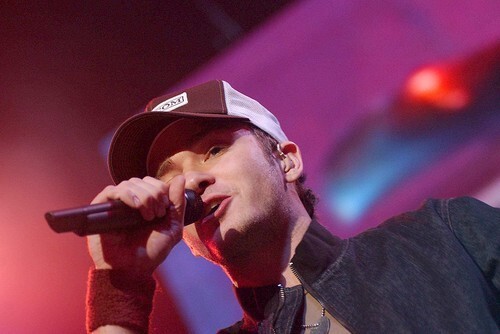 After the extraordinary success of 'N Sync, the men grew up and focused on solo efforts in 2002. Timberlake's debut solo album, "Justified," sold more than 7 million copies worldwide. The album was even well received in the hip-hop community, since it was produced by Timbaland. Timberlake's second solo effort, 2006's "FutureSex/LoveSounds," debuted at No. 1 on the Billboard chart.
(Ann Johansson / For The Times)
Timberlake's song "I'm Lovin' It" became the McDonald's theme for a while. The nice thing about starting in a boy band is that nobody can ever really accuse you of suddenly selling out.
(Dan Trittschuh / Chicago Tribune)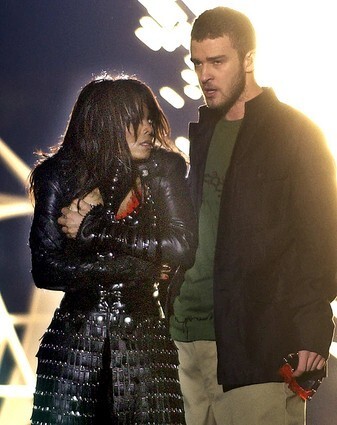 Apparently he means it when he sings "Bet I'll have you naked by the end of this song." In 2004, Timberlake teamed up with Janet Jackson to do a halftime performance at the Super Bowl. During the show, he tore off part of Jackson's costume to reveal … a breast! Entering the term "wardrobe malfunction" into the pop culture lexicon, Timberlake later apologized for what the press dubbed "Nipplegate."
Some members of the African American community felt that Timberlake threw Jackson under the bus after Nipplegate. According to Newsweek, Queen Latifah said, "He loses a lot of my respect for not taking responsibility for his actions. I think that was real shady on his part."
(Elise Amendola / Associated Press)
In 2006, Timberlake played Ronnie, the Tennessee National Guard in a committed relationship Christina Ricci's troubled nymphomaniac, Rae, in the movie "Black Snake Moan." Michael Raymond-James, pictured at right, plays Gill, Ronnie's not-so-great friend.
(Paramount Classics)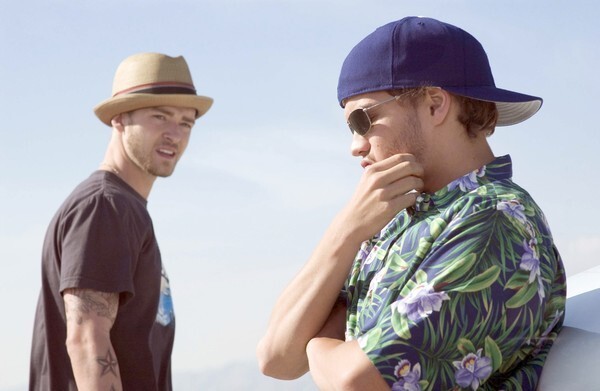 Timberlake, left, was second fiddle to Emile Hirsch's rich suburban kid/wannabe gangster in this crime drama based on the
Jesse James Hollywood story
.
(Darren Michaels / New Line)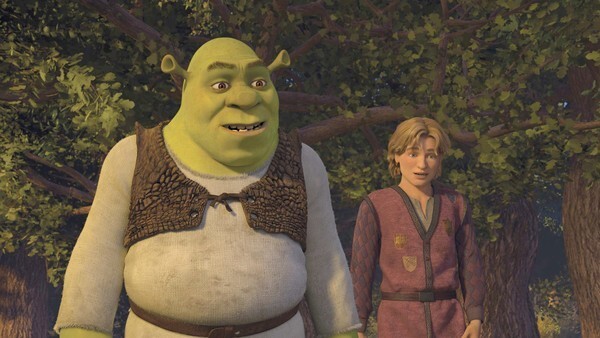 Timberlake voiced Artie, the underachieving cousin of Fiona, wife of the big green ogre, in 2007. Fiona, of course, was voiced by
Cameron Diaz
, Timberlake's girlfriend during filming.
(DreamWorks Animation)
Timberlake played Private Pilot Abilene, an Iraq war vet who narrates Richard Kelly's 2007 sci-fi/black comedy.
(mPRm Public Relations)
Timberlake is also known for his sense of humor. How funny is he? Well, he's won several Emmys for his work with "Saturday Night Live." One win was for the 2009 awards show, pictured here, for outstanding guest host. The other was outstanding original music and lyrics in 2007 for that um, music video about an unexpected present in a box. The third win came in 2011 with for his singing monologue.
He's also garnered two other Emmy nominations in the outstanding original music and lyrics category: for the song "I Love Sports," which was part of the 2008 ESPY Awards, and for "Motherlover," another "SNL" number. That video featured appearances by Susan Sarandon and Patricia Clarkson, which should help you figure out what it was about.
(Lawrence K. Ho / Los Angeles Times)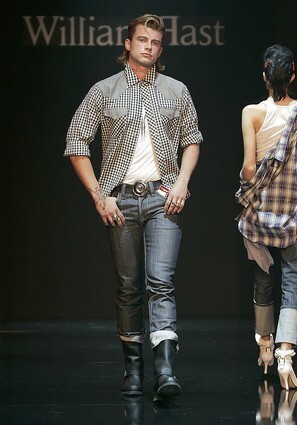 In 2006, Timberlake started his clothing line, William Rast, with his childhood friend Trace Ayala. Justin gives much of the credit for the casual menswear line to his partner. He once joked in USA Today, "Trace does it all and I take the credit for it."
(Dan Steinberg / Associated Press)
Timberlake, an amateur golfer, bought a run-down golf course in his home town of Millington, Tenn., in 2007. After improvements, it became an eco-friendly site named Mirimichi Golf Course.
He has also partnered with the PGA to host the fall tournament in Las Vegas called the Justin Timberlake Shriners Hospitals for Children Open.
(Scott Halleran / Getty Images)
Timberlake, left, reteamed with "
Shrek
" co-star
Mike Myers
, right, to play hockey goalie Jacques Grande in this 2008 comedy about a love guru hired to end a hockey team's losing streak by easing the stress in its star player's love life.
(George Kraychyk / Paramount Pictures)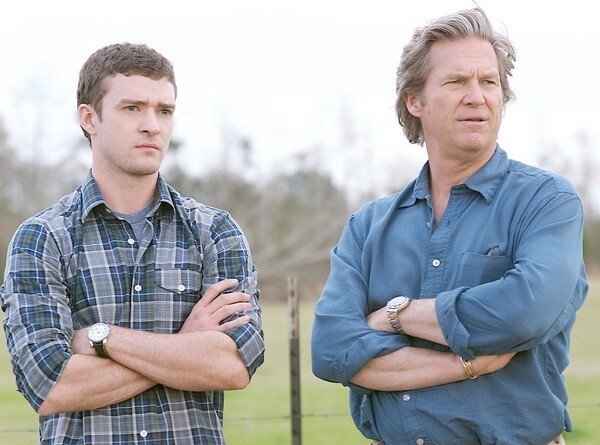 In Michael Meredith's 2009 baseball movie, Timberlake plays a minor-league baseball player who just happens to have a major league baseball legend as his estranged father (played by
Jeff Bridges
, right).
(Anchor Bay Entertainment)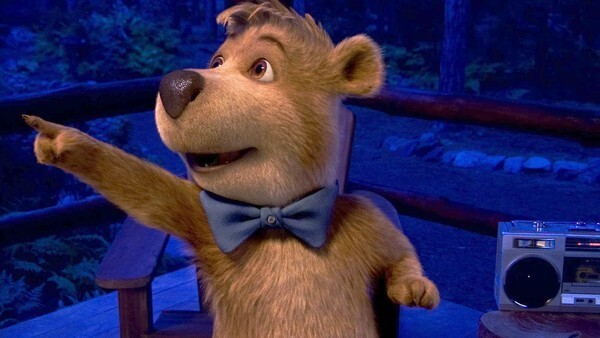 Hey there, Boo Boo. Timberlake voiced the Smarter Than the Average Bear's trusty sidekick in this new film based on the Hanna-Barbera cartoon series.
(Warner Bros.)
Timberlake gained attention for playing Sean Parker, the
Napster
kingpin who takes Jesse Eisenberg's
Mark Zuckerberg
, right, under his wing in this year's film about the early days of social media website
Facebook
.
(Merrick Morton / Columbia TriStar)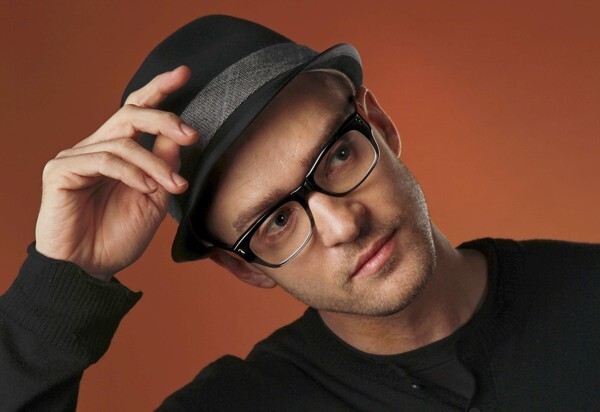 Life imitates art: "The Social Network" star
took a stake in Myspace
, with the goal of revamping the struggling site as a destination for music and entertainment.
(Ricardo DeAratanha / Los Angeles Times)
Timberlake returned to the big screen starring alongside Amy Adams and Clint Eastwood in the baseball drama "Trouble With the Curve."
(Keith Bernstein / Warner Bros.)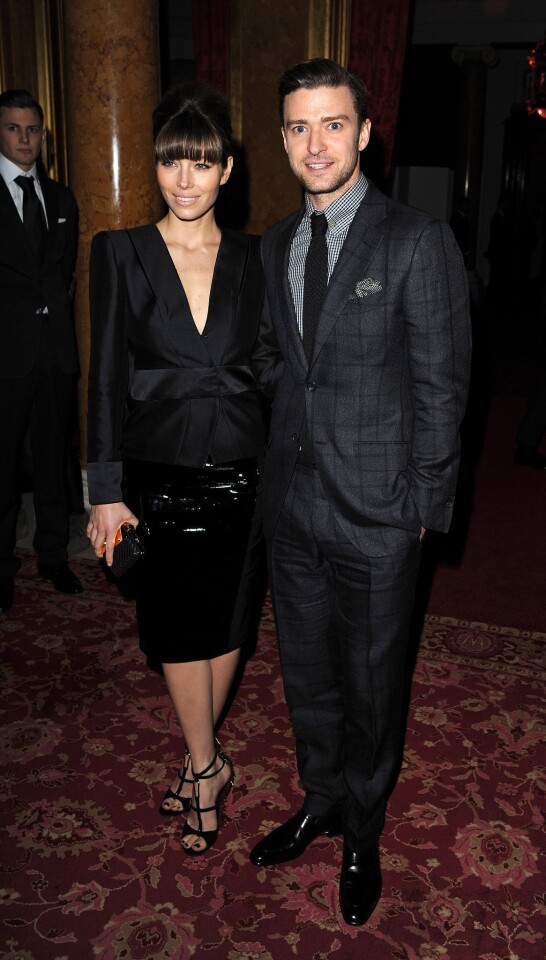 Timberlake wed longtime love, actress Jessica Biel, on Oct. 19, 2012, in Italy with 100 guests in attendance.
The Grammy-winner penned a tune for his bride and serenaded her during the ceremony.
(Eamonn McCormack / Getty Images)
Timberlake donned a "Suit & Tie" for his 2013 Grammy performance -- his first musical appearance in seven years -- to support his new solo alum, "The 20/20 Experience."
(Christopher Polk / Getty Images )
Timberlake's third studio album, "The 20/20 Experience," was released in March 2013 and sold nearly
1 million copies
in its first week. The second part of the album is set for release Sept. 30.
(RCA)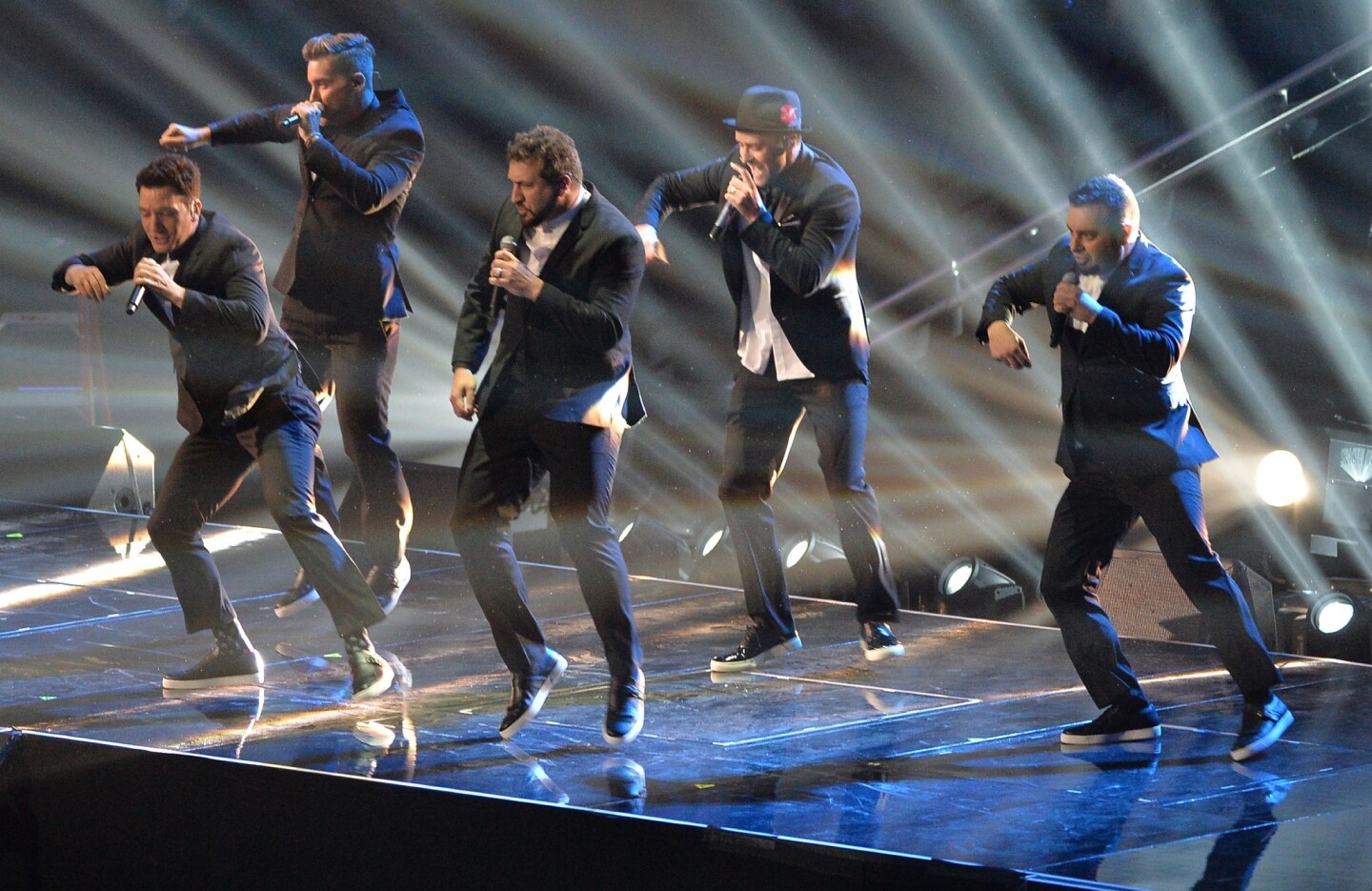 At the 2013 MTV Video Music Awards, Chris Kirkpatrick, Joey Fatone, Justin Timberlake, JC Chasez and Lance Bass reunited after 11 years in a throwback 15-minute medley performance before Timberlake accepted the annual Michael Jackson Video Vanguard Award.
(Rick Diamond / Getty Images for MTV)
Justin Timberlake costars with Ben Affleck as Richie Furst, a Princeton whiz kid, in the 2013 crime thriller "Runner Runner." The film is about online gambling and received a lukewarm reception from critics and the box office, debuting the same weekend as Oscar darling "Gravity" starring Sandra Bullock and Affleck's pal George Clooney. "Runner, Runner" fell short of even the lowest projections with a disappointing $7.6-million start.
(Josh Weinstock / Associated Press)
In November 2013, Timberlake was honored along with comedian Will Ferrell, rapper Kendrick Lamar, actor Matthew McConaughey and the late "Sopranos" star James Gandolfini as GQ magazine's 2013 Men of the Year.
That year, the 'N Sync alum staged a successful comeback with the release of "The 20/20 Experience" and all of its hit singles and tour, headlined "Timberweek" with late-night TV host Jimmy Fallon, performed at the White House, hosted "Saturday Night Live" for the fifth time (earning himself another Emmy nomination), released the second part of his album, #hashtagged his way back into our hearts, reunited with 'N Sync at the MTV VMAs and starred in Ben Affleck's "Runner Runner."
"I've been doing this professionally since I was 10," "The Mickey Mouse Club" alum told GQ. "If entertainment years were dog years, man, I'd be like Gandhi. I'd be like 250 years old."
"I don't see myself as someone who's ever going to be defined by one moment," he added. "It's on to the next."
(Sebastian Kim / GQ)
Oscar Issac, Justin Timberlake and Adam Driver star in Joel and Ethan Coen's "Inside Llewyn Davis," which hit theaters in December 2013. The film about 1960s folk singers was nominated for sound mixing and cinematography Oscars. The goofy novelty song "Please Mr. Kennedy," which Timberlake collaborated on a team to create, was nominated for a Golden Globe for original song.
"I think I said yes before [Joel] finished the sentence," Timberlake told The Times. "I knew I wanted to mix music and movie-making. To get to do it with the Coen brothers is kind of unbelievable."
(Alison Rosa / CBS Films)