13 Images
Celebrity breakdowns
There was the drunken incident with the police in July 2006 that resulted in memorable lines: "Everything's ..." "My life is ..." "I'm not going to get into your car." You ... I'm going to ... you. You're going to regret you ever did this to me." " I own Malibu and will spend all my money to get even with you." "... Jews." "The Jews are responsible for all the wars in the world." "Are you a Jew?"" What the ... do you think you're doing?" "What do you think you're looking at, sugar ...?"
Four years later, recordings of Gibson's rage against estranged girlfriend Oksana Grigorieva hit the Web. Grigorieva, the mother of the couples' baby daughter Lucia, also told Los Angeles County Sheriff's Department that Gibson threatened her with a handgun and hit her and knocked out a tooth. Soon after her allegations, William Morris Endeavor Entertainment announced that it would no longer represent the actor-director.
(Associated Press)
In the summer of 2001 Mariah Carey showed up on the set of MTV's "Total Request Live" pushing an ice cream cart filled with popsicles and dressed in little more than a t-shirt with the word "Loverboy" on the front. "I just want one day off when I can go swimming and eat ice cream and look at rainbows," she told Carson Daly. Then she did an impromptu striptease and gave Daly the shirt as a present (she was wearing a skimpy tank top underneath). It was a weird sad moment and the star checked into a hospital later that week.
(Lee Celano / AFP)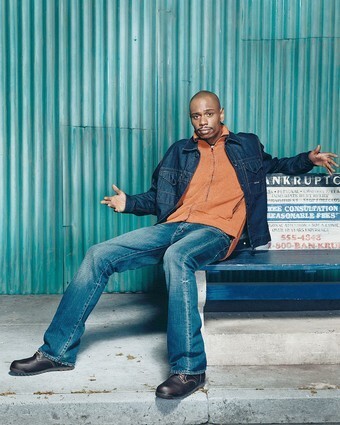 During the third season of his wildly successful Comedy Central show "Dave Chappelle Show" the actor walked out on a $55 million contract and went to South Africa. What's crazier than that?
(Comedy Central)
Kidder's life has been…intense… thanks to a lifelong struggle with manic depression. But things got really weird in 1996 when a computer virus erased three years of work on her memoir. When a file retrieval service told her all was lost, Kidder went from distressed to delusional. Convinced the CIA and her ex-husband novelist Thomas McGuane were trying to kill her, she threw away her purse in an airport because she thought there was a bomb in it and wound up living for a few days with a homeless man named Charlie in a cardboard box in downtown L.A.
(Annie Wells / LAT)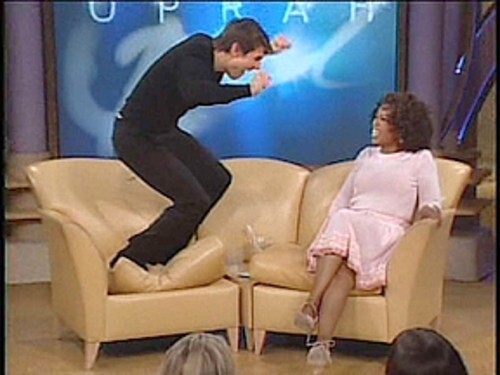 In hindsight it seems Tom Cruise must have gone crazy years ago, but for most of his career he had an amazing publicist who kept him in check, and the actor seemed more private than insane. Then in 2005 he fired his old publicist and hired his sister. That was the summer of the whirlwind Katie Holmes romance, the berating of Matt Lauer, the public fight with Brooke Shields over whether medication can help post partum depression and the infamous Oprah couch jumping.
(TVgasm.com)
Courtney Love has been screwed up ever since she joined the celebrity world as the front woman of the band Hole and the outsized wife of grunge superstar Kurt Cobain. But her career reached new lows in 2004 when in the same week she flashed David Letterman at least six times on his late night talk show, and got arrested for hurling a microphone stand into the audience at a show in New York that hit a 24-year-old in the head.
(Frederick M. Brown / Getty Images)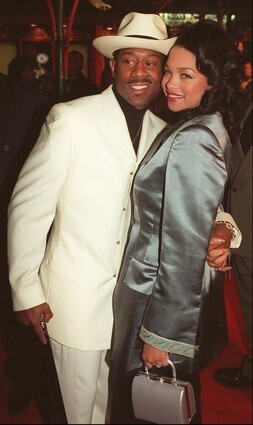 In 1996, the actor was found screaming in the middle of traffic on Ventura Boulevard in Sherman Oaks. He was carrying a gun, although not waving it around, and he was reportedly yelling, "Fight! Don't give up! Fight the power!" Lawrence's physician said the actor had failed to take prescribed medicine and was suffering a seizure. Another doctor said Lawrence was suffering from "complete exhaustion and dehydration."
(Chris Pizzello / AP)
Keep your fingers crossed for Houston. America's beloved songstress of the '80s and early '90s recently came out of some dark days marked by drug abuse, fights with ex-hubby Bobby Brown and inexplicable pilgrimages to Israel. But signs are looking good: In August 2009, Houston and mentor/producer Clive Davis released a new album, "I Look to You," which, as Times pop music critic Ann Powers
points out
, "doesn't soar like the old days, it's fine to hear Houston working on her own recovery plan."
Houston's cutting a record with old mogul-pal Clive Davis. But then again, that record has been rumored to come out for some time now.
(Laura Rauch / Associated Press)
Sometimes it's best not to go off script. After allegedly being heckled during a stand-up routine at the Laugh Factory in 2006, the
"Seinfeld"
star broke from his act and fought back by hurling expletives at the supposed jesters, (who, by the way, were black) -- including repeating the "N-word."
(Kevork Djansezian / Associated Press)
Life imitating art? After a messy, public separation from husband Kevin Federline, the pop star/tabloid staple picked up an umbrella and took her frustration out on a paparazzi's SUV. She later apologized via her website,
saying
:
"I was preparing my character for a role in a movie where the husband never plays his part so they switch places accidentally. I take all my roles very seriously and got a little carried away. Unfortunately I didn't get the part."
(Jae C. Hong / Associated Press)
In 2005, the hot-headed leading man was arrested for throwing a telephone at an employee at
New York
's Mercer Hotel, where he was staying while promoting the boxing film "
Cinderella
Man." Previous scuffles have included mouthing off when his 2002 BAFTA awards tribute to ailing actor Richard Harris was cut short, a fight in a London restaurant and throw-down at the Plantation Hotel in Coffs Harbour,
Australia
.
(Louis Lanzano / Associated Press)
First word got out about the October 2006 on-set skirmish between
Washington
and his "Grey's Anatomy" co-star
Patrick Dempsey
, in which Washington allegedly outed innocent bystander/costar
T.R. Knight
by calling him a "faggot."
Then, at the
Golden Globes
that January, Washington attempted to clear his name by telling reporters "No, I did not call T.R. a faggot" -- only to make matters worse.
After he was fired from the nighttime soap, Washington spoke out again, this time blaming to ordeal on his race and telling Newsweek "If a black man can't get forgiveness in this country, when so many other people like
Robert Downey Jr.
and the governor of
California
get second and third chances ... I think that says a lot about race and this country where we stand."
(Kevin Winter / Getty Images)