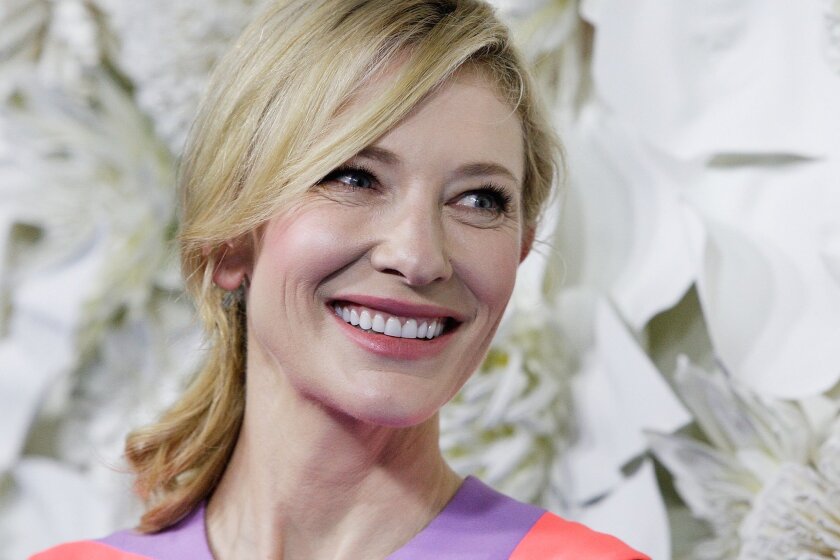 A movie junket is a movie junket is a movie junket is just like every other movie junket. Until it's not.
Then it gets fun.
It seems Cate Blanchett was game to go off the rails Wednesday during the assembly-line process of giving junket interviews to promote "Cinderella." And no, she didn't "lose her cool" with her interviewer, drop an F-bomb and cut off the chat, no matter how the Daily Mail and others spun a single slice of the amusing sit-down. (Click that link to watch it for yourself.)
Yeah, sure, the F-bomb happened, and she did end the chat after dropping it, but, as with so many things, context matters.
Blanchett started with banter when she met with Jonathan Hyla, an interviewer talking to her late in the day for the Australian show "The Project." Hyla quickly picked up on her vibe and they ran with it, peppering their time together with smiles, eye rolls and plenty of laughs.
And why not roll your eyes, when a "Cinderella" interview starts hopping and skipping from speed dating to booze to having children to having control issues. No, blessedly, they did not talk about star Lily James' tiny waist.
"I'm trying to be serious, don't laugh at me!," a smiling Blanchett eventually said as she tried to compose herself and steer things back toward "Cinderella" and the people who made it. Then she fought to keep from completely cracking herself as she complimented the movie's director, set designer and costume designer.
But it was Hyla's final, "serious" question — taken on its own — that sparked that round of headlines painting evil-stepmother Blanchett as an annoyed movie star who stomped on an annoying journalist.
"One of the moments that stuck out for me is, I was most impressed," he said. "How were you able to get that cat to do what you wanted to on a leash?"
"That's your question?," Blanchett deadpanned as those in the room began to laugh.
"I try to put my girlfriend's cat on a leash, and it just never works for me," Hyla explained. "So I thought maybe you could give me some tips."
Cue a dramatic look from the two-time Oscar winner, presumably toward her publicist.
"That's your question?," she asked, on the verge of dropping that dirty bomb. "That's your ... question?"
Hyla faux-protested: "Well, you took up all our time talking about vodka from a cow or something! I don't know."
(It was actually Black Cow vodka, which she recommended "if you want the sex to be good.")
"Nice to meet you," Blanchett said graciously, extending her hand to him before delivering a high-five and wrapping it up.
Later on Instagram, Hyla wrote, "Thanks to my new favorite person Cate Blanchett for what might have been the best worst interview I've ever done."
Not a lot of usable sound bites out of that one, for sure, but it was definitely entertaining.
Seriously, watch the entire interview for yourself. Does Blanchett look annoyed? We think not.
"Cinderella," by the way, opened Thursday in Blanchett's home country, Australia.
Follow Christie D'Zurilla on Twitter @theCDZ and Google+. Follow the Ministry of Gossip on Twitter @LATcelebs.
---