Beyoncé, LeBron and The Boss: The stars are out for the final days of the election
With only a few precious hours standing between the nation and the end of the 2016 election, both the Clinton and Trump campaigns went to their celebrity bench to boost enthusiasm at swing-state rallies across the country.
Clinton put on the full-court press in Ohio over the weekend, beginning with a Friday concert in Cleveland aimed at bolstering the youth vote in the state and featuring rappers Jay Z, Chance the Rapper and Big Sean.
The men, however, were upstaged by a surprise guest when Beyoncé arrived to support the candidate, telling the audience, "I want my daughter to grow up seeing a woman lead our country and knowing that her possibilities are limitless," with both she and her backup dancers clothed in pantsuits, a nod to Clinton's wardrobe staple. "And that's why I am with her."
But Clinton wasn't done with Ohio yet, bringing out perhaps the most influential voice in the state to introduce her Cleveland rally on Sunday: LeBron James.
James, who appeared on stage with Cleveland Cavaliers teammate J.R. Smith, as well as Smith's daughter Demi, spoke of his upbringing in nearby Akron and dismissed the idea that one person's vote didn't matter.
"We have to get out and make sure we vote," James said. "We have to get out and be knowledgeable about what's going on, about what we see that our future entails, and this woman right here has the brightest future for our world."
See the most-read stories in Entertainment this hour »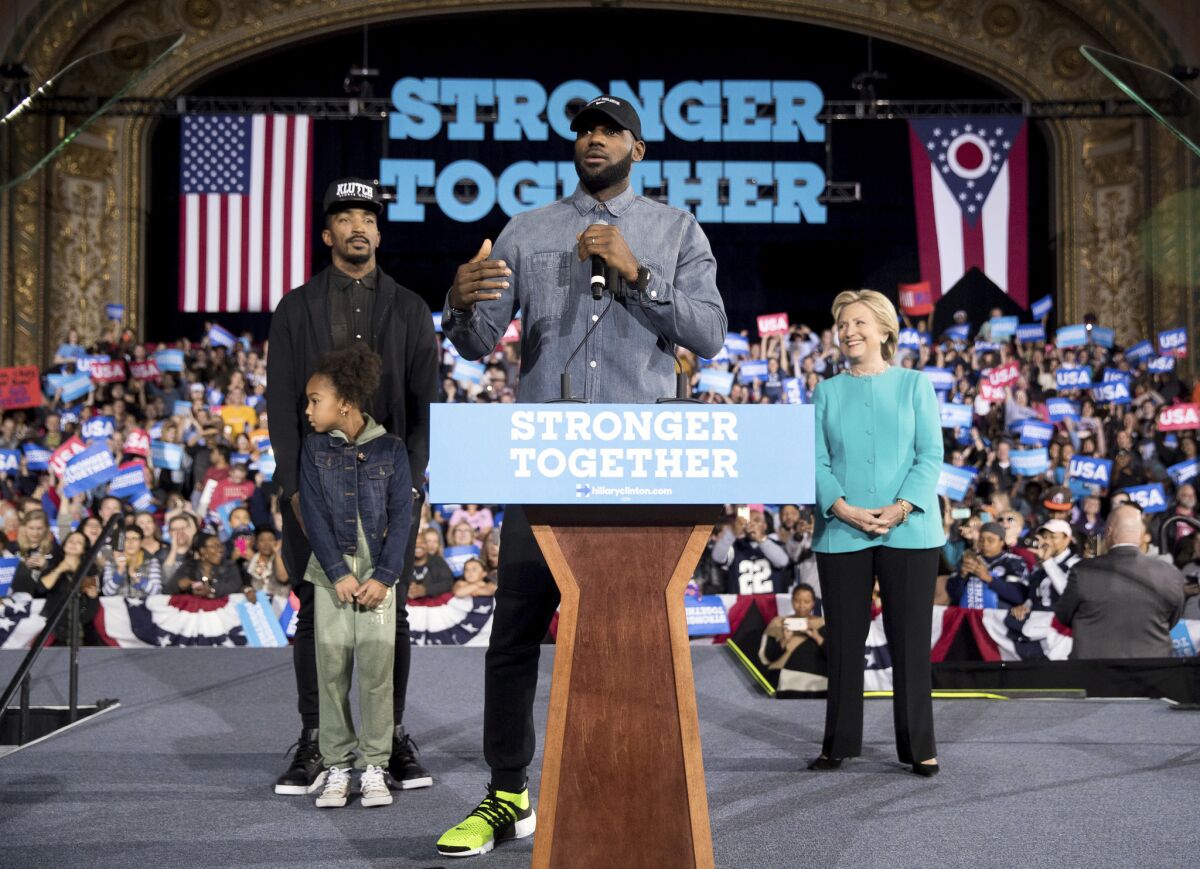 The Democratic presidential candidate also focused her attention on Pennsylvania, another hotly contested state, over the weekend.
Longtime booster Katy Perry stumped for Clinton at a "Get Out the Vote" rally in Philadelphia, dressed to the nines in a custom cape reading "I'm with Madame President" on the back, to Clinton's obvious delight.
But in a weekend chock-full of stars, Clinton may have saved her biggest "get" for last, with a Monday rally in Philadelphia at Independence Hall, featuring President Obama and First Lady Michelle Obama, Chelsea and Bill Clinton, and a couple of Jersey boys, Jon Bon Jovi and Bruce Springsteen.
Even though Springsteen campaigned for John Kerry in 2004 and Obama in 2008 and 2012, Monday's rally marks the first time he has publicly affiliated himself with Clinton. Of course, he's already been outspoken with his criticisms of Republican presidential candidate Donald Trump.
They're in good company with Stevie Wonder and Jimmy Buffett, the latter scheduled to appear at an event with Vice President Joe Biden at a rally in St. Petersburg, Fla.
Meanwhile, Trump largely eschewed celebrity support, deriding Clinton's star-studded affairs as "demeaning to the political process" at a rally in Denver on Saturday night.
That's not to say that Trump didn't have his own celebrity guests including vocal Trump supporter and musician Ted Nugent, who performed at a rally in Sterling Heights, Mich., on Sunday.
During his remarks to the crowd, Nugent stated, "I've got your blue state right here, baby," before grabbing himself between the legs, "Black and blue!"
Also turning out to support Trump was comedian and "Saturday Night Live" alum Joe Piscopo, who warmed up the crowd at a Tampa, Fla., event on Saturday.
"I am not drinking the Kool-Aid here," Piscopo said. "It's the rigged against the respectful."
Nugent and Piscopo are just a few of the stars who have praised Trump during his campaign, including Loretta Lynn, Kid Rock, Stephen Baldwin, James Woods and Clint Eastwood.
Even outside of campaign events, celebrities were making their voices heard on the pending election.
At the Hollywood Film Awards held Sunday night, several used their acceptance speeches as a platform to help get out the vote.
Picking up the award for "Before the Flood," which won the Hollywood Documentary Award, Leonardo DiCaprio decried the lack of conversation about climate change during the presidential debates, before pleading with the audience, "Let's all use our power as citizens and do the right thing." He added, "Please vote... vote for people who believe in the science of climate change."
Robert De Niro was even more direct when accepting his Hollywood Comedy Award for his performance in "The Comedian."
"We are two days from a frightening election. The shadow of politics is hanging over us whether we like it or not. It's hard for me to think about anything else," De Niro said. "Let me just lay it out right here: We have the opportunity to keep a comedy from turning into a tragedy. Vote for Hillary [on] Tuesday."
Twitter: @midwestspitfire
ALSO
Here's why Bruce Springsteen's blue-collar heroes have made Donald Trump their rock star
President Obama to Bill Maher: 'If I watched Fox News, I wouldn't vote for me either'
Get our L.A. Goes Out newsletter, with the week's best events, to help you explore and experience our city.
You may occasionally receive promotional content from the Los Angeles Times.