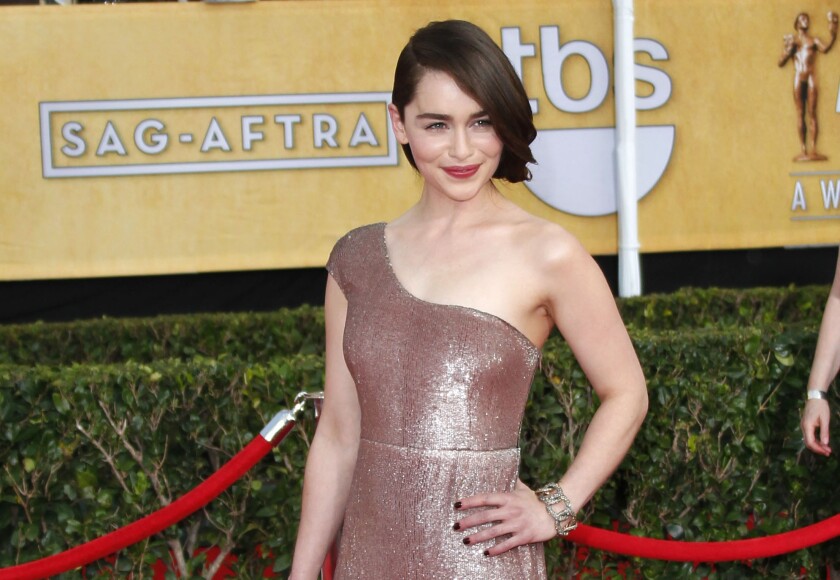 Emilia Clarke plays the formidable Mother of Dragons in HBO's "Game of Thrones," but a little-known fact about the British actress is that she's also pretty darn hilarious.
Take her audition for the critically acclaimed fantasy series, which consisted of a dare from show runner David Benioff.
"I did the robot, followed by the funky chicken. I think it sealed the deal," Clarke told WSJ. Magazine's Brian Raftery in the March Spring Fashion Issue.
"She's effing funny," said Benioff and co-show-runner D.B. Weiss. "Does that mean we've written hilarious scenes for her? No. But someone should."
PHOTOS: 50 most beautiful female celebrities
The 26-year-old also once did a Spice Girls impersonation during a musical audition at age 10 — "complete with dance moves" — though she says "that's where my musical career ended."
Daenerys Targaryen, the jokester? We wouldn't mind an "SNL" sketch highlighting that. (Hey, we are talking about Seth MacFarlane's ex-girlfriend here.)
Clarke, who played Holly Golightly in a lackluster Broadway production of "Breakfast at Tiffany's" last year got her start in theater. But she's gained international recognition as Dany and was nominated for an Emmy last year for her performance as the exiled royal who builds up an army to reclaim the Iron Throne. But her now deadly (yet still maternal) character started out as a timid child bending to the whims of her overbearing brother before growing into a military maven.
PHOTOS: 15 images offer sneak peek of 'Game of Thrones' Season 4
The natural brunet, who has iconic white-blond Targaryen hair in the series, told the magazine she increasingly sees more of Dany in herself despite spending season one just "hoping" she "was doing it right."
"It's the growth of a girl into a woman," Clarke said. "She's being thrown into the deep end, to see if she can sink or swim, and she decides to do it her way. It was wonderful to see a character with such humble beginnings, and such low self-esteem, beginning to trust herself. So my feelings within filming it were echoed — in a much more dramatic way, obviously."
The actress consulted a "dogeared copy" of one of George R.R. Martin's tomes — from the epic "A Song of Ice and Fire" series — saying it was "like having a cheat sheet."
PHOTOS: Meet the 'Thrones' cast without their costumes
Surely, many fans have consulted some sort of "Thrones" Wiki or cheat sheet of their own given the series' simultaneous story lines, enormous cast and sprawling production. The series is filmed all over the Northern Hemisphere, so it's not surprising that Clarke hasn't had a ton of face time with her standout cast mates, who include Peter Dinklage, Kit Harrington, Lena Headey and Richard Madden.
"We're [often] in totally different locations," Clarke said. "You're at an awards show, saying 'Lovely to meet you. We're in a show together, apparently. You're really good!'"
As for what the show runners saw in her after that robot-funky chicken production, they said they "needed an actress who could convincingly embody both the timid, voiceless Dany we first meet, and the Mother of Dragons she later becomes. Only Emilia nailed both."
Still, that career in comedy we're hoping for may be postponed for a while. In December, Clarke clinched the role of Sarah Connor in Paramount's "Terminator" reboot.
"Game of Thrones" returns with its fourth season in April. In the meantime, the March issue of WSJ. Magazine hits newsstands Feb. 15.
ALSO:
Miranda Kerr is new face of H&M's spring campaign
Selena Gomez briefly entered rehab, but not for substance abuse
Philip Seymour Hoffman autopsy inconclusive; 4 drug arrests made
Follow Ministry of Gossip @LATcelebs.
---