Johnny Depp caused his own money problems, his former business managers allege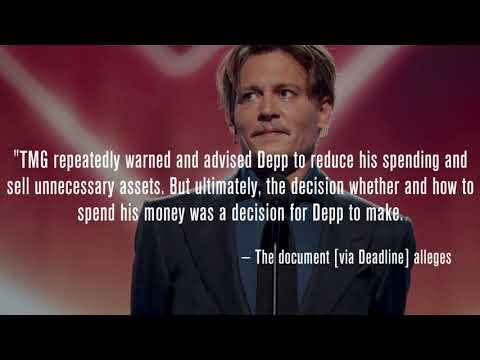 Johnny Depp's former business managers filed a cross-complaint against the actor Jan. 31 in response to a $25-million lawsuit filed Jan. 13 by Depp and Edward L. White, his new business manager, alleging fraud, negligence and breach of fiduciary dut
Johnny Depp's former business managers have, in a new court filing, painted a detailed picture of a client who refused to rein in his "voracious spending" even as he was advised repeatedly of the financial problems he would face if he failed to do so.
The cross-complaint was filed Tuesday on behalf of the Management Group, Joel Mandel and Robert Mandel in response to a $25-million lawsuit alleging fraud, negligence, breach of fiduciary duty and more that was filed Jan. 13 by Depp and Edward L. White, his new business manager.
"TMG repeatedly warned and advised Depp to reduce his spending and sell unnecessary assets," the document (via Deadline) alleges. "But ultimately, the decision whether and how to spend his money was a decision for Depp to make. Depp listened to no one, including TMG and his other advisors, and he demanded they fund a lifestyle that was extravagant and extreme."
Depp severed his relationship with TMG — he allegedly paid the company 5% of his gross income — in March 2016, a little more than two months before Amber Heard filed for divorce from the actor.
In the course of a 17-year business relationship, Depp's extravagances included 14 residences (including a chain of islands and a 45-acre chateau in France), a 150-foot yacht, 45 luxury vehicles, 70 collectible guitars, "world class jewelry," 200 artworks by the likes of Warhol and Basquiat and $30,000 a month on pricey wines that were brought to him around the world for personal consumption, the filing alleges.
In addition, Depp's monthly payroll — for approximately 40 full-time employees and 24/7 security for himself and his family — ran about $450,000 a month, the document says. Travel done exclusively on private planes cost the actor about $200,000 a month.
"[I] don't have all that many options at the moment," Depp said in an email response to advice that he cut back on private air travel, according to the filing. "A commercial flight with paparazzi in tow would be a ... nightmare of monumental proportions."
TMG says in the document that it has "emails, text messages, calendar entries and notes to file" to support the claim that it made Depp and his team "fully aware of his precarious financial circumstances" should the actor continue his $2-million-a-month lifestyle while refusing to sell any assets.
In the Jan. 13 lawsuit, Depp accused TMG of, among other things, collecting exorbitant fees from him, taking out loans backed by his assets without his knowledge, self-dealing, failing to keep proper records and failing to file or pay his taxes on time, resulting in $5.6 million in penalties and interest.
That lawsuit alleges Depp learned of his financial situation only after changing business managers.
ALSO
Johnny Depp sells second of his downtown L.A. penthouses
Business manager admits to embezzling $4.8 million from singer Alanis Morissette
It's over: Johnny Depp and Amber Heard are officially divorced, and she's keeping the dogs
Get our L.A. Goes Out newsletter, with the week's best events, to help you explore and experience our city.
You may occasionally receive promotional content from the Los Angeles Times.