Khloe Kardashian defends sister Kendall Jenner's see-through look
Lamar Odom made headlines when he and Khloe Kardashian married in September 2009 after only a month of dating. In December 2013, they announced they were divorcing after allegations of drug use and cheating plagued the couple.
(Evan Agostini / Associated Press)
Grammy-winning rapper Kanye West is Kim Kardashian's husband. He appeared on a few episodes of her reality series while she was with NBA player Kris Humphries because they were friends, but later took their friendship into romance territory.The couple welcomed daughter North West in June 2013 and are currently expecting their second child.
(Zacharie Scheurer / Associated Press)
Kris Humphries is an NBA player who married Kim Kardashian in 2011 after about six months of dating. The couple became infamous after they televised their elaborate nuptials, then ended their marriage after 72 days. Kardashian filed for divorce, but Humphries sought an annulment, and the two have battled in court for far longer than they were married.
(Evan Agostini / Associated Press)
Brody Jenner is one of Caitlyn Jenner's four children from her second marriage. Brody has starred in MTV's "The Hills," in which he courted Lauren Conrad and later Kristin Cavallari, and his own short-lived series, "The Princes of Malibu." He has also minimally appeared in early seasons of "Keeping Up With the Kardashians," notably being called on by stepbro Rob Kardashian to babysit their half sisters Kylie and Kendall Jenner.
(Chris Pizzello / Associated Press)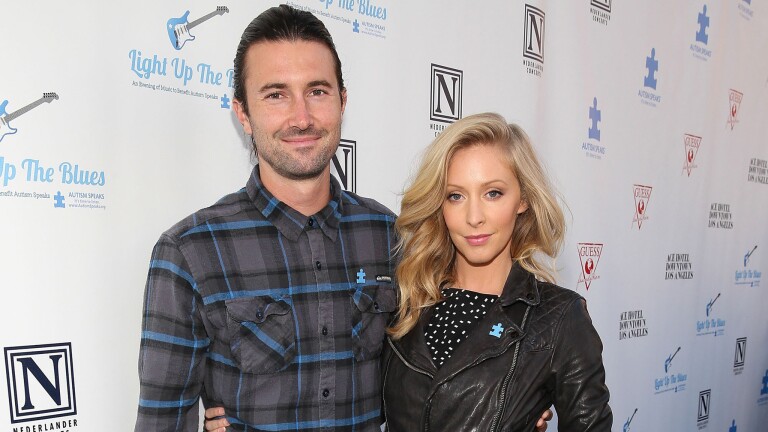 Brandon Jenner, eldest son of Caitlyn Jenner and actress Linda Thompson, wed Leah Felder in May 2012. The couple comprises indie pop duo Brandon & Leah.
(Imeh Akpanudosen / Getty Images for LUTB)
Kendall Jenner, the second-youngest sister in the extended Kardashian clan, walked the esteemed Marc Jacobs runway show Thursday in a sheer knit blouse that showed her nipples, and fans can't seem to handle it.
On the other hand, the 18-year-old model's famous family beamed with pride about her Fashion Week achievement, with her mother, Kris Jenner, gushing and calling her "amazing" and half-sister Khloe Kardashian saying she "killed it" and "major."
The "Keeping Up With the Kardashian" star seemed to be enveloped by the fashon sphere as style bible Vogue teased its Instagram followers with styled photos of the aspiring model-designer in various post-Fashion Week looks. Jenner wears designs by the likes of Tory Burch, House of Herrera and Oscar De La Renta -- as well as Jacobs -- in snaps that do not feature decolletage of any sort. (Anyone wondering if she'll land a Vogue cover before half-sister Kim Kardashian?)
PHOTOS: Meet the Kardashians and their extended family
However, Kardashian followers, as they're wont to do, bashed the brunet beauty's peek-a-boob catwalk turn and scolded her for letting her nipples show through the designer's sheer, flesh-hued blouse. They had a few choice words about Kris Jenner's parenting too...
And as Khloe Kardashian is wont to do, she fired back at the haters Thursday night on Twitter.
"She's too dope for you 2 understand!" the 29-year-old tweeted. "Yall would trade places with her in a second! The hate is real! Lol bye haters! #ModelLife #Simple"
PHOTOS: Celebrities at NY Fashion Week
"Oops I keep forgetting I'm supposed to be on my 'don't sweat the small stuff'ish.... But I just can't pass up a good rant," the newly single starlet continued.
In response to one follower telling Kendall "to cover up" because she doesn't need to dress "like that," Kardashian said, "Its a fashion show. She doesn't choose! #Clueless."
As for Kendall Jenner's reaction? Well, she stayed mum about the whole controversy on Twitter, retweeting only one of her half-sister's strongly worded diatribes. Alas, too strongly worded to be reprinted here.
ALSO:
Rapper Lil' Kim is pregnant with her first child
Nina Agdal, Lily Aldridge, Chrissy Teigen land SI Swimsuit cover
Johnny Depp, Amber Heard pack on PDA at '3 Days to Kill' premiere
Follow Ministry of Gossip @LATcelebs.
---
Get our daily Entertainment newsletter
Get the day's top stories on Hollywood, film, television, music, arts, culture and more.
You may occasionally receive promotional content from the Los Angeles Times.