Khloe Kardashian talks weight, fertility struggles
Lamar Odom made headlines when he and Khloe Kardashian married in September 2009 after only a month of dating. In December 2013, they announced they were divorcing after allegations of drug use and cheating plagued the couple.
(Evan Agostini / Associated Press)
Grammy-winning rapper Kanye West is Kim Kardashian's husband. He appeared on a few episodes of her reality series while she was with NBA player Kris Humphries because they were friends, but later took their friendship into romance territory.The couple welcomed daughter North West in June 2013 and are currently expecting their second child.
(Zacharie Scheurer / Associated Press)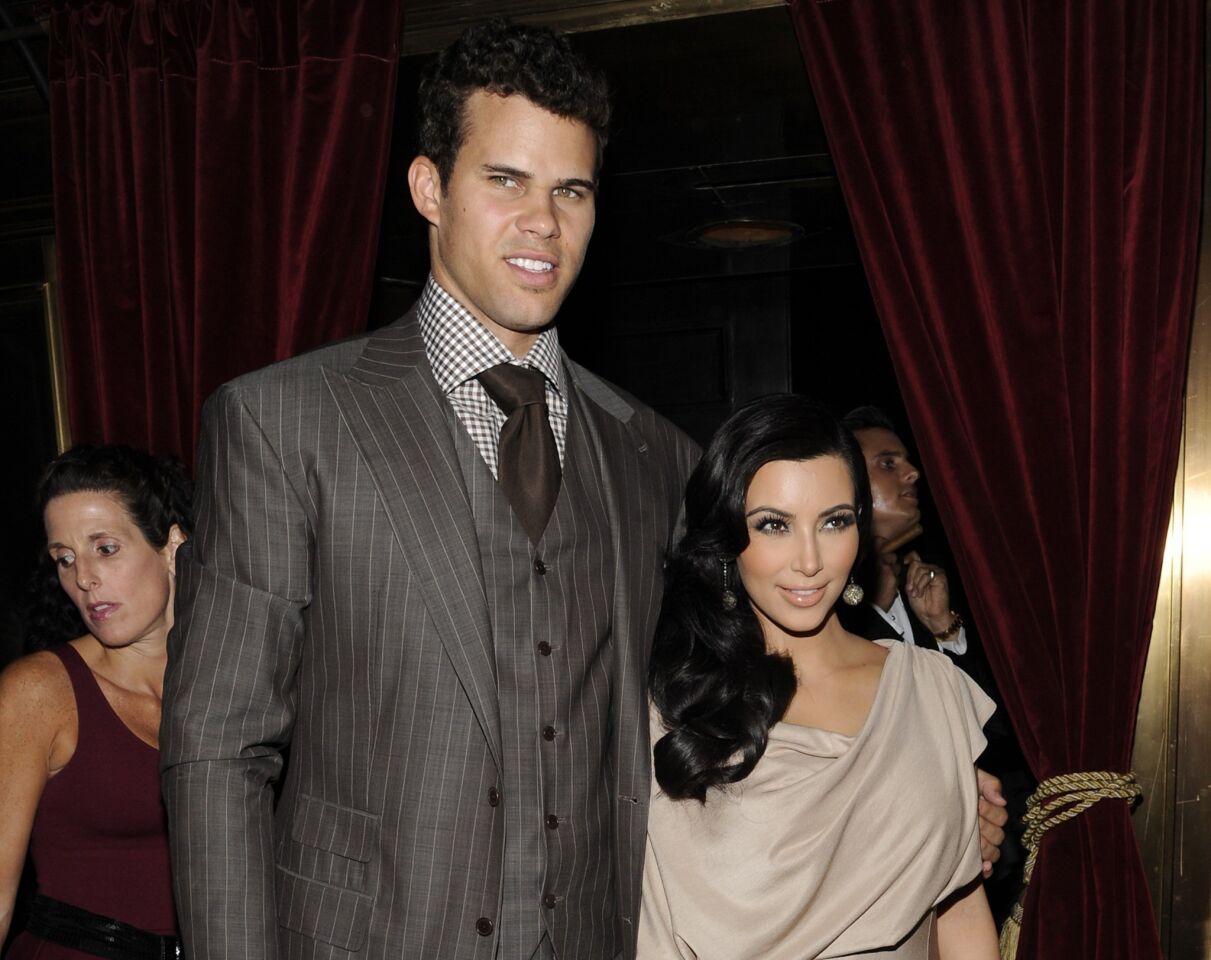 Kris Humphries is an NBA player who married Kim Kardashian in 2011 after about six months of dating. The couple became infamous after they televised their elaborate nuptials, then ended their marriage after 72 days. Kardashian filed for divorce, but Humphries sought an annulment, and the two have battled in court for far longer than they were married.
(Evan Agostini / Associated Press)
Brody Jenner is one of Caitlyn Jenner's four children from her second marriage. Brody has starred in MTV's "The Hills," in which he courted Lauren Conrad and later Kristin Cavallari, and his own short-lived series, "The Princes of Malibu." He has also minimally appeared in early seasons of "Keeping Up With the Kardashians," notably being called on by stepbro Rob Kardashian to babysit their half sisters Kylie and Kendall Jenner.
(Chris Pizzello / Associated Press)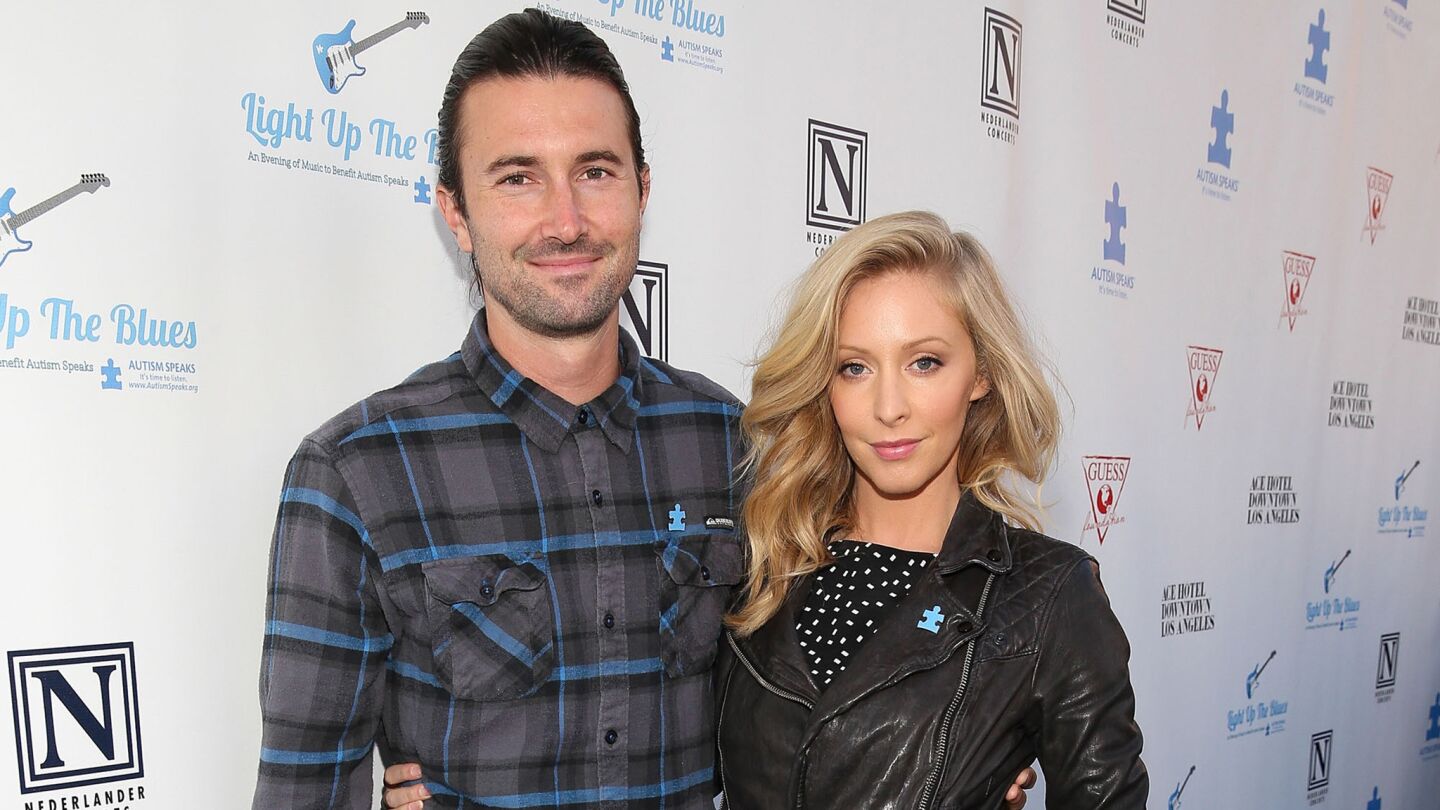 Brandon Jenner, eldest son of Caitlyn Jenner and actress Linda Thompson, wed Leah Felder in May 2012. The couple comprises indie pop duo Brandon & Leah.
(Imeh Akpanudosen / Getty Images for LUTB)
Khloe Kardashian Odom isn't like her older sisters Kim and Kourtney Kardashian, and she's totally OK with that.
The reality TV star and wife of L.A. Clippers forward Lamar Odom opened up to Cosmopolitan UK about all things Kardashian, including her being compared to her famous siblings, her weight and fertility issues, and how her business manager mom, Kris Jenner, has managed their family. The former "X Factor" host reveals how she's been affected by it all in and out of the spotlight.
"I'm confident in who I am. I've always known that I'm not Kim and I'm not Kourtney -- I've always been OK with that," she tells the mag, whose June issue she covers. "I probably thought I was prettier before I entered the spotlight because being compared to somebody else every day does sort of beat up your spirit and soul. But it's made me stronger. I've gained another level of confidence."
On E!'s "Keeping Up With the Kardashians" and its many spin-offs, Khloe's lighter hair color and larger build have sparked numerous rumors that she was either adopted or had a different father than her siblings. Many of the rumors have even been debunked on the show.
The 28-year-old is the most likely of the trio to say what's on her mind or something totally inappropriate. Her fearless persona seemingly puts her sisters in their place -- even quite literally, as she is often seen roughhousing with eldest, and more petite, sister Kourtney.
"I'm pretty tough. I want to say I don't care, but of course [comments about my body] are going to sting," she said.
The family launched into the spotlight when they signed on to do their reality show in 2007, soon after Kim's sex tape went public . They had already been in the public eye thanks to late patriarch Robert Kardashian, one of O.J. Simpson's defense lawyers, who died in 2003. The death affected each family member in his or her own way. For Khloe, it was her weight.
"After my father died [when she was 19], I gained a lot of weight, and then I was in the spotlight. I was quickly criticized for not being a cookie-cutter sister like Kourtney and Kim," she said. "I lost about 30 pounds before I did 'Kourtney and Khloe Take Miami' [in 2009]. I was feeling so good about myself and I was still so critiqued. I thought, 'Oh, my gosh, if I'm not good enough now…' And that's when something clicked in my brain: I have to do whatever is good for me… I feel that I'm healthier [now], but I don't think I'm prettier thinner."
Khloe admitted that she'd never be her kids' manager the way her mom manages them and their global brand.
"We gang up on Mom and that has to be so hard," she said. "Now I'm getting older I feel sorry for her rather than resent her. [Once my mom told me] I was gaining weight, but she was talking to me as a manager, like I was ruining a brand deal. It's hard to understand that and it's more hurtful when it's coming from my mom, but Kim is definitely her favorite. It doesn't bother me. They're so similar --they could be the same person."
Khloe prides herself on losing weight "the healthy way" rather than resorting to eating disorders or plastic surgery. She said dieting is the hardest part and that she learned self-control from her husband, who lost 25 pounds after returning to the Clippers from the Dallas Mavericks.
The couple, who married in September 2009 and had their own spin-off series "Khloe & Lamar," was criticized when she up and moved to Dallas to be with her husband. Their show has chronicled their struggles and fertility issues, but she says that her man always comes first.
"I'm very modern day when it comes to my personality and my work, but I'm very old-fashioned with my morals and values of being husband and wife. And he will come first," she said. "It's very taboo nowadays to support your man, but you have to do what makes you happy -- even if someone else doesn't understand."
PHOTOS: Kim Kardashian's relationships and flings
Khloe is again being compared to her sisters because she's neither a mom nor on her way to being one yet. Kourtney has two children with boyfriend Scott Disick, and Kim is expecting her first child in June with rapper Kanye West.
"I just wanted to be, 'Hey, let's have a baby,' and we would just have one. Kourtney did. And I wish that was the way for me. But it won't be. I'll have to take hormones. I do want to have a baby, but I don't feel the urgency to have one this very moment," she said.
But that doesn't mean she isn't excited to be an auntie to Kim and Kanye's kid. She's super-thrilled about her relationship with Kim's beau, which she says is very different than her relationship with Kim's ex-husband, Kris Humphries.
"I think Kanye knows how to deal with Kim really well. Because we've known him for so long, he'll come to us if he wants advice on a birthday present or something. I like that. Kris wouldn't even talk to us. I love that with Kanye we have that friendship. Because when you're with one of us you're with all of us."
ALSO:
Ireland Baldwin's open letter to her haters: 'It's bad energy!'
Mariah Carey, Nick Cannon renew vows at Disneyland -- elaborately
Nicole Richie's 'tramp stamp' and 7 other gems from her new Web show
Follow Ministry of Gossip @LATcelebs.
---
Get our L.A. Goes Out newsletter, with the week's best events, to help you explore and experience our city.
You may occasionally receive promotional content from the Los Angeles Times.