Mariah Carey dishes on other divas on 'Watch What Happens Live'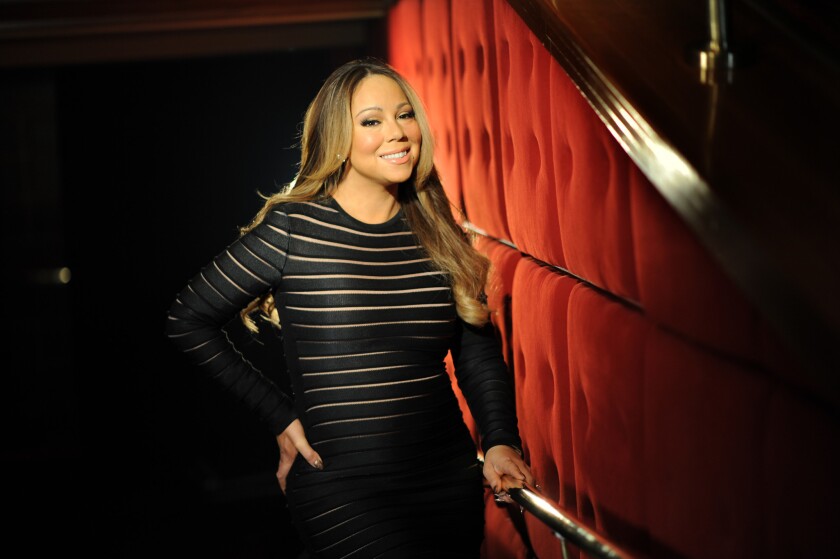 Mariah Carey took a little time out from her reality show, "Mariah's World," to drop by "Watch What Happens Live" on Sunday night and throw a little shade at a generation of up-and-coming divas.
But before we move forward with Carey's catty comments, first we must look back to fully appreciate the context of the "DOES? SHE? KNOW? HER?!" segment with Andy Cohen.
What's a diva?
Though a diva can be many things, to many people, "VH1 Divas" helped to solidify the modern definition as a female performer or personality who is both popular and glamorous.
What's Mariah Carey's deal?
That's a complicated question, but in this case, the game that Carey and Cohen play stems from an incident in the early 2000s, at which point Carey laid down the most scorching burn of all time.
Which was?
During a German TV interview, when asked about music superstar Jennifer Lopez, Carey begins shaking her head before pursing her lips and saying, "I don't know her" while smiling.
Does Carey know Lopez?
That's just the sort of philosophical query that Carey is hoping you'll ask. While the pair have met before, Carey stands by her original statement.
"It isn't like I don't know who she is; that's not the question," Carey told Cohen during a May episode of "WWHL."
Touché.
OK, so who does Carey know?
According to the segment:
Lady Gaga — Yes. Gaga attended one of Carey's shows. "We had a nice conversation."
Ariana Grande — No.
Taylor Swift — Yes. Swift approached Carey. "She was really sweet."
Madonna — Not especially. "Never had a conversation with her."
Katy Perry — Yup. Perry also attended one of Carey's shows. "Nice girl."
Britney Spears — Yes! "I love Britney Spears."
Miley Cyrus — Maybe? "I think we met in a bathroom."
And though not included in the segment, Carey had some cutting words for another young singer.
In June, Demi Lovato stumbled into the ongoing Carey/Lopez cold war, when commenting on an Internet meme comparing Grande to Carey.
"Mariah is a legend and so talented but constantly disses people. It's nasty the way she treats Jennifer," Lovato said. "Ari did nothing wrong."
"The woman is mean for no reason," Lovato added, referring to Carey. "Extremely talented? Yes. Superhuman? Possibly. Unnecessarily rude? Absolutely."
When asked by Cohen what she would say to Lovato, Carey replied, "I don't know her either, and so I wouldn't say anything to her.
"She should come up, introduce herself to me, say, 'Here's my opinion. What do you think about it?' "
See the most-read stories in Entertainment this hour »
Twitter: @midwestspitfire
ALSO
Mariah Carey and James Packer's split is a mess of money, mansions and gossip grenades
'All I Want for Christmas Is You'? Forget it if you're not Mariah Carey
It's not a good time to be Mariah Carey — even she's ready to 'move on,' report says
---
From the Oscars to the Emmys.
Get the Envelope newsletter for exclusive awards season coverage, behind-the-scenes stories from the Envelope podcast and columnist Glenn Whipp's must-read analysis.
You may occasionally receive promotional content from the Los Angeles Times.