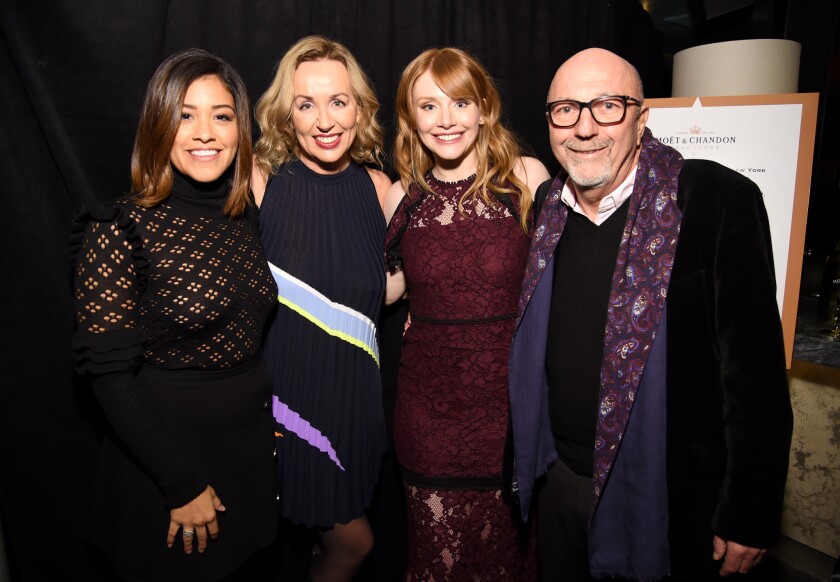 Under the glare of camera flashes, Gina Rodriguez, star of the television show "Jane the Virgin," stepped onto a makeshift stage at the front of a bar in West Hollywood on Wednesday night.
"What's up, everybody? It's an exciting week, right?" Rodriguez asked.
After all, it was the Wednesday before the Golden Globes awards ceremony. After a bit of silence, she joked, "No? Just me?" And like that, the audience of about 100 laughed, breaking the ice.
Rodriguez, a Golden Globe winner and 2016 nominee, showed up at Doheny Room to help kick off the second Moët Moment Film Festival. Backed by champagne company Moët & Chandon, the competition is designed to support a new generation of filmmakers. Entrants must submit a 60-second film for a chance to win $25,000 and mentorship from industry insiders.
"It's always been a difficult journey to find where you belong, where your space is in this crazy industry," Rodriguez told the crowd. "Film festivals like this one that can give you opportunity, that can push forward your art and your voice, and puts you in a position to find that voice, [are] a beautiful, beautiful thing."
With the awards season upon us, the event was a sneak preview of the Hollywood glamour everyone expects in coming months. Laughter and the sound of rosé and champagne bottles popping filled the air, with a subtle house bass line lurking in the distance. Pretty, stylish and completely unbothered by a celebrity presence, attendees mingled with entertainers in the low lighting of the two-story bar.
A miniature red carpet and backdrop had been rolled out, where notables stopped for a quick photo on their way into the party.
"I think what's beautiful about Hollywood is … we can use our art to start influencing tolerance and love and acceptance, and that's what art does," Rodriguez told The Times. "We start to use art as a tool to build these broken bridges among fear, and I find that really exciting to be part of a wave of artists that can help heal."
"I think a short film is always an incredible challenge," said Elisabeth Sereda, a competition judge and Hollywood Foreign Press Assn. member. "I've done TV for a long time, and I know the shorter you have to be, the more challenging it is. On the other hand, there are so many great filmmakers out there that are not going to get the budget for a 10-20-30-40 million dollar movie right away.
"I want to see more independent film productions, more female directors, more female screenwriters, more female everything," Sereda continued.
Bryce Dallas Howard, third-generation actor and 2017 SAG nominee, professed her love for short films. The "Black Mirror" star, who is a competition judge, has directed and starred in several over the last few years.
"I keep making short films, and I love that medium," said Howard, who was dressed in a dark red lace dress. "I think with all these different ways in which we view stories now that short films existing unto themselves might not have to be a stepping stone. They unto themselves can be a piece of work and a piece of art."
2017 marks the first time the competition partnered with the Tribeca Film Festival. The winner's short will be honored at a dinner held the festival in April.
"The best piece of advice I can give to an aspiring filmmaker is to find your own voice," said Sharon Badal, Tribeca's vice president of filmmaker relationship and short programming and a competition judge. "Where they come from, their story, is the root of their storytelling, and they should cling to those roots because that's what makes them who they are."
And what's a champagne soiree without a proper toast?
Howard took the stage, raising her glass and perhaps giving sound advice for the new year.
"This is your moment. Cheers!" she said. "Take whatever you think that means and run with it."
---