Nicole Kidman 'OK' but 'shaken' after being hit by bike paparazzo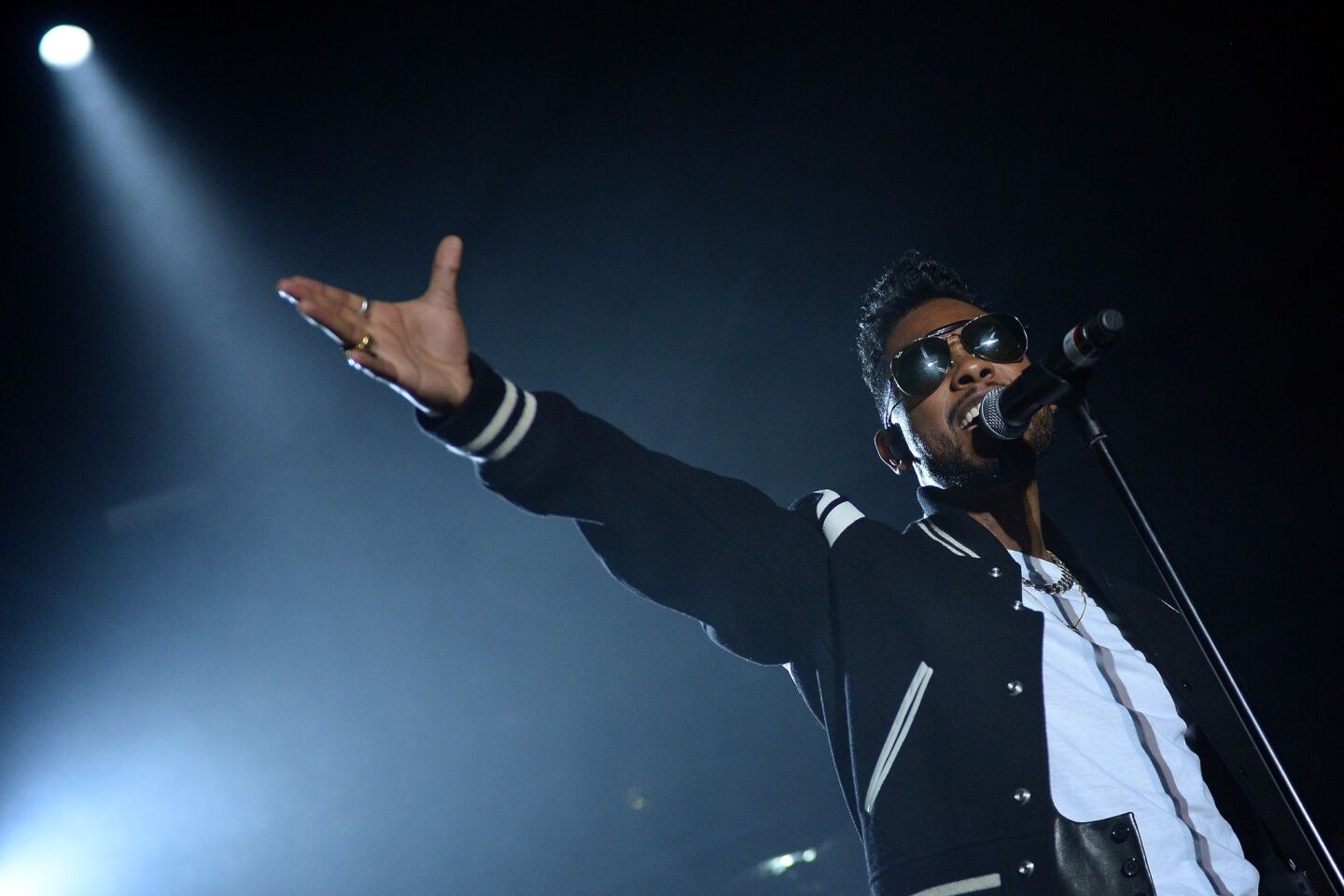 The R&B crooner fell short of suave during his 2013 Billboard Music Awards set, kicking a fan in the head while attempting a leap over the audience onto a different part of the stage. The failed stunt landed him in legal action limbo after news broke that the injured girl might have suffered brain damage. We suggest that Miguel let his vocal cords do the acrobatics.
(Mark Davis / Getty Images for Bud Light)
Gaga tends to make a statement when she's under the spotlight, even if it's unintentional. During a 2012 Barcelona performance of "Born This Way," the pop star halted mid-strut to vomit at least three times in between dance moves in a way so seamless it looked planned. No word on what caused Mother Monster's queasiness, but it's not the first time she's gotten sick come concert time.
(Joel Ryan / Associated Press)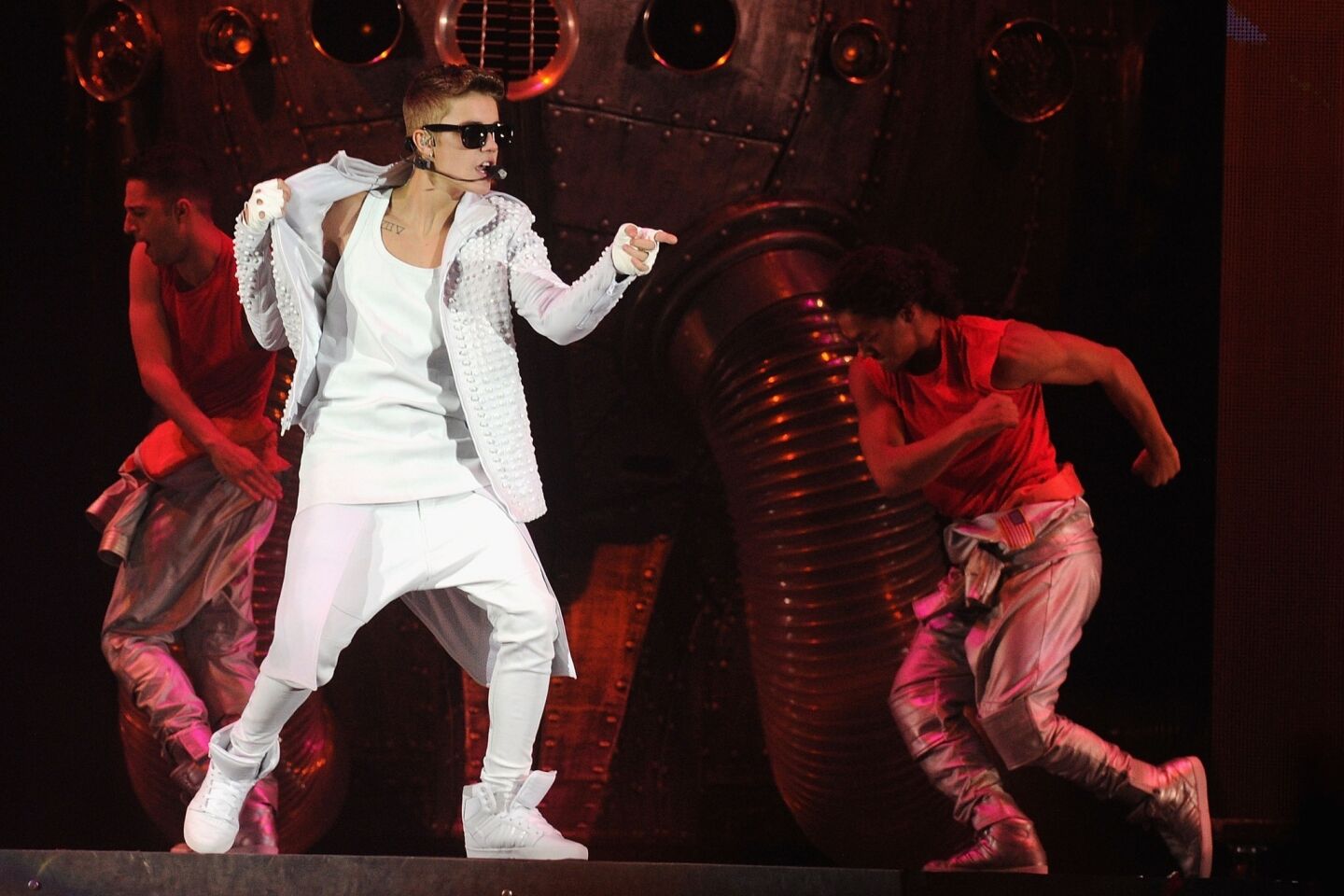 The pop superstar threw up during the Arizona stop of his Believe tour last year, and it wasn't because of butterflies. Apparently the recipe for an onstage disaster calls for whole milk and spaghetti Bolognese. A wardrobe malfunction during the reprise of his tour next year made the upchuck old news: Already shirtless in Florida, Bieber gave his Beliebers quite a clear view of his briefs as his notoriously low-slung pants sagged down mid-dance break.
(Jamie McCarthy / Getty Images)
Carey let a curse slip on national TV earlier this year as her dress popped open during a live taping of "Good Morning America," leaving her sharing skin instead of music notes. In a return to classy, the singer performed with the New York Philharmonic at a charity benefit despite dislocating her shoulder at an earlier video shoot — with the help of bedazzled and feathered arm slings. We're glad she can at least keep her limbs attached.
(Carlo Allegri / Invision / Associated Press)
Bite, and RiRi bites back. The singer used her microphone to hit a fan who refused to let go of her jacket sleeve as she snaked through the crowd during a concert in England in June. Seems like Rihanna didn't need the bodyguards flanking her.
(Robert Gauthier / Los Angeles Times)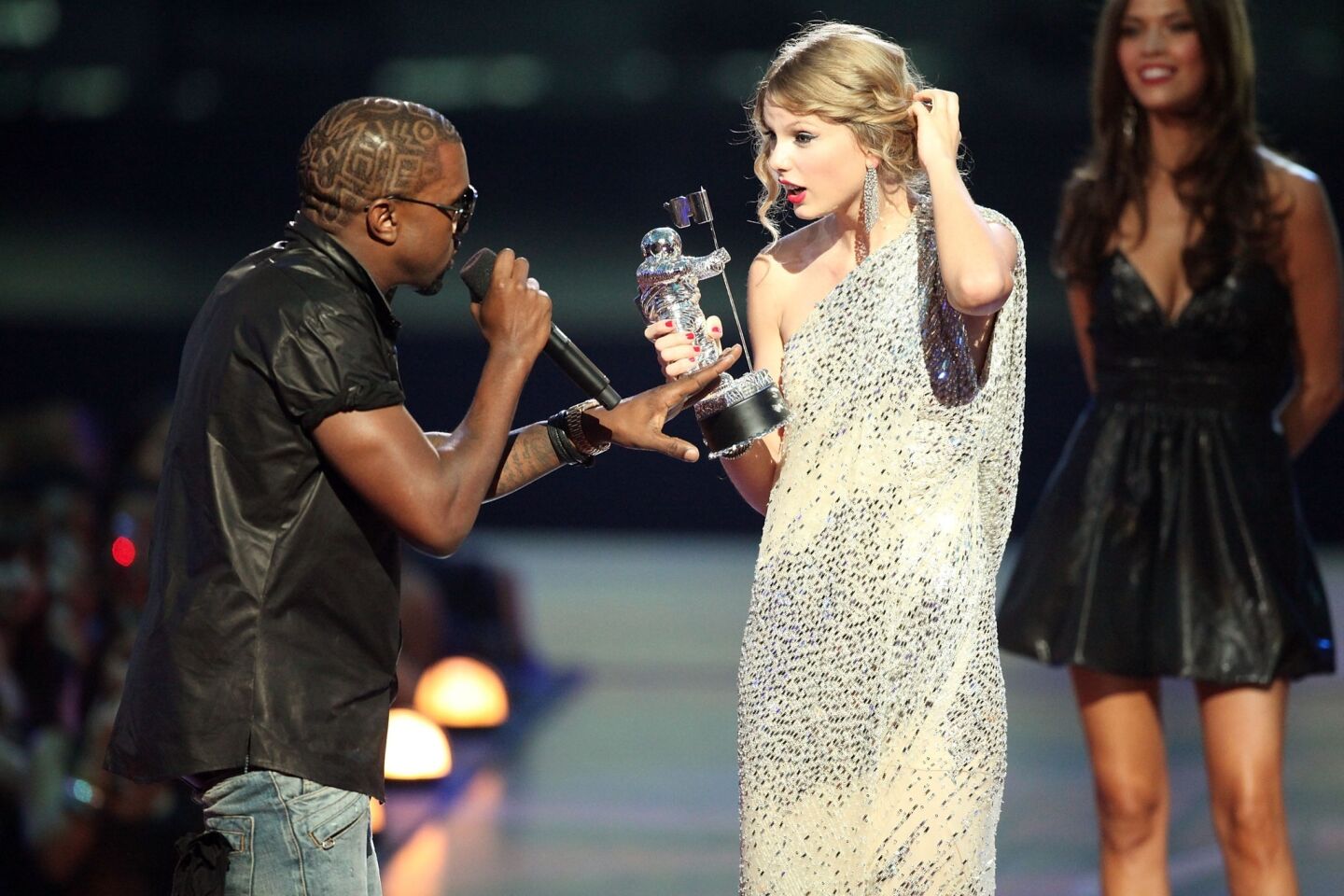 Who could forget the infamous moment when Kanye interrupted Swift's acceptance speech for best music video at the 2009 MTV Video Music Awards? Country sweetheart turned pop megastar, the singer is still racking up accolades and less afraid to inject her thank-yous with sass these days: Swift called out ex-boyfriend Harry Styles during her most recent MTV VMA win.
(Christopher Polk / Getty Images)
The singer's glittery blue dress came undone during a performance in New Jersey in August, causing her to expose her entire backside to the audience. Braxton recovered gracefully with a man's blazer and worked through the blooper, turning her onstage dress repinning into a mock burlesque show. "I just thought how lucky I was that the whole thing didn't come apart," she said. "We laughed about it and we made it work, but that's all you can do. Breathe through it all."
(Amy Sussman and Mark Von Holden / Associated Press)
Singer Janet Jackson felt the cold stares of about 90 million spectators when Justin Timberlake tore off a piece of her clothing during the 2004 Super Bowl Halftime Show and left her breast exposed. The less-than-one-second of nakedness caused media hysteria and a flood of viewer complaints. The phrase "Janet Jackson" broke records as the most searched term, event and image in Internet history.
(Elise Amendola / Associated Press)
Talk about fashion roadkill! Nicole Kidman was struck by a paparazzo riding a bicycle in New York on Thursday during Fashion Week.
The Oscar-winning actress, wearing a light-colored, fitted dress and sky-high heels, fell to the ground after the impact outside Manhattan's Carlyle Hotel, according to Us Weekly.
An eyewitness told the mag that the photographer's name was Carl Wu and that he struck her as she emerged from the car that picked her up from the Calvin Klein show in Tribeca. The shutterbug had reportedly been pursuing the A-lister on the sidewalk, riding at about 20 mph, then lost control of his bike, which struck Kidman.
PHOTOS: Celebrities injured on set
The "Paperboy" star, 46, reportedly yelled "Oh, my God!" and "Ow, ow," Us said.
Police said officers issued three citations to Wu, 19: riding a bike on the sidewalk, riding a bike with no helmet and reckless endangerment. However, there were no criminal charges and no arrest, TMZ reported, with one cop saying "an accident's an accident."
Though Kidman is said to have looked hurt, she quickly got up and composed herself and appeared later that evening at the Calvin Klein Collection after-party unscathed and in a new frock.
PHOTOS: Musicians' onstage snafus
"I'm OK," Mrs. Keith Urban told the mag. "I went down, but I'm back up!"
She told the Associated Press she "was shaken" by the incident.
As to whether she'll press charges, she said she's "leaving that with the police," Entertainment Tonight reported.
Well, at least the tumble didn't go down on the runway.
ALSO:
Julie Chen reveals eye surgery to Westernize her look
Prince William to leave military, Kate dazzles at charity event
Dina Lohan arrested on suspicion of drunk driving in New York
Follow Ministry of Gossip @LATcelebs.
Get our L.A. Goes Out newsletter, with the week's best events, to help you explore and experience our city.
You may occasionally receive promotional content from the Los Angeles Times.