Rachel Roy: Who is the woman people think is Becky in Beyonce's 'Lemonade'?
On Saturday, Beyonce's "Lemonade" aired on HBO, followed by the release of her new album of the same name. The film kicked off with the words "You can taste the dishonesty / It's all over your breath as you pass it off so cavalier" and continued with what appears to be a breakup-to-makeup journey through her life with Jay Z in recent years.
The hot quote: "He better call Becky with the good hair," the kicker on the track "Sorry," about an apology from an unfaithful lover.
As speculation about Becky's identity went viral, fashion designer Rachel Roy posted a smiling picture of herself Instagram, saying, "Good hair don't care, but we will take good lighting, for selfies, or self truths, always. Live in the light #nodramaqueens."
Oh no she didn't? Oh yes, she did.
REVIEW: Fierce Beyoncé puts Jay Z on notice, turns bitterness into 'Lemonade'
After poking the Beyhive with the Instagram post, she retreated a bit Sunday, tweeting that bullying of any kind shouldn't be tolerated. Roy's Instagram is now private, and her Facebook page is peppered with rude comments from Beyonce fans.
A source told Page Six that Roy "loves the press" and may have intentionally inserted herself into the drama, but on Monday morning the fashionista dropped out of an event in New York City set for that night, citing a "personal emergency."
So who is Rachel Roy, whom many now believe to be Queen B's "Becky"?
The basics:
Roy, 42, is a fashion designer, stylist and author with a clothing line sold at Macy's.
She's of Indian and Dutch descent, was raised a Seventh-Day Adventist in California, went to Columbia Union College in Maryland and then moved to New York City.
Roy was married to Damon "Dame" Dash and as of last year had sole custody of their two daughters and a restraining order against the girls' father. Ava and Tallulah were born in 1999 and 2008, respectively.
How is she tied to Bey and Jay Z?
After college, Roy interned at Rocawear, the clothing company created in 1999 by Dash and Shawn "Jay Z" Carter. She would climb through the ranks at the company to become creative director of the women's and children's divisions.
In the '90s, the two men and Kareem "Biggs" Burke had founded Roc-A-Fella Records as a label distributed by Def Jam Recordings. In 2004, the three sold their 50% stake in Roc-A-Fella to Def Jam, which then owned the label outright. Jay became president and chief exec of Def Jam and Dame and Biggs were booted.
Rachel and Dame got married around the time Jay Z and his former partners split up; the couple then divorced in 2009.
Roy attended the 2012 Met Gala with Solange Knowles, Beyonce's sister.
How is she connected to the notorious elevator fight?
Solange reportedly yelled at Rachel at a 2014 Met Gala after-party at the Standard hotel, home of the infamous elevator where, later that night, a blowout between Solange and Jay Z was caught on security video.
That'd be the fight where Solange lashed out physically at her brother-in-law while sister looked on. Beyonce stepped between the two only after her sister, restrained by a bodyguard, attempted to kick her husband.
Reports surfaced that Solange's confrontation with Roy prompted her elevator brawl with Jay Z.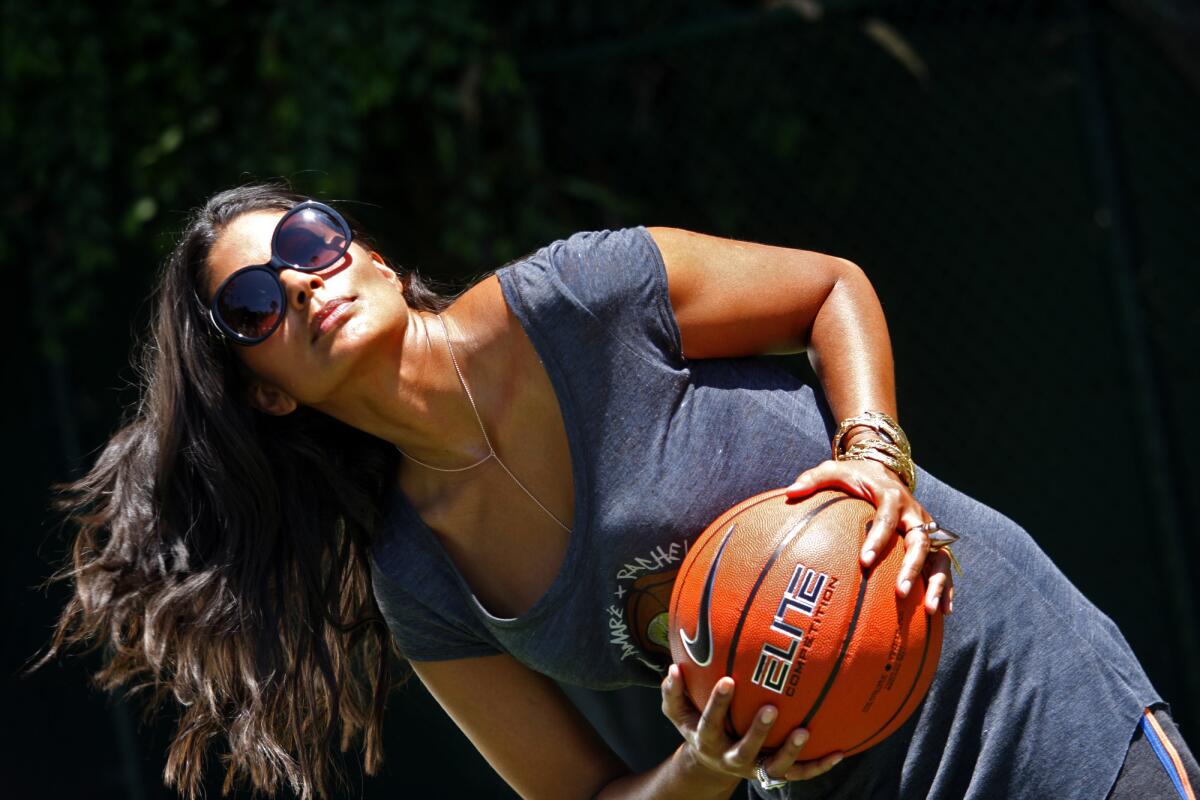 "As a result of the public release of the elevator security footage from Monday, May 5th, there has been a great deal of speculation about what triggered the unfortunate incident," Jay, Bey and Solange said in a statement at the time. "But the most important thing is that our family has worked through it.
"Jay and Solange each assume their share of responsibility for what has occurred. They both acknowledge their role in this private matter that has played out in the public. They both have apologized to each other and we have moved forward as a united family."
No mention of Roy in that statement, of course. The spat at the after-party was revealed while the world was obsessing over the elevator video.
What's the Kardashian angle?
Because there's always a Kardashian angle: Rachel and Kim are good friends, and Kris Jenner has contributed on Roy's website. Kanye West was an early artist with Roc-A-Fella, and Roy was a guest at Kimye's wedding.
So, what are the rumors?
In a nutshell: She allegedly had an affair with Jay Z. She's allegedly the reason the Knowles-Carters threw down in 2014. By mid-2014, rumors that Jay and Bey were getting divorced were swirling, on top of the notion that their marriage has been a sort of business arrangement. Roy's allegedly Beyonce's "Becky with the good hair" who cheated with her man.
And for now, you probably can't follow her on Instagram.
ALSO:
Fierce Beyoncé puts Jay Z on final notice, then turns bitterness into 'Lemonade'
Beyoncé shakes things up again with the release of her album 'Lemonade' on Tidal
Photos: Beyonce on the Met Gala red carpet, 2008-2015
Rachel Roy redesigns her life with a new plus-size fashion line and book
Get our L.A. Goes Out newsletter, with the week's best events, to help you explore and experience our city.
You may occasionally receive promotional content from the Los Angeles Times.